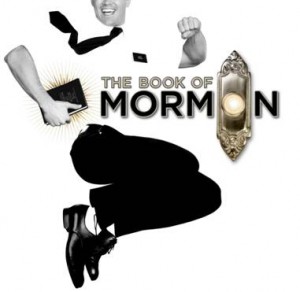 Have you seen the line waiting for Book of Mormon lottery rush tickets and standing room only tickets outside the Eugene O'Neill theater on 49th Street?  It is so impossible to score affordable tickets to the show that people are willing to wait just for a chance to buy cheaper tickets to the hugely popular Broadway show.
But just how successful has the show been?  Thanks to an article from Bloomberg, we can finally see that The Book of Mormon is paying off quite well for not only its creative personnel but also for its investors.
According to the article, The Book of Mormon cost $9.1 million — far cheaper than effect-laden shows like Shrek and Spider-Man: Turn Off the Dark — and has already recouped thirty percent of its cost for it's investors and will pay off the investments completely by October.  That's significant because most Broadway shows take years to break even, if they ever do.  And since the show is still sold out until 2012, the investors can already expect a profit.  Reportedly the show rakes in $1.2 million per week and costs just over $600,000 a week to operate (excluding royalties), so currently the show makes over twice what it spends per week — though that profit gets cut up to by the various royalty deals.
The article is a fascinating explanation of how a massively successful Broadway show can pay off for those who are owed royalties.  Not only do writers Robert Lopez (also co-writer of Broadway hit Avenue Q) and South Park creators Trey Parker and Matt Stone collect royalties, but so do the producers (Parker, Stone, and fellow South Park producer Anne Garefino), both directors (Parker and co-director/choreographer Casey Nicholaw), and Jujamcyn Theaters, which owns the Eugene O'Neill Theater.
The result?  The main creative personal — particularly Parker, who wears three hats in the production — are collecting massive royalty checks that will only increase after the show fully pays back its investors.
It is interesting to note that show's five principal cast members make just over $22,000 per week combined.  Of course, this is far more than I make per week, but had The Book of Mormon featured a celebrity in its cast (it doesn't) this weekly cost would have been far greater.
After reading the article I feel like I should invest in a few Broadway productions.  Then again, it's clear that most Broadway shows don't experience the same massive success as The Book of Mormon has.  Imagine how long investors will have to wait for Spider-Man: Turn Off the Dark to start handing out the royalty checks…