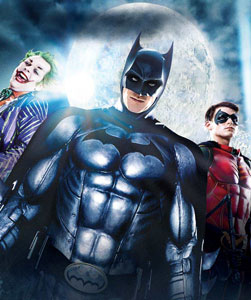 Just about everyone would like to be Batman, which is why thousands of Batman Halloween costumes for children and adults are sold every year.  The costume is just awesome in every way, right?
Actor George Turvey would beg to differ.  He would know — he appears as Batman night after night in Batman Live, an arena show touring nationally.  He reveals, "You feel a little bit like you're wearing every item of your clothing at the same time. You can't move your head that much and if you're going to look in a direction, you've got to move your entire body."
Nonetheless, there are some perks to dressing as Bruce Wayne's alter ego.  Turvey points out, "It's quite tight on you but it's a nice feeling. It makes you feel like you're strong." That's definitely a plus, since Turvey confesses that he feels it would be wrong to ever show Batman as tired.  He explains, "That's why fitness is so important. You don't want the suit to wear you. You want to wear the suit. He's so much about strength and power."  Of course, putting the suit on itself is mind-blowing, with Turvey adding, "You catch your shadow in the light, you see the outline of the costume and you get excited."
But there's more to the role than just looking good in the suit.  Turvey explains that he has to make sure that he has to balance both sides of Batman's personality, explaining, "There are two sides to him — Bruce Wayne and Batman — and you've got to continue the truth: that he's the same person inside the suit. It's really tough. You act through the cowl and the mask but still bring that level of truth."
When he walks offstage, Turvey is still pumped, but it doesn't last.  He reveals, "An hour after that, I'm spent. It's such a unique acting job. You get a lot of energy from the audience cheering."
via The Sioux City Journal. For information on when Batman Live is coming to your town, check out the show's website.