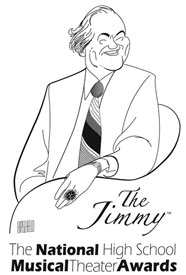 You've heard of the Tonys, Emmys and Oscars, but have you ever heard of the Jimmy Awards? If you are performer in high school, you know exactly what the awards are all about.
Each year, theater owner James Nederlander sponsors a nationwide competition, the National High School Musical Theater Awards, that begins with 50,000 students from 1,000 schools. The process takes months to narrow down the competition, but the semi-finalists wind up in New York City at the Minskoff Theatre.
This year, there were a total of 62 students, 31 boys and 31 girls, who participated in a five-day theatre workshop held at New York University's Tisch School of the Arts. The week consists of getting feedback on their solos and learning groups numbers for the final performance.
The teens were coached by Broadway professionals like Liz Callaway, Telly Leung, Leslie Odom, Jr. and Michael McElroy. They prep the contestants for their big night because they will be judged by theater luminaries including Scott Ellis, Montego Glover and Bernie Telsey.
It's intense, but the kids still get to have fun.
The semi-finalists were taken to the Broadway revival of Annie and enjoyed a meal at the Great White Way's favorite Sardi's.
The final round involves the performers auditioning with shortened solos from their regional auditions to make it to the coveted final round. This is where the fun begins because classic songs from shows like Guys and Dolls and Anything Goes are performed alongside more contemporary shows like Avenue Q and In The Heights.
In the end, seven finalists, three boys and four girls, were selected to compete for two $10,000 scholarships. Taylor Varga from Newtown, Connecticut and Sarah Lynn Marion from Fullerton, California came away with the top prizes.
Both honorees were clearly moved by their win.
Varga, who sang "Sante Fe" from Newsies, summed up, "I'm a little lost for words."
Marion, who had a sexy turn with her song "Raunchy" from 110 in the Shade, remembered to thank the first person who put her on stage, "…my first grade teacher who gave me my first role as Jack's mother in 'Jack and the Beanstalk'."
It's a good reminder that "there are no small parts, only small actors." For Marion, Jack's mother was a great beginning to her career.
via AP