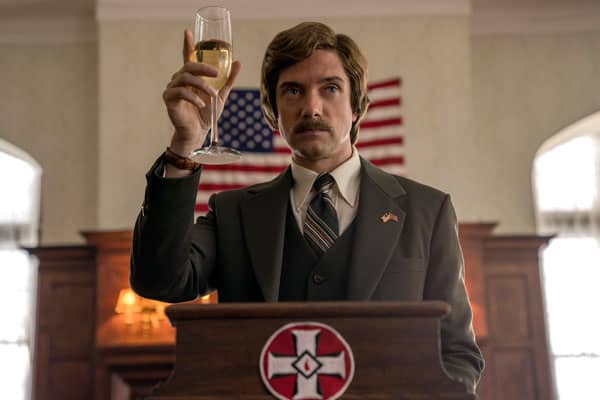 "This was the closest that I've ever felt to being depressed and going home a little sad" – Topher Grace on Playing David Duke
Topher Grace may never not be able to shake the fact that he'll always be best known as Eric Forman on the sitcom, That '70s Show, but he has certainly tried to expand his range by playing a number of very different roles since the series ended. Perhaps the biggest leap in his career is playing former Ku Klux Klan Grand Wizard David Duke in Spike Lee's latest film, BlacKkKlansman, based on the true story of an African-American police detective who infiltrated the racist organization.
In an interview with Collider, Grace spoke about the emotional toll playing Duke took on him — even though he wouldn't describe himself as a method actor and didn't approach the role that way.
While much of Grace's role involves him talking to other characters on the phone — particularly lead John David Washington — he reveals that Lee didn't follow the usual practice that filmmakers usually do when shooting phone conversations. Grace explains:
"First, we rehearsed it eye to eye, so we knew where we were going with the scenes. Then, and this has never happened for me in a film, the phones were connected and there were cameras in both rooms. People don't really think about it, but normally, when people are on the phone, you have a grip off camera, reading lines for the other actor. Maybe sometimes it's the actor, but it's very rare that you're both being filmed, at the same time. It's actually hard to do, but we did it. We could talk over each other or interrupt each other, just the way someone would on a phone call. It felt like a normal scene opposite someone. In some ways, it was easier than doing a normal scene because, when you're doing a scene, the camera is only on one of the two people, most of the time. Even if you're facing each other, the other person is just replicating what their performance would be. But in this case, we were both giving our performances while it was happening."
Grace speaks about how he's not a method actor — and feels a racist individual like Duke would be an awful person to try to play "method" — but does admit that playing Duke did make him uncomfortable. He says:
"I'm not method. An example of method would be Jim Carrey, in that movie about Andy Kaufman. I shudder to think anyone playing David Duke would be method. That would be terrible. I'm not very method, at all, but I've worked with actors who are. There are a lot of different ways to skin a cat. Some people, when their character is mad at you, the actor is mad at you, all day. I have a very light touch. That doesn't help me.

But that said, this was the first time that I got affected by it. I've been working for about 20 years. They inter-cut scenes, where we were at the Klan induction rally, or when we were watching The Birth of a Nation. We just did a couple of days in a row, of all Klan rally stuff where I'm leading people in that hate, and I don't have much of a process to point out how affecting it must have been that I was doing that, but that's where you gotta be with a great director like Spike. First of all, I felt safe under him. I believe he is the greatest black director of all time, so working on this kind of stuff with him, I felt safe, anyway.

But then, on top of that, I'd be in the corner bummed out and he'd come over and say, 'Hey, man, what you're doing is really important. You're servicing me and my message, and I know what I'm saying here. I know what I'm doing. So sorry this is a really overwhelmingly negative day, but when it's all cut together, you're gonna understand this and love it.' And he was absolutely right. We were just so lucky to have had him, as a leader."
Of course, Grace had to re-enact a number of Klan rituals while shooting the film and says that it was a rough experience on him. He confesses, "I've done a lot of different things, in my career, but this was the closest that I've ever felt to being depressed and going home a little sad."