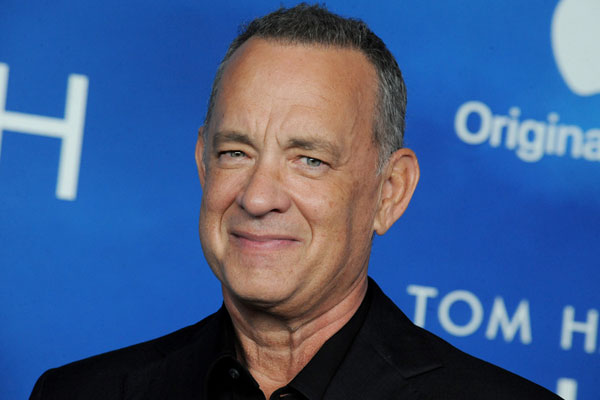 "I've been acting for a paycheck since I was 20. Forty-six years and I now know what was evident when I was 20 years old is what Spencer Tracy said: "Learn the lines. Hit the marks. Tell the truth." That's all you can do." – Tom Hanks
For the last thirty years, a poll of "America's favorite actor" would likely have included two-time Academy Award winner Tom Hanks near the top of the rankings each year. Hanks has continued to impress audiences through his transformative roles across many genres. In an interview with New York Times Magazine, Hanks spoke at length about his career, focusing on how his nearly fifty years as an actor taught him valuable lessons about the roles he would take on later in his career.
Hanks enjoyed on of the most successful runs for an actor as a bankable star throughout the 1990s, but it took him over a decade to reach that point in his career. Reflecting on that shift in his career, Hanks credits others who changed the way he thought about his roles and his career:
You know, I was not an overnight sensation. I had been in movies for a long time until I had enough opportunities and experience to realize that I don't have to say yes to everything just because they're offering me the gig. Some of that was, What am I going to do instead? Wait for the phone to ring? The phone rang! I said yes! But I was fortunate in that my sense of self and artistic thirst grew at the same time. I had done enough romantic leads in enough movies and had experienced enough compromise to say, "I'm not even going to read those scripts anymore." So then you hold out for something that represents more of the artist you want to be. When Penny Marshall came to me on A League of Their Own, I said, "Penny, this is written for a guy who's older than I am. The character is in his 40s and washed up." She said: "That's why I want you. Because this guy should have been great until he was 40 and wasn't." I went Aaaah. Before that a director had never said something to me like, "Come up with a reason why you're 36, broken down and managing a woman's baseball team." The it was, Katie, bar the door! I was looking for more of that from then on. The other thing that happened in the '90s was when Richard Lovett at C.A.A. said, "What do you want to do?" No one had asked me that question, either. People always said: "What do you want to do with this opportunity?" But what do you want to do? I said I'd like to make a movie about Apollo 13. That was the time where I was saying, "This is the type of artist who I want to be." But if you look at anybody's career, there's hits and misses. There's movies that simply don't work, and if something not working is debilitating to you, you're toast.
In 2013, Hanks made his Broadway debut in Lucky Guy, a play written by the late Nora Ephron. A star of Hanks' magnitude starring on Broadway made headlines, and it was precisely the type of project Hanks wanted to step away from Hollywood blockbusters. He recalls, "When I did Nora Ephron's play Lucky Guy, that was a conscious decision to cut down on the exposure. I wanted to do extraordinary work, but I also wanted to not be carrying the economic burden of another bigass movie. Because as soon as you carry one of those and it tanks, you're in the doghouse for a while. It's that old story: 'Get me Tom Hanks. Get me the next Tom Hanks. Get me the young Tom Hanks. Who's Tom Hanks?' But that's the business. You can't change that."
While many would consider Hanks one of Hollywood's best actors, Hanks is quick to point out that he is still learning about his craft with every role. He shared an example of learning from Robert Zemeckis, the director of Forrest Gump:
We were shooting the park-bench scenes of Forrest Gump. It's summertime in Savannah, Ga. We had shot 27 straight days. It was brutal. We were sitting there, and I got this haircut, we're trying to make sense of this dialogue, and I had to say, "Bob, man, I don't think anybody's going to care." And Bob said, "It's a minefield, Tom. You never know what's good. Are you going to make it through safe? Or are you gonna step on a Bouncing Betty that's going to blow your ball off?" There's never any guarantee. I'll be 66 in July, and I've been acting for a paycheck since I was 20. Forty-six years and I now know what was evident when I was 20 years old is what Spencer Tracy said: "Learn the lines. Hit the marks. Tell the truth." That's all you can do.