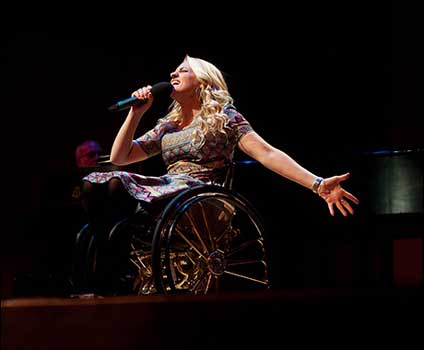 Actress Ali Stroker is about to make history by becoming the first ever wheelchair bound actor to perform on Broadway. It sounds strange, given that equal opportunities and inclusiveness is something most work places strive for, but The Great White Way has never had an actor in a wheelchair performing in any of its multiple shows.
Stroker will change all that when she takes to the stage as part of the cast of Deaf West's Spring Awakening. The show first premiered early in 2015 in California, and features non-hearing actors performing in American Sign Language alongside hearing actors who will perform in spoken English.
Stroker, who has been in a wheelchair since being involved in a car accident aged 2, says that life in a wheelchair enables her to "think more creatively." Her first role was in a backyard production of Annie, some 21 years ago. From there, Stroker says her life opened up, and she went on to perform in Les Miserables and West Side Story during High School.
Study at NYU followed and after graduating, Stroker landed a part in The 25th Annual Putnam County Spelling Bee. She also took part in The Glee Project, and although she didn't win, she was later cast on Glee as a love interest for Artie.
Spring Awakening director Michael Arden, who worked with Stroker on Spelling Bee, says the show wouldn't be the same without her. "Ali dove into the audition with such rigor," he says, adding that didn't ask for any alterations because of her chair when it came to the show's choreography. "I remember one moment when everyone had to jump up in the air, and Ali popped a wheelie. I was just so moved by her fearlessness. It was a natural choice for her to be in this show."
Special adaptations have been made at the Brooks Atkinson Theatre; including enlarging the bathroom of Strokers ground floor dressing room and providing a ramp for her to enter the building (though she mostly uses the regular stage door). The wheelchair she uses on stage has also been adapted or rather, antiquated to fit with the period setting of the show.
"To the best of our knowledge, there's been no one before her," says Howard Sherman, interim director for Alliance for Inclusion in the Arts, an advocacy group for stage, TV and film. "There's no question that it's time," he says, adding that "20% of Americans have disabilities. But on stage and on film and TV, they are largely unseen."
Stroker agrees: "Broadway theaters by law have to be accessible for audience members with disabilities," she says. "It should be the same for someone in the show."
Spring Awakening in previews, opens Sept. 27 at the Brooks Atkinson Theatre.
Via NY Daily News