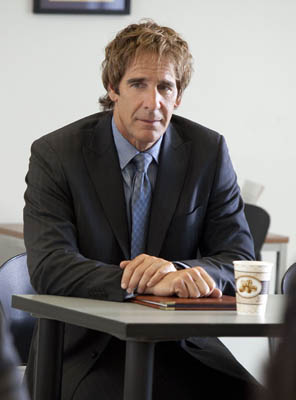 Men of a Certain Age returns to TNT tonight and Speakeasy caught up with Scott Bakula, who plays Terry, the often out-of-work actor.
This season he'll face a crossroads in his career; does he continue acting or get a 9-to-5 job selling cars?
Here he talks about his character on the show and being an actor.
Can you ever be a former actor? You get the feeling Terry would drop everything for an audition.
The reality of our business is that for every actor who's rolled up his tent and given up and gone home, the next day you hear about some shoe salesman at Macy's who had this audition and now he's Harrison Ford. There's always that carrot out there in our business. We're not really defined by age because you can work when you're eighty and twenty and all ages in between, there's always this possibility. Terry is such a hopeful guy. Because he doesn't have big commitments -– he's not looking at three hungry mouths to feed every time he doesn't get a job -–  he's been able to keep that ball up a lot longer than he should have.
Is there a particular occupation in L.A. that's a haven lot of former actors?
Certainly a lot of people end up driving. The guy that picked me up at the airport in 1985 when I was out in L.A. for my first audition was selling a script. I was a nobody coming off a plane to read for a new show.
Car sales seems perfect for an actor.
The writers set this guy up right. They know Terry. Actors are people people so any job where you can use your personality and your acting, really. I thought in my own life I was going to be a trial lawyer because I like to get up and perform and I'm comfortable in front of people. Anything we're you're dealing with people is really where you find old actors.
How do you like playing Terry compared to past characters, like Sam in 'Quantum Leap'?
I'm really enjoying him because he's so different than a lot of people that I played and he's so different than who I am in my own life. The further away you can get away from yourself as an actor, the more fun you have.  It's also fun to make fun of your own business.