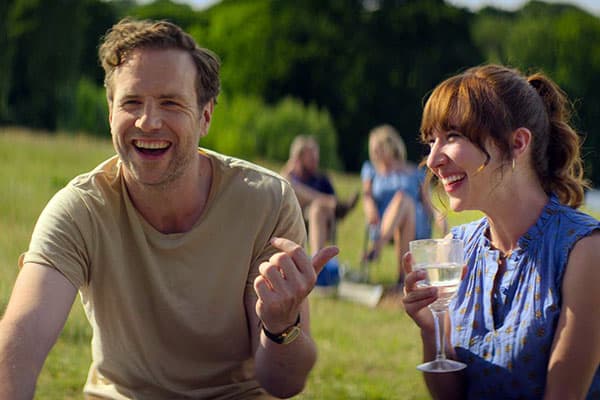 "I was always lucky to go, 'Yeah, sure I'm allowed this,' which is half the battle for some people." – Rafe Spall on Wanting to Become an Actor
The Big Short star and BBC favorite Rafe Spall doesn't hide the fact that he's the son of actor Timothy Spall, but he also is open about the fact that while being the son of a famous British actor has certainly helped his career, he has experienced his own challenges. Speaking with Deadline, Spall talks about how his father influenced his career and how he still felt challenged by him.
Spall points out that while he didn't study acting professionally, he learned a lot from listening to his BAFTA-nominated father, who also helped him to see all the theater that he could. He recalls, "I didn't go to drama school, so my drama school was essentially having sat there watching TV with my dad because he would comment on whether things were good or bad. That was where the architecture of my taste started. But then when I made it clear that I wanted to be an actor, he gave me a theater allowance. From the age of 17 he'd give me £40 a week and I'd go and see everything, everything, everything."
In fact, Spall reveals that his father never discouraged him from becoming an actor, but still "tested" him to ensure that he truly had something to offer. He continues, "When I was 15, I said, 'I want to be an actor,' and I was kind of embarrassed about telling him. He said, 'Okay you should audition for the National Youth Theater' which was where he started… And he said, 'Go and learn this speech and show it to me.' It was a speech from Julius Caesar and he sat on the sofa with a glass of wine and I did the speech for him. In that moment he was, he later told me, as nervous as I was because if I had no talent it would be his duty as a father to save me from the grief of entering into this vicious industry. But he saw something and as soon as he ascertained that I was getting into it for the right reasons, he was fully supportive."
Though Spall says that his father was supportive of him becoming an actor, he explains what it is like to have a famous actor as a father and how that impacted his career:
From my point of view you go, "Okay, my dad's an actor. I want to be an actor too. He's also extremely successful, so well that must be what being an actor is like." That gives you confidence. You soon figure out that in no way is it that easy, it's very difficult, and that being the son of a famous actor may well open doors and get you seen for things, but they're not going to give you the job because you're the kid of an actor — and if they do, then the next person that sees that movie certainly won't give you the job because they'll see that you're crap (laughs). So I like to think that when the door is open, it is a very meritocratic experience. But it would be remiss of me to say that I didn't benefit from nepotism because of course I did, and I'm extremely grateful for that.

I'm fascinated by and in awe of people that come out of nowhere and with no acting family that do it for themselves. I'm not saying that I haven't done it for myself because of course I have. But I had a leg up and I had this confidence that the industry was for me, whereas some people, especially from working class backgrounds, they don't feel like the media and the industry is for them. They feel like it's for other people, and I never had that. I was always lucky to go, "Yeah, sure I'm allowed this," which is half the battle for some people.