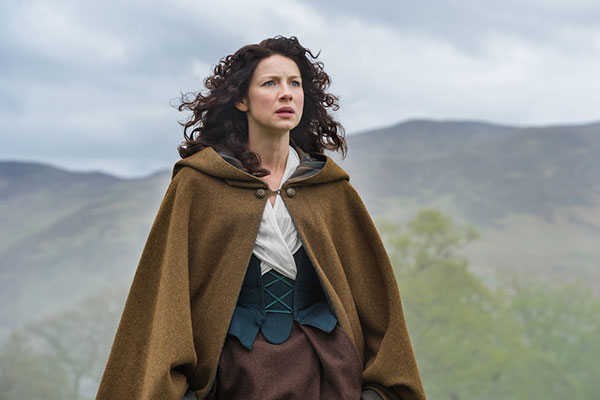 "Having to put yourself in that place is tough. To sit in that emotional space, especially when you're doing it day after day." – Caitriona Balfe
As fans of Outlander will attest, the show has a tendency to turn grisly at times. Recent stomach churning scenes for me have included Jamie getting his hand crushed and a rather brutal hanging scene. However, the violence is in keeping with the time setting of the show.
Caitriona Balfe, who plays Claire on the show, knows more than most about the sometimes barbaric scenes depicted. Her character has been nearly raped several times and also attacked. As she told Vulture, filming such scenes can really take its toll, both physically and emotionally.
"Shooting it was very physical," she says. "For both of us, we really like to go there. You can choreograph and you can block out a scene as much as you want beforehand, but once you're in a scene and the adrenaline is going, you know, things get messy. You know that there are marks that you're going to hit, but within that, it's not perfect. And it shouldn't be. Because if you want to get it to look and feel real, you have to just go for it."
For the near-rape scenes, Balfe explained that it all comes down to trust, and although it's not always easy to film the cast and crew do look out for one another's welfare.
"I mean, in that time, sex was used as a weapon. And unfortunately in some parts of the world today, that's still the case. But in terms of preparing for that, it's just part of the usual process you have to go through as an actor, preparing for some of that violence. It's never the easiest thing to film, but once you trust your scene partner and crew, and everyone's very respectful, you try to do it as quickly and safely as possible. You try not to get too hurt, although that doesn't always happen. But there was a lot of rape — it was just a reality of the time, and it's important to show.
"Having to put yourself in that place is tough," she adds. "To sit in that emotional space, especially when you're doing it day after day. But in another way, it's really nice to exorcise those shadows in yourself! You spend so much time in your everyday life making sure you don't bring up that side of yourself, so to be able to, in a safe environment? To have that catharsis? That's the reason we all become actors. We all have our own way in, our own methods, and we're all there for each other as friends. We all check in with each other and ask, "Are you doing okay?""