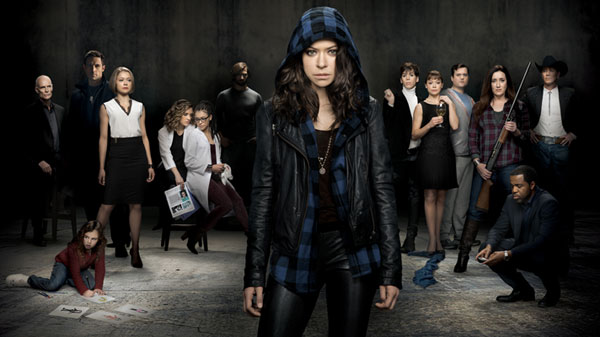 "It's such a playful place, and as an actor I approach everything that way" – Tatiana Maslany on Improv
Tatiana Maslany turns in a stunning performance in Orphan Black. For those not familiar with the show, Maslany plays not one character, but several clones, a role that often requires her playing opposite herself. The amount of effort and hard work Maslany puts in is incredible and many were (rightfully) outraged when she failed to get an Emmy nomination for Best Actress.
Her work is fascinating viewing, and the actress has opened up more about the process behind each clone creation and the way she works. Talking to Vulture, Maslany explained that she goes through a long process of read-throughs and rehearsals for each clone before deciding on their traits and personalities.
"I think they're like any character for me. It takes a while to get to know them. The most important part is just being on set and doing it, and taking in the responses of the actors opposite me and seeing what they give. You know, Jordan Gavaris [who plays Felix] will treat me completely differently depending on who I'm playing, and that really informs a lot of my character. So there's a real collaboration."
She also reveals that another actress, Kathryn Alexandre, works with her during the clone scenes so she has someone to play off and has given her a lot of ideas for characterization.
"I'm so lucky to have her because she's such a cool, strong actor, with so many awesome ideas. I remember this pivotal scene in the tenth episode of season two with Sarah and Helena, and Kathryn was playing Helena and improvising all these awesome little moments, and they all survived. They all became part of the scene. So when I turned around and did Helena I stole lots from her. I really owe her a lot in terms of character creation."
Maslany has a background in improv comedy, though she says she hasn't done a show in a while. Orphan Black must take a lot of her time and energies right now but Maslany says she has not struggled, as some actors do, with crossing over into more dramatic work.
"To me they're not mutually exclusive in any way. I think you sort of approach improv with a sense of openness and a sense of play that's kind of only reserved for children. It's such a playful place, and as an actor I approach everything that way. Just because it has a different tone doesn't mean that it has to feel "serious"."