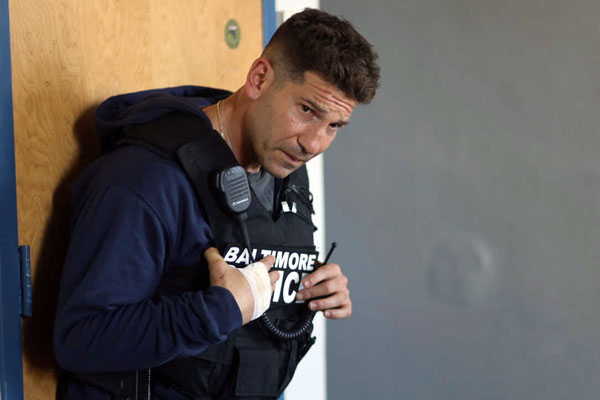 "I don't look at my commitment, or look at my journey really any differently whether I'm in one scene or whether I'm in the entire film." – Jon Bernthal
Though comic book fans probably best know actor Jon Bernthal for playing The Punisher in the Marvel Cinematic Universe, Bernthal has appeared in a number of acclaimed films and televisions series including We Own This City and 2021's King Richard, the biopic about Richard Williams, the father of tennis greats Venus and Serena Williams.
In King Richard, Bernthal portrays Rick Macci, who helped coach the Williams sisters early in their careers. He spoke to Slash Film about playing Macci and also gave insight into what he learns from characters when he plays them onscreen.
Bernthal said that he was able to glean some good advice about being dedicated to acting from Macci's philosophies:
"Not only did I find them applicable, I mean, it was such a beautiful set because there was so much fluidity. I find the best filmmakers are the ones that are the most comfortable with going off track and exploring and improvisation, and trying to make things electric and nuanced. And there were things that I threw in. I remember, it ultimately wasn't in the film, but the first time he went and saw Serena and Venus play in the movie in Compton, a train went right by where they were playing. And later when they were in the room and he was trying to make his case on why you should come down to Florida and train with him, I improvised from the book and from sort of a Macci-ism, and I said, 'When you guys were playing, that train went by. And if I were to ask you what color was that train? I bet what you would say is, 'What train?' Because you were so focused on the game and your mental game was so sharp.'

"And something that he talked about all the time, that if something is a distraction, how that can completely get you out of your game. You got to have, what you're talking about, this inner ability to forget, to block things out, to play little games with yourself. I'm not going to listen to that. The game is so high level. Everybody's good, but who has got that mental edge? I love the gamesmanship of that, and I love learning that. And then putting it to practice in my own tennis training that I did for the film."
In fact, Bernthal points to learning new things as he plays different characters as one of his favorite aspects of acting. He continues, "I mean, everything from the training I've done with special forces for military stuff, to the other stuff I've done. I mean, I trained in mathematics when I played this math genius in this play I did. There are so many things. The show that I'm doing now, the driving, the stunt driving that I get to do. […] So they let me train sometimes three to six hours a day at the old tennis academy in my little hometown with the best trainers. And when you have professional training that long with guys that focus on getting you good, it's amazing how much you can grow when you have the time and the infrastructure to do it."
Bernthal sees this as one of the most enjoyable aspects of acting — learning more about himself from the roles he plays. He explains, "There are great kernels of wisdom to pick up from all these different characters you play. Look, I learned a lot of appreciation, and a lot of hard lessons from playing Frank Castle for a long time. And equally so, I think I learned from Rick Macci in terms of how I want be with my family and his positive outlook on life."
For Bernthal, ultimately the size of a part doesn't matter as much to him as the depth of the character he is portraying. He says, "I don't look at my commitment, or look at my journey really any differently whether I'm in one scene or whether I'm in the entire film. I really don't. Some of the favorite projects I've gotten to work on are things like Wind River or Sicario where I just kind of like breeze in and breeze out. The more you live in it, and the more you sort of burn that character into your heart, I think, I love watching movies when I see a character kind of roll through. And then you think like, 'I wonder where that person's going? What's their life like? I believe that that person's been through some stuff.' Or like, 'I wonder …' I love that. I loved that growing up as a film fan. To get the opportunity to play those kinds of characters, awesome."