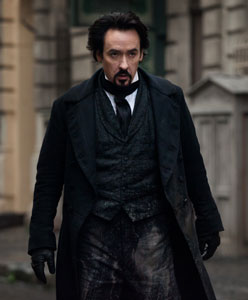 As a former English literature teacher, I can tell you that no author's work interested my students as much as Edgar Allan Poe.  Whether it was his dark prose, his scandalous life, or even just the fact that Baltimore's NFL team was named after his most famous poem, almost every student I ever had found something to like about Poe.  Needless to say, Poe remains an iconic figure over 160 years after his death.
So not only does John Cusack have the pressure of playing the famous writer in the upcoming mystery film The Raven, but he had to deal with the difficultly of coping with Poe's notoriously turbulent mental state.  Or, as Cusack puts it in an interview with The Huffington Post, Poe "was so self-destructive, he'd burn any bridge he ever built.  He was at war with the entire world."
Cusack understands how important it is when playing a famous individual to find something in yourself in the character.  He explains, "You have to see yourself in these great people if they represent the shadow part of you."
But playing Poe took its toll on Cusack both mentally and physically.  He reveals, "I tried my hardest, I came back exhausted, weighing 187 pounds, stumbling around. But we made sure to get him as complex and f—ed up as possible. It was like being on a bender. It was like being on a journey to the underworld artistically, and I thought it was exciting, but I didn't want to stay there.  Afterwards, you come out, and just hope that there's not a brick wall in front of you, and you put some throw mats down on the ground, and make no plans for about a month after."
Considering how dark some of Cusack's roles have been in recent years, let's hope that not all of them are as mentally taxing on him!
The Raven hits theaters on April 27.