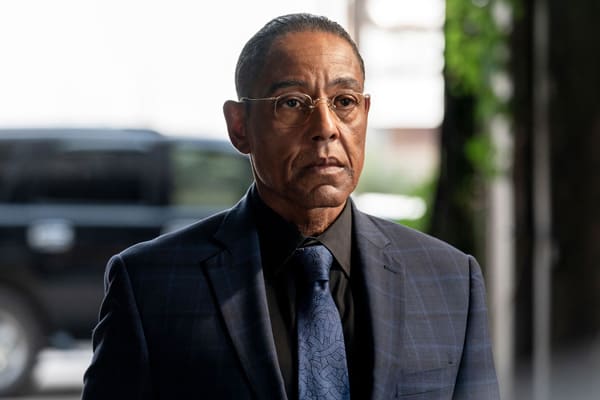 "I wanted to play human beings. I didn't want to play a color. I didn't want to play a race. I wanted to play a person." – Giancarlo Esposito
As the powerful Moff Gideon on Disney+'s The Mandalorian, Emmy Award-nominated actor Giancarlo Esposito has become one of the most fan-favorite villains in the Star Wars Universe. However, the road to becoming the big bad of the series was quite a long one for the actor, and in an interview with The Washington Post he details his early career struggles and what he had to do to adapt to, and later subvert, the expectations people had of him as a performer.
Esposito played his first "boss" character in the short-lived David E. Kelley program Girls Club. Though the series didn't last, the character's place in the show's hierarchy did leave an impression. He explains, "I started to play bosses. And I realized, 'Oh, okay, this is an opportunity.' It was really a great opening for me to show who I really was. And it's kept going like that."
At only ten years old, Esposito made his Broadway debut in Maggie Flynn, a musical set during the Civil War Draft Riots in New York City. As with most Broadway roles for child actors, it didn't offer Esposito much to do. He recalls, "When I first started, I was playing an African American, a Black slave child. I knew that I wanted to play characters who were more expansive."
Though his parents are Italian and African American, Esposito learned that he could pull off Spanish characters very convincingly, which would create more opportunities for him. He explains, "When I was very young, I realized my hair would do anything. I could sweep it back, slick it down and I could look Spanish. It was really survival. But what I realized in doing that is that I was expanding myself to be able to have more of a repertoire." He was repeatedly cast as Spanish characters.
When he was cast as black characters, Esposito was frustrated by the stereotypical roles. He remembers, "I just didn't want to do that anymore. I thought there are other parts of me as an African American man, as a mixed-race human being, that I'd like people to know and understand. But those opportunities weren't there. I had to ask myself, 'Is this me trying to escape my Blackness? Is it just me trying to fit in and be White because the White boys are working?' I had to get very clear with myself: No, this is me creating a space."
Sadly, he often found himself rejected in auditions when his name did not fit what a casting director expected him to look like. Espostio says, "That was crushing to me. That's when I made the decision: I wanted to play human beings. I didn't want to play a color. I didn't want to play a race. I wanted to play a person. And I'm not saying that there's Black, there's White and then there's Giancarlo Esposito. But maybe I am saying that. So I started to seek out roles that would allow me the ability to do that"
Again, those experienced forced Esposito to take stock in what he had to offer and what he was capable of as an actor. He continues, "I kind of figured out how to create my own style, my own place. It took time for people to see me as me. And that was my opportunity to show myself as a complete human being, but also to feel that way."