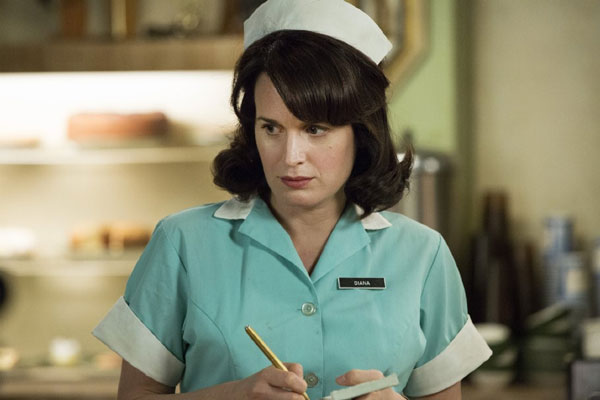 "I auditioned, and I knew nothing. I didn't know who the character was, I didn't know who the other character was, I didn't know Don was Don" – Elizabeth Reaser

Auditions are tough, there's no denying it. Sometimes the ones you think have gone really well are the ones you don't get, and then you come out of others assuming you've tanked only to find you've got the part.
Of course, sometimes actors are lucky enough to get a call offering them the part without any need for an audition at all; the director knows who they want to cast and that's that, but more often than not an audition is the way in.
Talking to Vulture, Mad Men's Elizabeth Reaser, who plays Diana on the show, revealed that she auditioned to land her role, and she went into it not knowing who the character was even though he was already a huge fan of the show.
"I auditioned, and I knew nothing," she says.  "I didn't know who the character was, I didn't know who the other character was, I didn't know Don was Don. No one told me. But when you get the material, it was clear to me because I'm such a huge fan — it just felt like Don, the way that he was talking in the scene, and I just fell in love with his character. I just felt that the way that she talks to him — it's just very powerful."
And even an actress with a wealth of experience such as Reaser still feels those nerves we all get in the pit of our stomachs: "I remember being so nervous because I'm always nervous, and I remember Matt Weiner (creator) and Scott Hornbacher, the director of the first episode. They were very warm, and the room was very kind. And I remember feeling like I needed to look sexy, which I always feel silly sort of sexing it up for an audition. And yet, it's really what you have to do."
"I wore this, like, skintight black pencil skirt — which I've only worn one other time in my life because it's just, like, it's not comfortable. So I pulled that from deep in the closet. And the whole nine yards — the heels and the hair and I just sort of, I felt like I wanted to commit to the sexuality of the character 'cause I think she's extremely sexual on top of all of her grief."
Reaser adds that she felt connected to the character after the audition even though she wasn't offered the role right away. "I went in one time, I was not offered it that day. I felt like it had gone well. To me I just felt like this woman, I felt like I was the woman — I don't know why, and it probably doesn't speak very highly of me. But I felt very connected to her."