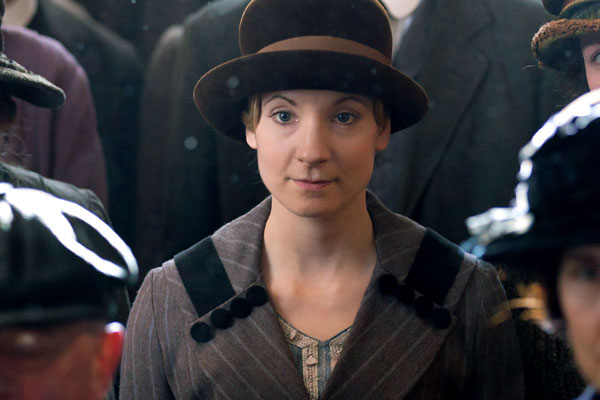 "They want the model type, classically beautiful, and I'm not" – Joanne Froggatt on Working in Hollywood
Downtown Abbey's Joanne Froggatt started the year in a big way — with a Golden Globe Awards win. The British actress is now ready to tackle an even bigger career.
"It would be nice to do lots of different roles and swap between TV, film and theatre like Judi Dench and Helen Mirren do. That's the perfect mix," says Froggatt.
She and her husband are planning on moving to Los Angeles after the current season of her show has completed filming. Froggatt is ready to be offered roles similar to co-stars Michelle Dockery and Dan Stevens.
"I'm not a big-budget Hollywood type," she says. "They want the model type, classically beautiful, and I'm not. It's certainly easier for the men. There are more interesting character roles for them. Also there are more actresses than actors so there is more competition. But things are getting better for women, particularly on TV."
However, her Downtown Abbey schedule isn't very easy.
"We film for eight months of the year. I'm only free in the autumn and it's hard to find a project that fits in that window."
Froggatt loves being on the show because of the creativity behind the scenes. Creator Julian Fellowes allows for the cast to create their own backstories.
"My back story for Anna came from wondering why she is so emotionally mature and grounded. I thought maybe she grew up on a farm with a lot of younger siblings and was a mother figure from a young age," says Froggatt. "She probably experienced death quite young, which made her more mature and strong-minded."
Via MailOnline