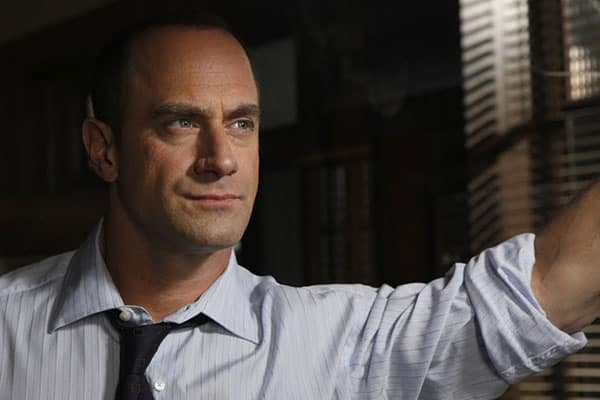 "I took some acting classes as a lark…. And I liked it. And I actually thought to myself, my God, I'm pretty good at this." – Christopher Meloni
Like many other actors, Law & Order: Special Victims Unit and Happy! star Christopher Meloni didn't seriously consider acting as something he could do as a career no matter how much he enjoyed doing it. In an interview with NPR, Meloni reveals that although he initially dismissed the idea of becoming an actor, he soon discovered that it was something that he could do and leapt at the opportunity.
Meloni explains that though he acted in college and enjoyed it, he didn't pursue it as a career because he didn't think of it as a realistic career possibility. He explains:
"I took some acting classes as a lark. You know, it was a – in college. And I liked it. And I actually thought to myself, my God, I'm pretty good at this. But even more importantly to me, I realized how little I knew and that there was something to learn. There was an art here, and I was very curious about it.

My father was a doctor. And I just didn't think that I could ask him to pay for my college tuition so I could take costuming and makeup and all that. I just didn't think he'd appreciate that. So I didn't major in it. I took as many classes as I could. And that was that. And I graduated. That was it.

I went home, promptly went back to a construction site 'cause that's the only job – basically the only job I'd ever had through high school and college… So I was a little bit depressed."
That all changed when Meloni started to reach out to his former acquaintances to find out where they ended up with their careers and discovered his interest in acting professionally wasn't so far-fetched. He continues,
"I was calling around to figure out what guys were doing – what my old classmates from high school were doing with their lives. And I called up a high school buddy. And I said, what are you doing? What are you doing with your life? And he said, I'm going up to New York to study acting. And I thought, oh, my God. Well, if you can do that, so can I. I asked him for the number. I called up the Neighborhood Playhouse. And I flew up the next day and interviewed with them."
As it turns out, Meloni wanted in on the program so badly that his nervousness almost blew it. He recalls, "In the interview – I'll never forget this – the guy told me to calm – he said, you've – just relax. You've got to calm down. I was so desperate."
Nonetheless, Meloni got into the program — and before long, was earning money as an actor. Not too bad for someone who didn't see that as a realistic possibility!