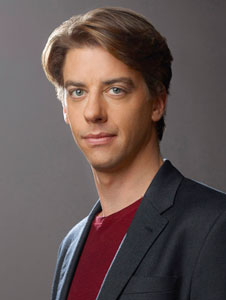 Despite starring numerous Broadway veterans, even an outside observer (such as myself) can tell you that the NBC series Smash certainly takes a few liberties with the background information on how a musical is produced. One of those veterans includes the Tony Award and Award Drama Desk nominee Christian Borle, who spoke with the New York Times about criticisms of Smash (including his own) and how he manages to handle his career on fictional Broadway and the real-life stage.
Borle admits that he is aware that Smash is a bit unrealistic, and actually counts himself among the critics of the show, saying, "If I wasn't in it I would be watching too and saying, 'That's so not how it happens' But it gets some things emotionally right."  He even confesses that he has actively pushed for a more accurate portrayal of how a Broadway show comes together, adding, "We fight for the things that we know are true and accurate, and you win some and you lose some on that front."
Perhaps Borle wouldn't be so critical if he wasn't actively immersed in the Broadway scene.  Borle is juggling his role on Smash with his role in Peter and the Starcatcher, and while shooting Smash he had to share his Starcatcher role with Steve Rosen while it was off-Broadway at the New York Theatre Workshop.  It actually seemed to Borle that when it was announced that Starcatcher would hit Broadway he wouldn't be able to appear in both, despite the fact that Smash is filmed in New York, however he has managed to commit to Starcatcher since production wrapped on Smash's first season.
But when Smash's second season is ready to shoot, Borle will be ready to return to Smash.  He explains, "TV's a lot about waiting.  Waiting to hear if you get the job. Waiting to hear if the pilot's going to get picked up. Waiting to hear how many it's going to be. Waiting to see if you're going to get renewed."  He then adds an insightful thought about acting for television: "TV waits for no man."