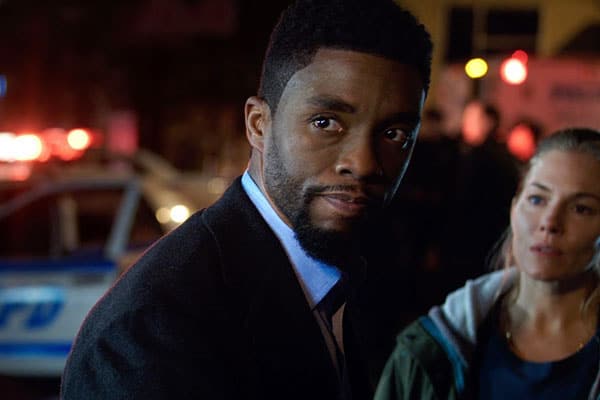 "For me, I always want to start from what's real" – Chadwick Boseman on Character Research
Though actor Chadwick Boseman did have roles in the films Message from the King (2016) and Marshall (2017), for the most part he has been exclusively appearing in film as Marvel superhero Black Panther since 2016. That changed with the crime drama 21 Bridges, which stars Boseman as an New York City police detective. In an interview with Esquire, Boseman speaks about the research he did in the role and why he feels it is "refreshing" to play a character outside of the Marvel Cinematic Universe.
When asked how it feels to star in a non-Marvel movie after being so closely associated with Black Panther over the last few years, Boseman responds, "I mean, it's refreshing. It's a relief. I enjoy doing what I do with Black Panther, but I also enjoy not having to put on a suit or train like a professional athlete. You know, this is the type of movie that I enjoy watching the actors that I love do. It's kind of like, you want to see how you would do it. And not in a copying way, but in a, 'How do I define this in my own way?' So it was great to have that challenge, and to have something that was unfamiliar to me that I can dive into."
Boseman also went into detail about his extensive research for the role, which included spending a significant amount of time with real police officers. He explains:
For me, I always want to start from what's real, so I started with real police officers and detectives. At first, we had a script, and that script was being rewritten when I started doing my research. So I wasn't looking at the script at all or watching any movies. I just wanted to be around cops. I found a specialist in LA who would take me to the firing range and let me fire blanks. Obviously, we couldn't use live rounds, but you need to know what it feels like to fire and handle these weapons, and what the responsibility and danger of it is. We were firing about 500 rounds a day hitting real targets, figuring out how you would pull this weapon, how you would pull it with a coat on, how to draw, and finding out what's the best way to do that.

So that was the first thing. The physicality gets you in the mindset and helps you to understand what they see. For instance, when I'm holding my weapon, if my eyesight is coming from one direction I can't see what's happening in the opposite direction. I can only see if I turn and aim the weapon at you. So you need a mindset and a focus and it was important for me to understand that physically.

We also talked a lot about what it meant to be an officer, what your personal life is like, and what the job is. I did ride-alongs once I got to New York with detectives. That influenced the character and what was written because I'm sharing that information with the writer as he's writing the script.