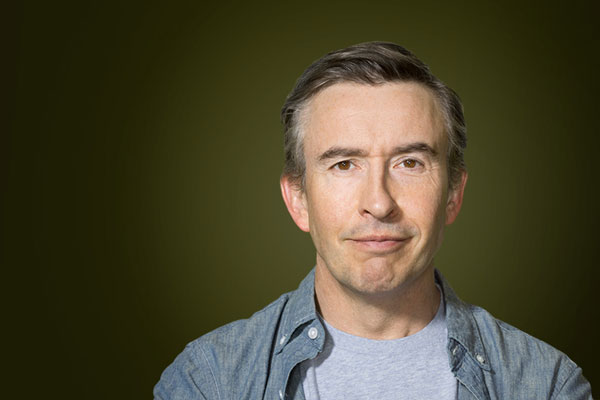 British-born Steve Coogan was on top of the U.S. box office in 2008 with Tropic Thunder, and most recently starred in the comedy The Trip, his third film for director Michael Winterbottom. He was also seen recently in Night at the Museum: Battle of the Smithsonian, reprising his role from Night of the Museum.
Other film credits include The Indian In The Cupbaord; Jim Jarmusch's Coffee and Cigarettes; Michael Winterbottom's 24 Hour Party People and Tristram Shandy: A C**** and Bull Story; Around The World In 80 Days; Happy Endings; Sophia Coppola's Marie Antoinette; Finding Amanda; Hamlet 2; Percy Jackson & The Olympians: The Lightning Thief; and Marmaduke. Later this year, he will also be seen opposite Hilary Duff and Molly Shannon in Safety Glass.
Born and raised in Manchester, where he trained as an actor at the Manchester Polytechnic School of Theatre, Coogan saw stand-up as a way of obtaining an equity card. While working in radio, Coogan created his character Alan Partridge in On the Hour which became the television show The Day Today, which became the radio show Knowing Me, Knowing You with Alan Partridge.  The show made the transition to television and received huge critical acclaim along with numerous awards. At the 1994 British Comedy Awards, Coogan won Top Male Comedy Performer, Top Comedy Personality and the program won Best New Television Comedy. He then completed a sell-out tour in the UK with his live show The Man Who Thinks He's It, which won a South Bank Show Award and broke all box office records for a comedy show in London's West End.
As a writer, Coogan started a screen career co-writing the British hit The Parole Officer with business partner Henry Normal. In 2002, Coogan released a new series of I'm Alan Partridge, which again received rave reviews and earned him two BAFTA Awards for Best Comedy Series and Best Comedy Performance. Coogan's most recent television appearance was in the 2007 season finale of HBO's award-winning Curb Your Enthusiasm, playing Larry David's psychologist. He also wrote and starred in a Christmas Special for BBC 2 titled Tony Ferrino's Phenomenon (for which he received the Silver Rose of Montreux Award) and the BBC 2 comedy shows Saxondale and Coogan's Run. He recently wrapped a 40-city tour of his second live comedy show, entitled Steve Coogan is Alan Partridge and Other Less Successful Characters.