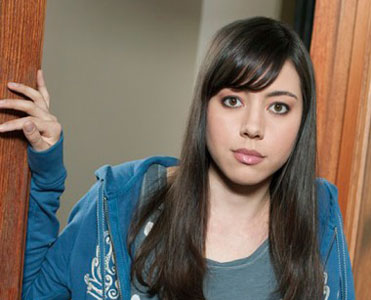 While Aubrey Plaza is fast becoming known as an up-and-coming comedienne, the actress has also made the effort to take on dramatic roles, like in the indie Safety Not Guaranteed.
"It was a conscious decision, I think what happens sometimes when you play one character and people see you do that, they associate you with that and they just keep wanting you to do the same thing over and over again," Plaza told Zap2It.com.  "As an actress or an actor you have to fight to get parts that allow you to kind of expand and show people the other things you can do.  I thought that this role was an organic way to kind of step out of that box, quote unquote, and show people that I have other feelings that I can portray."
Plaza shows this versatility week after week with her character, April, on NBC's hilarious Parks and Recreation. Then she took on the role of a newspaper intern who makes friends with a guy that believes in time travel in the drama Safety Not Guaranteed.  The actress hopes this ability to play all types of roles will "hopefully show over time.  People in Hollywood do not take risks that often—people play it safe, and I'm not an obvious casting choice for a lot of movies.  Hopefully people will continue to take risks on me and let me surprise people, which is what I think Colin Trevorrow, our director, did."
Safety Not Guaranteed is available on DVD and Blu-Ray now, and Parks and Recreation airs Thursdays at 8:30 p.m. on NBC.