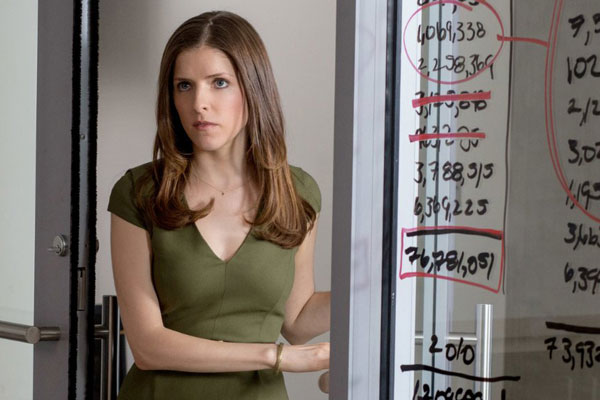 "It became the way that I learn about myself and the way that I learn about other people." – Anna Kendrick on Acting
Anna Kendrick is known by most for making her name in Up in the Air, as well as her role in the Pitch Perfect movies where, as Beca, she really showcased both her singing and acting abilities. Since then, Kendrick has gone on to star in The Last Five Years, Into the Woods, Mike and Dave Need Wedding Dates and, most recently, Trolls, where she lends her voice to Princess Poppy. Kendrick has also made a name for herself on social media, where her humorous and forthright approach to life has earned her many fans.
Kendrick actually started performing when she was just six years old, and had made it to Broadway by the tender age of 12, earning critical acclaim and a Tony nomination for her role in High Society. "I can't now say what it was that originally drew me to performing, because it's very possible that at 6 it was just that I wanted people to be looking at me and paying attention to me," she says. "Then it sort of transformed into something that was really meaningful for me. It became the way that I learn about myself and the way that I learn about other people."
Anna Kendrick: "I don't really have a career strategy"
Along with talent, luck has also been on Kendrick's side. Even though she did have to audition for her role in Up in the Air, director Jason Reitman had written the role with her in mind. Kendrick earned an Academy Award nomination for the part: "I auditioned. Good old-fashioned auditioning, can you believe it? But after I auditioned, I did find out that the director had written the role for me after seeing me in an independent film I did called Rocket Science. … But I still had to audition because it's a movie with George Clooney and it was a great script at a great studio, so I guess every gal in the proverbial town had auditioned. Little did I realize when I auditioned, I already had the approval of the director. I was trying to prove myself to the studio, essentially, to hire someone who was not famous."
If Up in the Air launched Kendrick's career, it was Pitch Perfect that catapulted her to the big time. Packed full of humor and catchy musical numbers, the movie spawned a well-received sequel, with a third installment also in the works. One song in particular, "Cups," really caught on and became a massive hit, particularly with younger teenagers who seemed to sing it relentlessly around the time of the film's release. The song's success was a big surprise to Kendrick, who doesn't take its popularity lightly.
"I remember I was shooting another independent film as this song was climbing in the charts, as it were. And I was in New York and I was sleeping on the floor of a basement of a church in Harlem, where we were shooting, in between set-ups and getting a kind of email alert from my agent saying, "This song, it's now in the top 10 on the Billboard charts. I remember thinking all the other artists that are in the top 10 right now, who've been going on Good Morning America and performing and been promoting their singles and making music videos must be like, 'What the hell is happening? What is going on?' I imagine that will remain one of the great shocks of my career. It was so lovely and charming and the fact that it just happened — it was so truly organic — was really lovely, too."
Via NPR