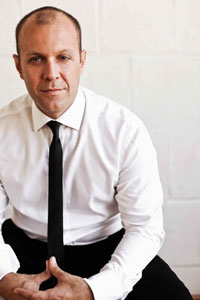 Written by Douglas Taurel
There is incredible power as a performer when you make the choice to start creating and producing your own projects. Through creating his own projects, Douglas has been reviewed by the New York Times, received 5 stars for his performance at the Edinburgh Fringe, gain significant film exposure at film festivals, strengthen his resume and found that many doors have opened that otherwise would not have been. He has been able to build a massive network of like-minded actors, directors and writers who share his same vision.
"When you begin networking with your fellow artist, you help and pull each other up in the business, and that is power," said Douglas. 
Douglas Taurel is currently developing a solo show based on actual stories and accounts from soldiers' letters spanning from the Civil War through the war in Afghanistan. And the director who he is collaborating with was referred to him by an actress from one of his last projects. And through creating his solo show, Douglas has been able to craft imaginative characters and use them at auditions. In fact, he was accepted into Kathleen Turner's Master Acting class by auditioning with a monologue from his solo show.
Douglas Taurel made a short film called "Siesta" with a friend from his acting class (Michael Mathis). They met over a cup of coffee, talked about how they wanted to do a short film inspired by Jean-Luc Godard, picked a date and shot it over a weekend. "The project moved all of our careers forward as we were accepted into five film festivals, including the Atlanta Short Fest and Big Apple Film Festival," said Douglas. "And through 'Siesta', I was able to build strong relationships with other filmmakers from those festivals who have asked me to be part of their films."
But most importantly, he learned what it means to be part of the entire production process from start to finish and the importance of holding yourself accountable, all while forming valuable friendships and partnerships along the way. Those relationships have translated into new opportunities for all. For example, he was able to cast a good friend whom he had wanted to work with on many other projects but had never been able to. 
And in turn, Douglas has been cast on many new projects by the wide network of actors, directors and casting directors he has developed from other projects he has created.
"I clearly understand that there is power in creating your own projects," said Douglas. "It has had a tremendous impact on my career."
An accomplished actor and producer, Douglas Taurel has starred in television roles on Nurse Jackie, Damages, NYC 22, The Americans and Person of Interest. He is active in the independent film scene, where he currently has lead roles in two independent films that will soon be screened in film festivals across the country, "Waystation to the Stars" and "La Croix Rising."
Follow him on Twitter: @DouglasTaurel