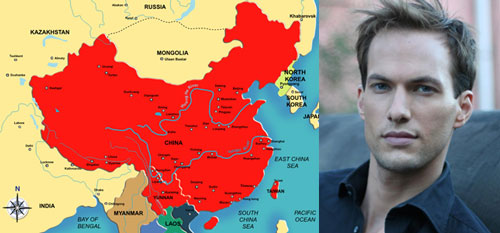 Maybe it's time to look beyond Hollywood!
Keanu Reeves is doing it, Kevin Spacey, Christian Bale and Adrian Brody have all done it: acting in China. But what you should know too is that those A-listers are real late-comers. Just the other day, a Chinese casting director looks at a billboard with George Clooney and turns to me: "That's a handsome guy. Does he live in Beijing too?" Well, George Clooney doesn't, but Georg Anton does. Let's talk about the world of American and European actors living and working in China!
Being a foreign/western actor in China is full of opportunities, surprises, frustrations, and many crazy stories. But I will spare you the myriad of China anecdotes for the sake of efficiency and will try to present to you what you really need to know.
The Situation:
It all started in 1988 with pioneering Canadian Mark Rowswell (known in China by the name Da Shan), who mesmerized the Chinese audience with his exceptional Mandarin skills during a TV gala show. He is widely considered to be the first ever foreign entertainer of modern-day China, became a true household name and is still the most famous – if not the only truly famous – of all foreigners who followed.
Today, there are about one million foreign nationals staying in China – including students, travelers, teachers, CEOs, business people, engineers, artists, writers and anything else you can imagine. About half of this one million people is from Asia, the other half comes from all over the rest of the world. Depending on how you look at it, this can be a lot (when you walk through certain areas of Beijing, Shanghai, or Guangzhou) or very little (relative to China's population). Importantly, what that means for you is that that while being a foreigner in China is not special in itself anymore, there is still a lot of space for your ideas, for first-time events and for creating and achieving what no one may have done before.
Now let's look at acting: If you counted every foreigner saying a line in a Chinese TV series or film over the past ten years, my estimate is that you'd get to around one thousand different people. That's one thousand people who got a free hair cut, a nice close-up and a memorable experience, and who were seen for a few moments by probably hundreds of millions of Chinese viewers at some point. And while this number might already sound surprisingly high, I'm not even including being an extra or gigs like modeling, singing, dancing, news casting, event hosting, or reciting Chinese poems on TV dressed in a silky suit with dragon embroidery. In fact, there are foreigners in China who do all this stuff on a daily basis – there's a whole little world of "foreign" entertainment going on here.
But I'm just talking acting now. And so who are those one thousand foreign actors within ten years of Chinese film and TV? Stereotypically speaking, their lines would have been "Yes, sir!" or "Oh my god!" and the "actors" would have been language students from Russia, who were picked up from outside their university campuses. They had an exciting day or even a few days, but have since moved on.
However, there are others, who over the years have actually had decent roles, learned to make money from it, and reached certain levels of professionalism. Some have come and gone, some are here to stay. It's hard to pin down numbers because we are looking at a very fluid spectrum from explorers to wannabes to amateurs to part-timers to professionals. And if you include curious exchange students and adventurous English teachers, then you'll probably get to a few hundreds of potential foreign faces for hire. But from all I know, I'd say that today there are about one hundred non-Asian foreigners (mostly Americans and Europeans) of all ages and with various levels of qualification who live in China and are serious about getting acting jobs. Of those, around twenty can call themselves full-time nothing-but-acting pros. And yes, I am one of them. 
What makes a successful China actor:
So what are the foundations of "making it" as a foreign actor in China? Apart from your personal determination and your decision to accept the local working/living conditions, there are four qualities that determine your value as an actor in China: 1) the right looks 2) Mandarin skills 3) being flexible and low-maintenance 4) acting skills – with acting skills having a strikingly low priority on the Chinese casting directors' wish list. Let me tell you a bit more about "looks".
Film and TV castings are based on appearance in Hollywood as they are around the world, but what does that mean for China? To understand the types of foreign "faces" that are needed in Chinese films/TV you have to look at history and see where foreigners have appeared in Chinese lives and stories. Most roles for foreigners occur in historical dramas that are set sometime between 1900 and 1950. Just think about it and you will see the obvious roles: colonialists, diplomats, missionaries, soldiers (allied and enemy), communists, journalists, spies (allied and enemy), doctors, travelers, businessmen etc. Often, roles will be based on actual historical figures and look-alikes are needed. And if a story is set in modern-day China, the roles would likely come from the world of business like businessman, white-collar, or "boss". So the harsh truth is that this typically means for actors: Caucasian, male, age 30-60.
A common misconception is that those Caucasian characters would mostly be the "bad guys", but that is only the case for colonialist-type roles. In fact, it is the Japanese – mostly played by Chinese actors – who actually have to bear the brunt of constant evilness and failure in Chinese historical films and TV series.
Theater and other non-commercial creativity:
For actors who live in China, but are looking for a creative outlet other than local film/TV productions, there is also a welcoming English language Theater community in Beijing and Shanghai. It's a mix of amateurs and semi-professionals with some highly talented and skilled people. And while everybody knows it isn't London's West End, it can still be great fun and a great inspiration. Personally, I used to be a member of the Beijing Actors Workshop and I have been with Beijing Improv – China's oldest and largest improvised theater
organization – for over four years now. But there is more going on in the local creative community and you will generally find friendly audiences and interested partners – both local and expat – if you want to put on or take part in non-profit/non-paid performances. If you are eager to engage your creative spirit and experiment with ideas that fit below the radar of the authorities, China nowadays is a surprisingly fertile ground for bringing your projects to fruition. In addition, there are also quite a few foreign filmmakers based in Beijing and Shanghai, who regularly come up with short film and indie projects and offer some "Western style" camera acting opportunities from time to time.
So, open your mind, open your eyes, and start looking beyond Hollywood – maybe even to the Far East.
If you want to know more about acting in China and how you can make it happen, check out my brand new blog Acting in China.
Georg Anton is a businessman-turned-actor from Austria who is based in Beijing. Within less than two years of pursuing Chinese film and TV acting, he has had guest-star, principal and lead roles in six TV series, three made-for-TV films and four movies. Georg is also an active part of Beijing's theater and indie film communities and a long-time member of Beijing Improv's English performance troupe. In 2012, he was selected as the lead actor for China in the US-produced worldwide collaborative film project Train Station. Despite being from Europe, he is often seen portraying Americans. Georg speaks five languages including Mandarin Chinese.
For some fun pictures and videos of China acting check out www.GeorgAnton.com.