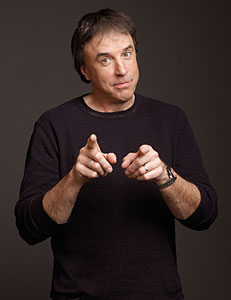 Comedian Kevin Nealon spent nearly a decade on Saturday Night Live, and though he hasn't been on the weekly comedy series in years he is in one of the busiest parts of his career in 2012. 
Not only is he a regular on Showtime's Weeds, but he also taped a comedy special for the same network last month.  He talks to the Detroit Free Press about juggling his two careers and also shares his thoughts on recent controversies that fellow comedians have faced with their material.
Though some comedians make it seem like their routines are laid-back and spontaneous, Nealon gives some perspective on preparing for a comedy special. 
He reveals, "I usually need about six months. I hit the road to work on the act. I'll write material weeks before the tour starts, and then while on tour, I'm writing throughout the week. But I'm always accumulating material, trying to figure out the best order. I'm always working on the tone of the show." Read more