When J.B. Smoove appeared seemingly out of nowhere as the Hurricane Edna-displaced Leon Black in the sixth season of Curb Your Enthusiasm, most probably didn't guess that Smoove would continue to guest appear in episodes in the subsequent two seasons. 
Yet even less people were aware that Smoove has a long history in comedy, including a stint as a writer on Saturday Night Live.  In an interview with the Los Angeles Times, Smoove speaks not only about his role on Curb Your Enthusiasm, but also his very different role in Cameron Crowe's film We Bought a Zoo.
Smoove admits that his role in We Bought a Zoo required a much different approach than being Leon Black.  He explains, "Cameron [Crowe] was a big fan of Curb. He's so free and open. He allowed me to come in and have a take on the character. It's not a slapstick comedy. There are funny moments to this movie, but this character had to come from a real place, as opposed to going over the top with him. I play a Realtor. It opens up my range as far as what I can play. It gives people a chance to see me doing something different, other than Leon, this loud character."  Read more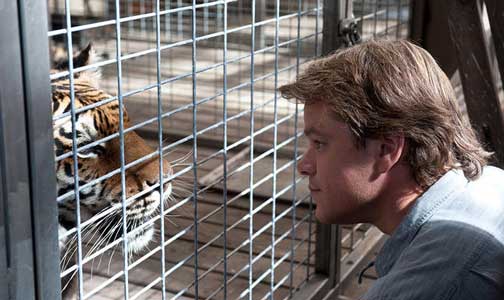 If you missed out on We Bought a Zoo's sneak preview over Thanksgiving weekend, you're in luck because 20th Century Fox is having another one tomorrow – Saturday, December 10th.
But before that, check out the 7 clips below.
Directed by Cameron Crowe and starring Matt Damon, Thomas Haden Church, Scarlett Johansson, Patrick Fugit and Elle Fanning, the film tells the true story of a single dad who decides his family needs a fresh start. So, he and his two children move to the most unlikely of places: a zoo. With the help of an eclectic staff, and with many misadventures along the way, the family works to return the dilapidated zoo to its former wonder and glory.
The film opens on December 23rd.  Read more
Scarlett Johansson is, on one hand, one of the most popular actresses in Hollywood and has used her fame to publicly support various political causes. On the other hand, Johansson has managed to keep her personal life very private despite her massive fame, and even though in the last year she's gone through both a divorce and a hacking scandal she's managed to keep her name out of the gossip columns. Frankly it's a bit refreshing in a world full of media whores to see an actress who wants to keep to herself.
But Johansson doesn't try to keep her business to herself simply for privacy purposes.  While speaking with Interview Magazine, she reveals that there is a professional reason why she attempts to keep her life a bit of a mystery. 
In addition, she says that she seeks to work with actors who similarly also try to maintain a bit of the unknown.  Read more