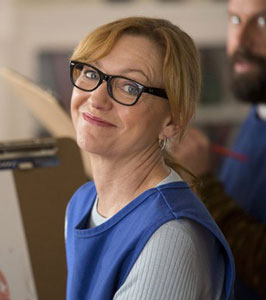 Broadway's Vanya and Sonia and Masha and Spike might have recently won this year's Best Play Tony Award and extended its engagement until August 30, but the producers had to find a replacement for one of its main cast members, Sigourney Weaver, who is departing to work on other projects.  Weaver had been a member of the cast since its October Off-Broadway premiere alongside David Hyde Pierce, Billy Magnussen, Kristine Nielsen, Genevieve Angelson and Shalita Grant, so the  actress in Weaver's role would very much be the new kid in town.  Fortunately, comedic actress Julie White agreed to take the role for the play's final four weeks, and she spoke to The New York Post about that experience.
White makes it clear that stepping into an acclaimed production isn't easy.  She says, "It's like jumping on a speeding train.  The fear, of course, is that you're going to take a bad step and be run over."  Read more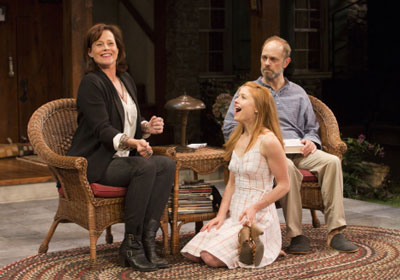 Christopher Durang's Vanya and Sonia and Masha and Spike is headed to Broadway after its sold-out premiere at Lincoln Center. 
The 17-week limited engagement is set to begin on Tuesday, March 5th at Broadway's Golden Theatre. 
Directed by Nicholas Martin, the Broadway production will feature the entire original company, which includes Sigourney Weaver, David Hyde Pierce, Kristine Nielsen, Genevieve Angelson, Shalita Grant, and Billy Magnussen. 
Opening night is set for Thursday, March 14, 2013. Read more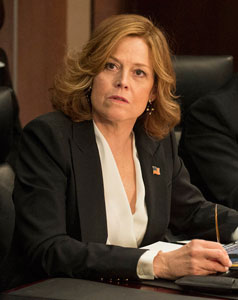 Though she'll always be best known as Ripley, the Alien franchise extraterrestrial ass-kicker and one of film's most iconic female protagonists, Sigourney Weaver has had a prolific career in film.  She now stars in her first television mini-series Political Animals as Elaine Barrish, the current U.S. Secretary of State and ex-wife of a former president. 
In an interview with NBC News, Weaver speaks about her new role, its obvious connection to Hillary Clinton, and how fortunate she has been in her career.
Weaver admits that her main attraction to the role was the fact that it isn't something she is usually offered.  She explains, "The writing was wonderful. It was the kind of story I'm not often offered. I wouldn't be surprised if I was offered, you know, 'mountain woman in Alaska' or something, but to be offered this sort of mainstream matriarch who was a first lady, is now Secretary of State, who has this problematic family — two sons, an ex-husband, a foul-mouthed mother — it was just really like after eating salad for a couple of years, I was offered a big juicy steak. And I just took out my fork and knife and went, 'All right, I'm going for it.'" Read more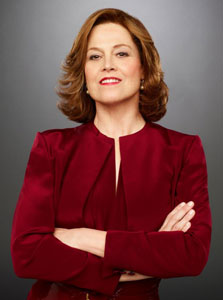 Why do Americans watch political dramas – especially during an election year? What kind of comment do they offer on the realities of campaigning and governance?
Perhaps the narrative of budget cuts and partisan acrimony is too just too grim for some viewers. Even the star of new USA Network mini-series "Political Animals" calls the fictional alternative "easier to watch."
When asked how she felt about the ongoing campaigns, Sigourney Weaver ("Aliens," "Gorillas in the Mist") put it delicately: "I think it's a pretty daunting thing to watch. It's our dysfunctional political process front and center, and I actually think it'll be one of the reasons people will tune into 'Political Animals.' As dysfunctional as we are, it's fiction." Read more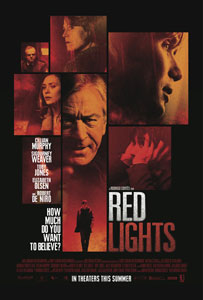 Red Light: Veteran paranormal researchers Dr. Margaret Matheson (Sigourney Weaver) and Tom Buckley (Cillian Murphy) debunk fraudulent claims of ghost whispering, faith healing and other psychic phenomena by detecting what Matheson calls "red lights," the subtle tricks behind every staged supernatural occurrence. But when the legendary blind psychic Simon Silver (Robert De Niro)comes out of retirement after 30 years, his once-fearless adversary Matheson warns Buckley to back off, fearing reprisal from the powerful Silver. Determined to discredit Silver, Buckley and his star student (Elizabeth Olsen) use every tool at their disposal to uncover the truth behind the charismatic, spoon-bending, mind reader. But Buckley is forced to reexamine his own core beliefs as his quest builds to a mind-blowing conclusion in this taut psychological thriller from award-winning writer and director Rodrigo Cortes (Buried).
Writer/Director: Rodrigo Cortes
Cast: Cillian Murphy, Sigourney Weaver, Robert De Niro, Elizabeth Olsen
In Theaters: July 13th  Read more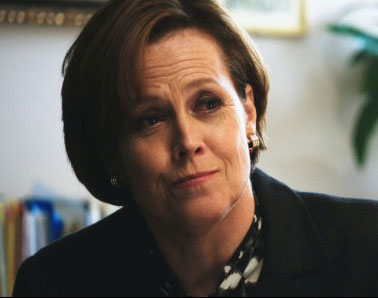 Academy Award nominated and Golden Globe winning actress Sigourney Weaver has created a host of memorable characters, both dramatic and comic, in films ranging from Ripley in Alien to Dian Fossey in Gorillas in Mist.  Over the years, she has captivated audiences and won acclaim as one of the most esteemed actresses on both stage and screen.
Born and educated in New York City, Weaver graduated from Stanford University and went on to receive a Masters degree from the Yale School of Drama. Her first professional job was as an understudy in Sir John Gielgud's production of The Constant Wife, starring Ingrid Bergman.
Sigourney Weaver made her motion picture debut in Ridley Scott's blockbuster Alien.  She later reprised the role of Warrant Officer Ripley in James Cameron's Aliens, which earned her Academy Award and Golden Globe nominations for Best Actress.  She again brought Ripley back to life in David Fincher's Aliens 3, which she also co-produced and Alien Resurrection for director Jean-Pierre Jeunet. Read more
Even at age 62, Sigourney Weaver is going at her job like she's 32 — in the past two years, she's appeared in Avatar, Cedar Rapids and Paul; filmed scenes for upcoming flicks The Cold Light of Day and Red Lights and maintained a steady presence in the New York City theater scene.
"I don't sort of say to myself, 'Oh well, this year is the year I have to find some huge earth-shaking part that will win me an Oscar,'" explained Weaver in a profile piece recently published in the New York Post. "I just sort of run out and say, 'What's happening?' and then I try to play in as many games as I can."
Weaver is also reprising her starring role in 2001 play, The Guys, which centers on a journalist in post-9/11 New York, for a short run at lower Manhattan's Museum of Jewish Heritage.
Endearingly referring to her work as "really fun," Weaver offered some advice to the young, aspiring actresses of today. "Read everything you can. You have to understand history and great literature to bring it to the material you are offered. Otherwise, you have to rely on other people's tastes," she said before looking back on her own 35-year career. "No one could make me do something I knew wouldn't work. I believed in all the projects I chose. It didn't matter to me if they were all successful."
Here's four clips from the upcoming film, Cedar Rapids. Starring Ed Helms as Tim, a naïve insurance salesman who is sent to an insurance convention in wonderful, Cedar Rapids, Iowa. He's quickly distracted by three convention veterans (John C. Reilly, Anne Heche and Isiah Whitlock Jr.) who show him the ropes of convention life.
Director: Miguel Arteta
Cast: Ed Helms, John C. Reilly, Sigourney Weaver, Anne Heche, Stephen Root, Kurtwood Smith, Alia Shawkat, Mike O'Malley, Rob Corddry, Seth Morris, Isiah Whitlock Jr.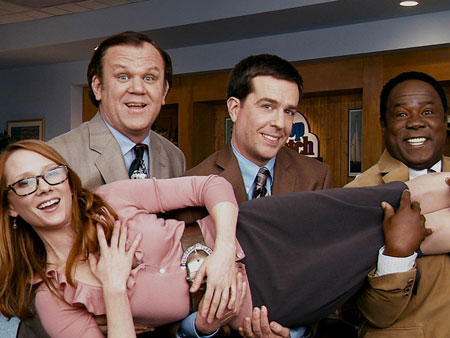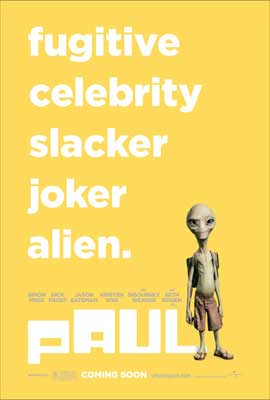 Paul: Simon Pegg and Nick Frost (Hot Fuzz, Shaun of the Dead) reunite for the comedy adventure Paul as two sci-fi geeks whose pilgrimage takes them to America's UFO heartland. While there, they accidentally meet an alien who brings them on an insane road trip that alters their universe forever. For the past 60 years, an alien named Paul (Seth Rogen) has been hanging out at a top-secret military base. For reasons unknown, the space-traveling smart ass decides to escape the compound and hop on the first vehicle out of town–a rented RV containing Earthlings Graeme Willy (Pegg) and Clive Gollings (Frost). Chased by federal agents and the fanatical father of a young woman that they accidentally kidnap, Graeme and Clive hatch a fumbling escape plan to return Paul to his mother ship. And as two nerds struggle to help, one little green man might just take his fellow outcasts from misfits to intergalactic heroes. from trailers.apple.com
Director: Greg Mottola

Cast: Simon Pegg, Nick Frost, Jason Bateman, Kristen Wiig, Bill Hader, Blythe Danner, John Carroll Lynch, Sigourney Weaver, Seth Rogen

Writers: Simon Pegg, Nick Frost