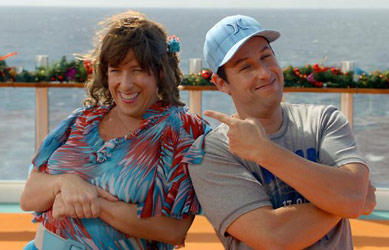 Each year Forbes releases a list of the most "overpaid" actors — in other words, actors who deliver the least amount of box office for the investment to cover their hefty paychecks.  Last year the list was topped by Eddie Murphy (big surprise), who doesn't make the list this year because he wisely decided to take a little break from movies.  But this year another Saturday Night Live veteran took his spot at the top: Adam Sandler.
Adam Sandler had the two biggest bombs of his career back-to-back with 2011′s Jack and Jill and 2012′s That's My Boy, but had a massive worldwide hit with the animated Hotel Transylvania (however, the Forbes list does not count animated films).  The struggling box office of those two movies suggests why Sandler made his first sequel, Grown Ups 2 (which was a big hit for him), and is reuniting with Drew Barrymore for Blended, with whom he made two hit romantic comedies.  However, Forbes' data "looked at the last three movies each actor starred in over the three years to June 1," so the July release of Grown Ups 2 did not make the cut.  Forbes estimates that for every dollar Sandler was paid, the films returned $3.40.  Still, Sandler at least can take comfort in knowing he probably won't be #1 next year because of Grown Ups 2… unless he has another bomb in the first half of 2014. Read more
Ryan Reynolds has had his share of major blockbusters, including The Proposal and X-Men Origins: Wolverine, and with that of course comes tabloid rumors.  No famous actor or actress is seemingly able to avoid them, so Reynolds, who was not only named People's Sexiest Man Alive this year but also went through a divorce from actress Scarlett Johansson, isn't an exception.
Nonetheless, despite his stardom Reynolds tends to avoid the more sordid headlines that his fellow actors have aimed at them, and Reynolds says that's the result of a simple tactic: ignoring them.  He tells USA Today, "That's the thing I learned early on: No matter how preposterous it is, I don't say a word (about tabloid stories), ever. If you start doing it, you have to do it every time. I let it do its thing and watch it come and go. I'm pretty good at not looking at anything."  In other words, to paraphrase the police: what you don't say can't be used against you.
Part of Reynold's strategy involves simply staying out of the spotlight, as the actor is well-known for disappearing off the Hollywood radar in between films.  He explains, "I don't think you need to be in the spotlight that much. The spotlight can be a very stressful place to be. People can unravel. To vanish, to have everyday regular life experiences — it informs your work, it informs everything. It allows you to sustain this a lot longer. This world can be very fleeting. And if you're not cultivating other aspects of your personality, you can be screwed very quickly."
Ryan Reynolds stars in The Change-Up, opening today.