Lea Michele's extraordinary voice is showcased each week in her starring role on FOX's Glee but is the songbird ready to trade in her signature solos for non-singing film roles? 
Despite the fact that she sings in the new film, New Year's Eve, Michele says she is ready to explore other opportunities in Hollywood.  In an interview with E! Online, Michele says, "I just felt that it was a perfect part for me to play for my first film.  To really transition from Glee…And from now on I might start to try to look into other things without singing to give my voice a break."
The part, a backup singer for Bon Jovi, was written specifically with her in mind.  Michele read the script without the mindset of finding another role to display her vocal talents, and she had no idea the part had been written for her.  She says, "I didn't really intend on doing a film where I sang.  I sing so much on my show that I sort of felt like maybe I would start looking into things that didn't involve me singing, but when I read the script, the songs were already in there—they didn't add them for me."  Read more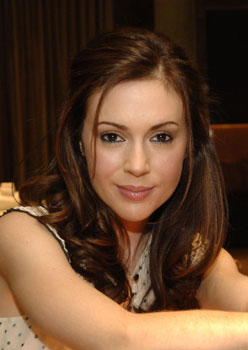 Alyssa Milano has been cast in Garry Marshall's new romantic comedy New Year's Eve.
Milano will be playing a nurse who takes care of a lonely elderly patient on the last day of the year.
In a message to her Twitter fans, she wrote: "Thank you for all of your lovely congratulatory tweets about "New Year's Eve". I will make you proud. W00t!" (@Alyssa_Milano)
Production for New Year's Eve is set to begin this week. The New Line comedy follows intertwining stories of characters as they try to find romance on NYE. The cast also includes Jessica Biel, Jon Bon Jovi, Abigail Breslin, Robert De Niro, Josh Duhamel, Ashton Kutcher, Lea Michele, Sarah Jessica Parker, Michelle Pfeiffer, Til Schweiger, Sofia Vergara and Katherine Heigl (who recently replaced Halle Berry).