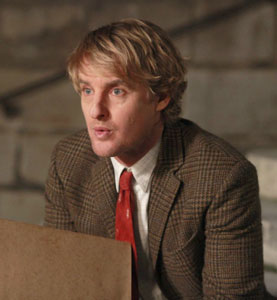 Known as an actor's director — which is why dozens of actors have gladly sacrificed large paychecks to work with him — Woody Allen is enjoying some of the best reviews and box office success of his career with Midnight in Paris. 
Benefiting from that is Owen Wilson, the star of the film, who was recently nominated for a Golden Globe for his role in the movie.  But as Wilson tells NBC New York, he wasn't sold on the film's plot even if he wanted to work with Allen.
Naturally, Wilson says that part of what attracted him to the project was Allen himself, even if he had reservations about the film's plot. 
He explains, "It was working with Woody Allen. That was kind of an exciting idea, and some of the people that were going to be in the movie. Also, making a movie in Paris. I would say that those were all sort of attractive ideas to me, more than did I read the script and go, 'Okay, this is great.' I really enjoyed reading it, but like I was saying, I just didn't have a sense of how this time travel element was going to work. So that was always sort of the wildcard for me. Then that ends up being one of the things that people liked the most about the movie. So Woody pulled that off."  Read more
Michael Sheen — the often praised star of Frost/Nixon and Midnight in Paris, and also known as the best Tony Blair out there (he's appeared as Blair three times, including in The Queen) — is one of those actors who has a long list of impressive credits but is far from a household name. 
It's an interesting dynamic that Sheen admits he is fascinated by in an interview with The Guardian, although he does confess a certain desire to have a bit more fame than he does now.  Or does he?
Sheen, though highly praised for his acting abilities, actually claims that he is "increasingly repulsed by acting."  What does he mean by that remark?  He can't stand it when he sees himself deliberately acting.  He clarifies, "I mean 'ac-ting' as opposed to reacting. The first time you watch yourself on screen you think, oh my God, is that really what I look like, is that really what I was doing? And I pushed myself to get through that, to be able to watch it as objectively as I can, so I can learn from it. And the more I've done that, the bits that repulse me the least are the ones where it doesn't appear like I'm trying to do anything. I'm not having an idea. Otherwise I'll watch it and I'll think, I remember I had an idea about that bit – and now I'm watching it, all I can see is me having an idea. I'm not connected to what's going on, it's just not happening.  There's a time for ideas, but it's earlier on. You have the ideas, you put them all in a pot, and at a certain point you have to forget about them all, and the ones that stick on the whole work, and the ones that don't you have to let go of – and it doesn't matter how fantastic an idea you think it is, you just have to let go of it. And then slowly, hopefully, it becomes a very fluid thing. And when I watch myself now I can tell the difference between things that have that quality, and things that don't. And the things that don't, I call acting. And I've become more and more repulsed by that."   Read more
As an actor, Michael Sheen has played a variety of interesting and varied characters: he has portrayed a pompous Brit on the sitcom "30 Rock" and made 3 films playing the former British Prime Minister Tony Blair.  But it would be Sheen's biographical portraits he is best known for: Mozart in a stage version of "Amadeus,"  journalist David Frost in "Frost/Nixon" and controversial soccer coach Brian Clough in "The Damned United".
In Woody Allen's latest film "Midnight in Paris," which opens Friday, Sheen plays a self-important scholar who spouts facts – at times inaccurately – about Rodin and Monet. In stark contrast, Sheen takes a dark turn in "Beautiful Boy", a film that opens June 3  in which he plays the father of a college student who goes on a killing spree.
The 42-year-old Welsh actor grew up in Port Talbot, Wales, the childhood home of Richard Burton and Anthony Hopkins. He says while he works steadily, he is not inundated with scripts. "Often I'm booked up in advance, so it's pointless to read them. But, certainly in America, I think people are unsure how to cast me because I haven't branded myself. I don't just play the bad guy or play British. I don't think I'm necessarily the person that first comes to mind for any character in particular, and that's a dangerous thing career-wise to do, but I enjoy metamorphosis and not being obvious. That's allowed me more variety."
Read more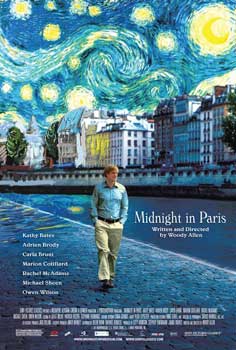 Midnight in Paris: A romantic comedy set in Paris about a family that goes there because of business, and two young people who are engaged to be married in the fall have experiences there that change their lives. It's about a young man's great love for a city, Paris, and the illusion people have that a life different from theirs would be much better. from trailers.apple.com
Director: Woody Allen

Cast: Kathy Bates, Adrien Brody, Carla Bruni, Marion Cotillard, Rachel McAdams, Michael Sheen, Owen Wilson