Podcast: Play in new window | Download (Duration: 24:41 — 17.0MB)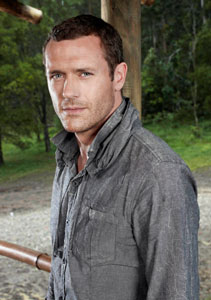 After some highly publicized delays, rewrites and re-shoots, Steven Spielberg's Terra Nova finally comes to the small screen this Monday in a big two-hour première on FOX.

The show, starring Jason O'Mara and Stephen Lang, is set in the year 2149 at a time when humankind is threatened with extinction. In an effort to save the human race, scientists develop a time machine that opens a portal 85 million years to prehistoric Earth.
The Shannon family, Jim and Elizabeth and their three children, travel through the portal to establish a new human colony in hopes of saving the future earth.
Jason, whose credits include In Justice and Life on Mars, stars as Jim Shannon, "a devoted father with a checkered past who guides his family through this new world of limitless beauty, mystery and terror." And dinosaurs. Yes!
I talked to Jason in a conference call about how he got the part, the acting challenges he had to face and the difficulties of shooting on location for months at a time.
Follow Jason on Twitter!
Terra Nova airs on Mondays at 8/7c on FOX
For the full interview, click the audio link above or download it from iTunes
How did this part and this show come to you?
Jason O'Mara: Well, to be perfectly honest it was one of those kind of things that was—okay, let me start at the beginning.  I was in London doing a play at the Donmar Warehouse.
What play?
Jason O'Mara: It was called Serenading Louie.  It was an off-Broadway play from like 1972, I think, or '73, that was being revived and I did it with Jason Butler Harner, who is a great American actor.  I think he's going to be in Alcatraz on Fox in the mid-season.  Simon Curtis directed it, who's married to Elizabeth McGovern and he's directed a lot of stuff recently, actually.  He's just directed My Week with Marilyn, which is coming out soon. 
I really had a great time, but I really felt—I had skipped pilot season because I was in London for all of that and I thought that Hollywood had completely moved on and had lost interest in me, which would have been fine, you know, whatever.  Things go in cycles.  I came back and my agent called me and said, "Just so you know I've had several conversations with Dreamworks and Fox about a production that they're working on called Terra Nova and Steven Spielberg is highly involved in the casting and is signing off on everything related to the production.  That's a hoop that we need to jump through before we progress any further."   Read more