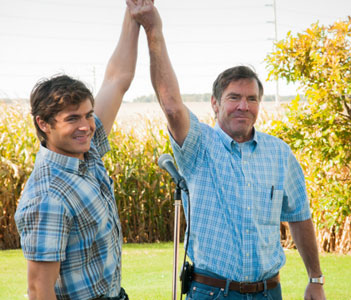 So let me get this straight — Zac Efron, that guy who was in all those High School Musical movies and 17 Again, has spent the last several years starring in indie films?  Okay, I actually knew that already, but it's still pretty surprising considering he probably still had five or so years left of milking teen heartthrob movies but instead chose to do more under the radar projects like Liberal Arts, The Paperboy, and At Any Price.  The latter co-stars Dennis Quaid and premiered at the Tribeca Film Festival.
When asked on the red carpet by the Huffington Post why he has gravitated toward independent films, Efron answered, "I don't know.  I've been doing a lot of interviews with Dennis and his words of wisdom are sort of just fresh in my mind. Dennis says the only role he sort of had for himself in this career is to do as many different types of movies as possible and never stop stretching or trying something new, particularly roles that challenge you. And working with great directors.  That's really all I want to do." Read more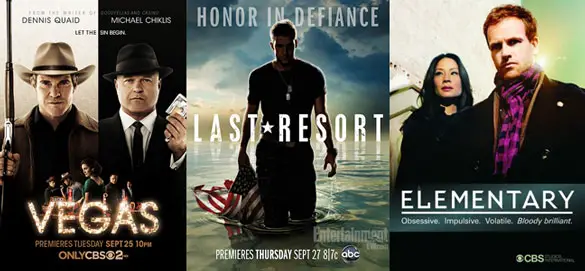 Vegas: TUNE IN
It's true this show wants to have a Mad Men feel to it—TV execs keep trying to replicate the swinging '60s with ill-fated attempts like Pan Am and The Playboy Club.  But Vegas uses enough of a crime procedural structure to lure viewers in. 
The best part of the CBS series is the casting of Dennis Quaid as a cowboy sheriff out to keep his city from getting too seedy and Michael Chiklis (The Shield) as a mobster who is eager to shape the Strip into a bustling epicenter of shady dealings.
Viewers expecting crisp dialogue might be a tad disappointed, but it'll be interesting to see how the characters develop over the season. Read more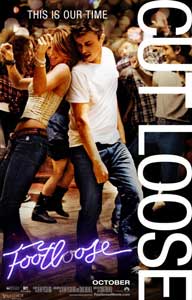 Footloose: Ren MacCormack is transplanted from Boston to the small southern town of Bomont where he experiences a heavy dose of culture shock. A few years prior, the community was rocked by a tragic accident that killed five teenagers after a night out and Bomont's local councilmen and the beloved Reverend Shaw Moore responded by implementing ordinances that prohibit loud music and dancing. Not one to bow to the status quo, Ren challenges the ban, revitalizing the town and falling in love with the minister's troubled daughter Ariel in the process.
Starring: Julianne Hough, Kenny Wormald, Dennis Quaid, Andie MacDowell, Miles Teller
Director: Craig Brewer
In Theaters: October 14th, 2011 Read more