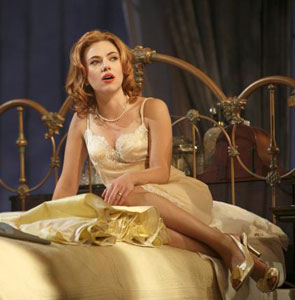 Just because you've won a Tony doesn't mean you can rest on your laurels—at least according to Scarlett Johansson.  The actress, who won her award for 2010's A View from the Bridge, is currently starring in Tennessee Williams' Cat on a Hot Tin Roof.  But she isn't taking the role lightly.
"I think [winning the Tony] encouraged me to find Cat on a Hot Tin Roof, and to know that I had a welcome invitation to come back," she said in an interview with Broadway.com.  "The most important thing is to not let that honor inform your choices, to recognize that it was for that performance, and that it doesn't let you off the hook or put the pressure on you in any way.  You just have to take it for what it represents." Read more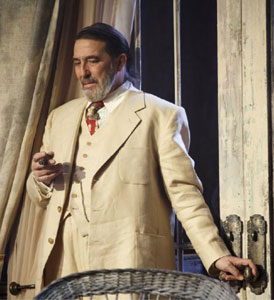 Ciarán Hinds has had a long career of impressive roles in film, television, and theater, and will likely earn some new fans in his new role on the next season of HBO's Game of Thrones.  However, at the moment Hinds has returned to Broadway to star as Big Daddy in Cat on a Hot Tin Roof.  He spoke to Newsday about the experience and his most impressive, yet most stressful, role.
Hinds admits that on first look he's an odd choice to play a Southern American, but despite his doubts others had faith in his ability.  He says, "When [director] Rob Ashford asked me, I said, are you sure? But others see bits of you that you may not be aware of yourself." Read more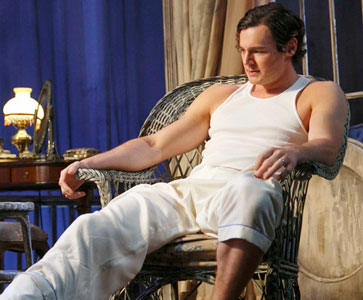 While there's no doubt that the big star of the current Broadway revival of Tennessee Williams' Cat on a Hot Tin Roof is Scarlett Johnasson, who plays Maggie, Johansson's co-star is Bloody Bloody Andrew Jackson star Benjamin Walker.  Walker plays Johansson's husband Brick, and in a lengthy interview with Broadway.com he talks about working with Johansson and the other actors.  He also talks about his view of Brick, but he refuses to disclose all his thoughts on the character.
When the interviewer asks about the "complex and intimate connection" between Walker and Johansson's characters, he points out, "We talk about that connection every day. Brick and Maggie have a very complicated relationship, but I think every love relationship has those layers. Luckily, we have the brilliant poetry of Tennessee Williams to shepherd us through it. Scarlett is fantastic. She's highly intelligent, very funny and a wonderful scene partner. Maggie has this great line, 'I've gone through this – hideous! – transformation, become – hard!' Scarlett is courageous enough to allow herself to drift from being attractive to find that place in herself that is desperate, and what's ironic is that it just makes her more attractive. I think she's fearless. The woman's got a Tony, she could do movies in Hollywood until she's blue in the face, but for some reason she's back here trying to tackle one of the most difficult parts written for a woman her age. I have to hand it to her." Read more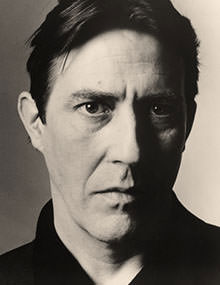 Tennesse Williams' character, Big Daddy, in Cat on a Hot Tin Roof, is one of the most quintessential American characters.  So the Irish actor Ciaran Hinds was more surprised than anyone when he landed the role in the new Broadway revival of the play.
Playing Big Daddy required the actor, best known for his role on the recent USA miniseries, Political Animals, and films like Munich and There Will Be Blood, to buckle down and take on the challenge.  "Having the nerve to play him is the beginning, because you have to have some nerve to step up to it," he told The Wall Street Journal.  "But you're encouraged through the director to be bold, be brave.  There is the question of the amount of language and how fast they speak.  A torrent of words which, I've talked with [director] Rob [Ashford] and we try to get it even faster with my accent and trying to work in this Mississippi dialect. Read more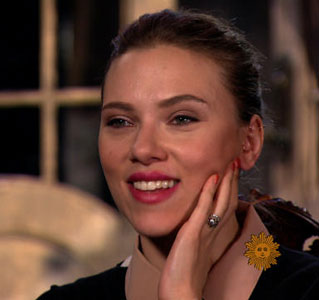 Scarlett Johansson, currently in previews for the new Broadway revival of Cat on a Hot Tin Roof, was profiled on this past weekend's CBS Sunday Morning.
In the interview, she talks about Broadway, Bill Murray and how she hates people calling her 'ScarJo'. They also talk about her career and what recent role she was rejected for.
Check it out! Read more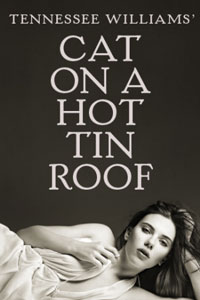 Scarlett Johansson has made her return to Broadway — her first time since her 2010 debut in Arthur Miller's A View From the Bridge — as Maggie in Tennessee Williams' Cat on a Hot Tin Roof.  In an interview with The New York Times, Johansson explains that the role comes after what she calls a three-year "growing up" period.
Johansson reveals that one of the reasons why she was interested in taking the role was to move away from some of the lighter roles she had in the past.  She explains, "I felt extreme vulnerability over the last few years, more than I ever had, and no longer wanted to keep rushing into movie jobs or a play just to escape how I was feeling.  Once I wanted to work again, I wanted to start playing adults — tough women who knew what it took to survive." 
Part of her decision had to do with choosing roles that would be a major challenge for her.  She says, "After my first time on Broadway I decided I wanted to keep doing projects that I didn't know how to do.  I'm finally at a place in my life where I feel comfortable not anticipating the result. I'm comfortable with being uncomfortable." Read more
Add another show to your 'must see' list of upcoming Broadway shows.
Tony Award-winner Scarlett Johansson will return to Broadway to star as Maggie, with Ciarán Hinds as Big Daddy, Benjamin Walker as Brick and Tony and Emmy Award-winner Debra Monk as Big Mama in Tennessee Williams' Pulitzer Prize-winning classic Cat on a Hot Tin Roof. 


Read more
With the most successful show on Broadway right now being the classic Death of a Salesman starring movie stars Phillip Seymour Hoffman and Andrew Garfield, it's no surprise that Broadway is again looking for Hollywood stars to headline a revival of another classic, Cat on a Hot Tin Roof, set to premiere in spring 2013. 
It's being reported that Scarlett Johansson is in talks to star as Maggie the Cat, with Chris Pine or Jeremy Renner in talks to play her husband, Brick.

Read more