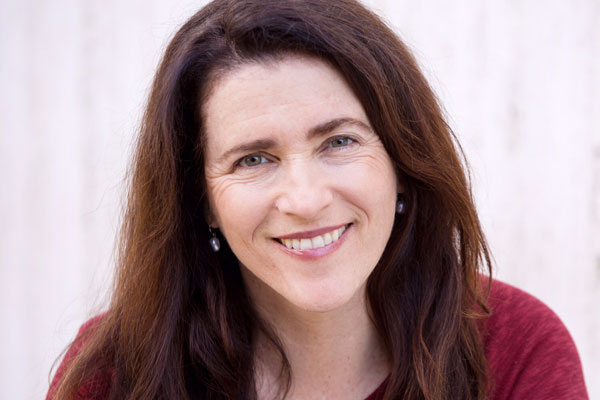 I had the chance to ask Aimee Greenberg some questions about directing her upcoming fruitlessmoon theatreworks production of Waiting for Godot. Aimee certainly knows her stuff and articulates it as if she is teaching a course on Beckett!
Susan J. Farese: Why did you choose Waiting for Godot?
Aimee Greenberg: I have a lifelong love affair with the works of Samuel Beckett, Waiting for Godot being on the top of my bucket list…labeled PLAYS TO DIRECT.  Godot inhabits a special place in the psychic landscape of everyman/woman. A place where "inertia and hope" and the "infinite and finality" coexist.  Becket climbs high and dives deep with the dilemma of his two tramps: Didi and Gogo, in their attempt to navigate their seemingly futile existence.  I believe this is a perfect masterpiece, an opus.  The rhythms of his language, his timing, the theatricality of Pozzo and Lucky writ large.  He has created a play that is at once full and empty, simple and complex.  There are no accidents, there is no margin of error.  I treat the play very much like a musical score or composition and in this regard, you must get every note, every beat, every silence and every pause right.
Tell us about the process of directing the show.
Aimee Greenberg: Directing Godot is like walking the tightrope between pathos and humor, despair and redemption, poetry and concise language. The play is as relevant today as when it was first produced in 1953.  You can switch backgrounds; insert different variables of time and place and it will still ring true.
Have you had any challenges directing this particular play?
Aimee Greenberg: Working with actors that have completely different approaches to acting, and preconceptions of how the play should be directed!
What do you feel that San Diego needs regarding choices in theatre?
Aimee Greenberg: More cutting edge productions. More risk taking and less dependence on demographics and subscription-based audiences. I would like to see more site-specific work, more devised work generated out of performance labs, more playwright festivals, etc.  There are too many plays that get re-hashed over and over again–sometimes simultaneously in different parts of the county!
Describe your ideal kind of actor to work with.
Aimee Greenberg: Hmmm. Being an actor as well, the most important quality I think an actor brings to the table is flexibility.  Different styles of acting require different approaches to the text and other performance values.  You can't be married to one approach, one method of accessing the material; you need to draw from a toolbox of many systems to work effectively and efficiently for a diverse range of material and directing styles. I think actors should live, work and train in as many cities as possible, working with varied styles of theatre and acting. Or else they become lazy, complacent and part of an incestuous small theatre town, USA.
With all the choices of theatre in San Diego, why should someone choose Waiting for Godot? Why pick Godot?
Aimee Greenberg: If you have one night out at the theatre, choose Godot because it hasn't been produced here in 16 years. It's the best of Beckett; a beautiful piece of writing, iconic, absurd, funny and moving.  It's timeless, universal in its message; a classic. And, always a treat and curiosity to see who plays who and how the piece is handled. The play speaks to both the trained thespian and the general audience.
Do you have any fears for productions you direct?
Aimee Greenberg: My fear is always that it falls flat on its face to a packed house or that it sings in perfect harmony to an empty house!
What makes you jump for joy as a director?
Aimee Greenberg: When actors hit their marks and the play sings!  When the rhythm is right, and the actors fly in performance.  When the playwright's message and meaning comes through.  When actors show deference to the playwright, themselves and fellow actors by speaking the words the playwright wrote.
Thanks so much Aimee and break a leg with the production!
Written by Susan J. Farese (MSN, RN, SAG-AFTRA)

Waiting for Godot runs March 25 – April 10 at White Box Live Arts (NTC Liberty Station, San Diego). Friday, Saturday and Sunday performances at 7:30 p.m. on March 25, 26, 27, April 1, 2, 3, 8, 9, & 10.
Like fruitlessmoon theatreworks on Facebook or follow them on Twitter
Tickets are available at godot.eventbrite.com. More information at fruitlessmoontheatreworks.org
White Box Live Arts, 2590 Truxtun Road, Studio 205, San Diego, CA 92106. Located at the corner of Truxtun Road and Roosevelt Road. Free parking at NTC Liberty Station