James D'Arcy on His Uncanny Resemblance to Anthony Perkins and His Audition for 'Hitchcock'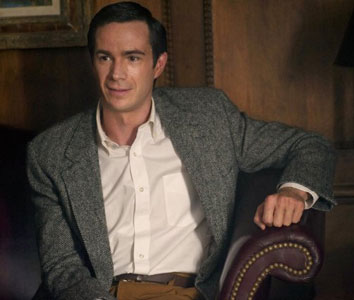 Film history has shown that when an actor portrays a real-life figure that actor doesn't necessarily have to look like the individual he or she is portraying.  Take Anthony Hopkins, for example — Hopkins put on layers of makeup to look like famously rotund Alfred Hitchcock in Hitchcock, but the makeup he wore in 1996's Nixon didn't make him look anymore like the former U.S. President than he did without it.  But in some cases, an actor looks so much like the person he or she is portraying that it is almost eerie. 
One example is Hopkins' Hitchcock co-star James D'Arcy, who plays Anthony Perkins, the real-life star of Psycho.  Nonetheless, D'Arcy tells Moviefone that while the physical resemblance got him into the door, learning how to play Perkins was another challenge.
In fact, D'Arcy points out that Hopkins played a huge role in him landing the part.  He reveals, "I knew about it for a long time. I talked to Ryan Murphy about it five years ago when he was going to direct it. And then Sacha [Gervasi] got involved. He's a friend of mine, so as soon as I realized that Sacha was going to direct it, I thought, 'Oh man, he's going to look at every other actor on the planet before he comes to me.' He called me in and Hopkins came to the audition. I went in the room and Hopkins' reaction was so amazing that I feel like he really swayed everybody. He kept staring at me and telling the producer, 'This is ridiculous. Why are we looking anywhere else?'"
However, once D'Arcy opened his mouth he was afraid he blew his chance at the part.  He explains, "Sacha said, 'Let's read a little bit.' I had the first two lines of the scene and Hopkins fell off his chair laughing. I mean, not in a — thank God — 'that's the worst acting I've ever seen in my life' kind of way. He gathered himself [launching into a Hopkins impersonation], 'This is ridiculous. It's uncanny. Uncanny." So we start again and the same thing happens again, he falls off his chair, laughing. We did the scene and then we improvised for 10 minutes. I just thought, If I get the job, great. If I don't get the job, I'm sitting in a room, improvising with Anthony Hopkins for 10 minutes. It's amazing."
Once he actually got the part it was difficult for D'Arcy to find material on Perkins to study, so he stuck with the source material.  He says, "There's a biography that I read — I think there's only one — Split Image. And then I watched a lot of his films leading up to 1959. He was on a game show, where a celebrity signs in and you can't see who it is and then [the panel] asks them 20 questions and then they guess who it is. I watched him doing that and then the only other interviews you can find of him around that time are in French. My French is okay but it's difficult. But in truth, I just watched Psycho a lot."
http://www.dailyactor.com/wp-content/uploads/2016/04/Christine-Baranski-The-Good-Wife.jpg
Christine Baranski on the End of 'The Good Wife' and Going Back to Theatre
The final episode of The Good Wife airs on May 8, and it's been several weeks since series star Christine Baranski shot the final episode with her co-stars. She spoke to The Hollywood Reporter about the end of the series she has spent the last seven years working on and what she plans to do […]
http://www.dailyactor.com/tv/christine-baranski-the-good-wife-theatre/
http://www.dailyactor.com/wp-content/uploads/2016/04/jake-gyllenhaal-demolition.jpg
Jake Gyllenhaal on 'Demolition', Working with Chris Cooper and Directors Who Want Nothing to Do With Him
"I think storytelling is the most important part of movie-making over performance." - Jake Gyllenhaal
http://www.dailyactor.com/actors-on-acting/jake-gyllenhaal-demolition-chris-cooper/
http://www.dailyactor.com/wp-content/uploads/2016/04/don-cheadle-miles-davis.jpg
Don Cheadle: "Be scared. Be on the edge of your creativity"
"Be willing to fall flat on your face and be in an unknown place. If you're doing that, you're probably growing" - Don Cheadle
http://www.dailyactor.com/actors-on-acting/don-cheadle-scared-creativity/
http://www.dailyactor.com/wp-content/uploads/2016/04/jessie-eisenberg-louder-than-bombs.jpg
What is Jesse Eisenberg's "Most Fulfilling Acting Experience"?
"My absolute favorite thing to do is to write a play and then, after I finish, do the first reading of it with my friends around the table"- Jesse Eisenberg
http://www.dailyactor.com/actors-on-acting/jesse-eisenberg-most-fulfilling-acting-experience/
http://www.dailyactor.com/wp-content/uploads/2016/03/Lupita-Nyong'o-eclipsed.jpg
Lupita Nyong'o on Her Broadway Debut: "When we get up on that stage, you do not know what will happen"
"I think theater offers a chance to flex muscles that then only help to sustain cinematic work." - Lupita Nyong'o
http://www.dailyactor.com/actors-on-acting/lupita-nyongo-eclipsed-broadway/