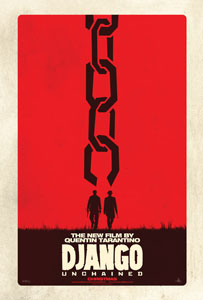 Django Unchained: Set in the South two years before the Civil War, DJANGO UNCHAINED stars Academy Award(R)-winner Jamie Foxx as Django, a slave whose brutal history with his former owners lands him face-to-face with German-born bounty hunter Dr. King Schultz (Academy Award(R)-winner Christoph Waltz). Schultz is on the trail of the murderous Brittle brothers, and only Django can lead him to his bounty. The unorthodox Schultz acquires Django with a promise to free him upon the capture of the Brittles–dead or alive.
Writer/Director: Quentin Tarantino
Cast: Jamie Foxx, Christoph Waltz, Leonardo DiCaprio, Kerry Washington, Samuel L. Jackson
Click here for the script to Django Unchained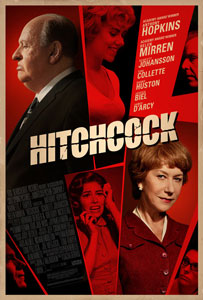 Hitchcock is a love story about one of the most influential filmmakers of the last century, Alfred Hitchcock, and his wife and partner Alma Reville. The film takes place during the making of Hitchcock's seminal movie PSYCHO.
Director: Sacha Gervasi
Cast: Anthony Hopkins, Helen Mirren, Scarlett Johansson, Danny Huston, Toni Collette, Jessica Biel, Michael Stuhlbarg, James D'Arcy, Michael Wincott, Richard Portnow, Kurtwood Smith
Writers: John J. McLaughlin
Click here for the screenplay to Hitchcock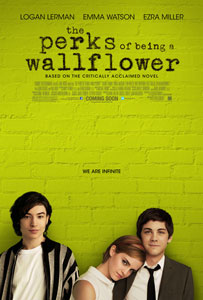 The Perks of Being a Wallflower: A funny and touching coming-of-age story based on the beloved best-selling novel by Stephen Chbosky, THE PERKS OF BEING A WALLFLOWER is a modern classic that captures the dizzying highs and crushing lows of growing up. Starring Logan Lerman, Emma Watson and Ezra Miller, THE PERKS OF BEING A WALLFLOWER is a moving tale of love, loss, fear and hope–and the unforgettable friends that help us through life.
Writer/Director: Stephen Chbosky
Cast: Logan Lerman, Emma Watson, Ezra Miller, Mae Whitman, Kate Walsh, Dylan McDermott, Nina Dobrev, Paul Rudd
Click here for the script to The Perks of Being a Wallflower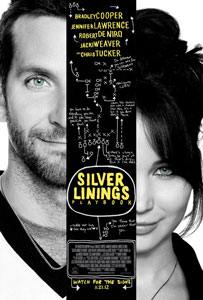 Silver Linings Playbook: Life doesn't always go according to plan… Pat Solitano (Bradley Cooper) has lost everything–his house, his job, and his wife. He now finds himself living back with his mother (Jacki Weaver) and father (Robert DeNiro) after spending eight months in a state institution on a plea bargain. Pat is determined to rebuild his life, remain positive and reunite with his wife, despite the challenging circumstances of their separation. All Pat's parents want is for him to get back on his feet–and to share their family's obsession with the Philadelphia Eagles football team. When Pat meets Tiffany (Jennifer Lawrence), a mysterious girl with problems of her own, things get complicated. Tiffany offers to help Pat reconnect with his wife, but only if he'll do something very important for her in return. As their deal plays out, an unexpected bond begins to form between them, and silver linings appear in both of their lives.
Director: David O. Russell
Cast: Bradley Cooper, Jennifer Lawrence, Robert DeNiro, Jacki Weaver, Anupam Kher, Chris Tucker
Click here for the script to Silver Linings Playbook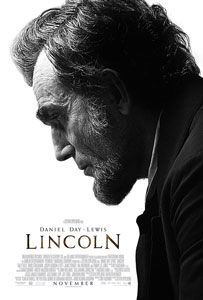 Lincoln: Steven Spielberg directs two-time Academy Award(R) winner Daniel Day-Lewis in "Lincoln," a revealing drama that focuses on the 16th President's tumultuous final months in office. In a nation divided by war and the strong winds of change, Lincoln pursues a course of action designed to end the war, unite the country and abolish slavery. With the moral courage and fierce determination to succeed, his choices during this critical moment will change the fate of generations to come.
Director: Steven Spielberg
Cast: Daniel Day-Lewis, Sally Field, David Strathairn, Joseph Gordon-Levitt, James Spader, Hal Holbrook, Tommy Lee Jones
Writer: Tony Kushner
Click here for the screenplay to Lincoln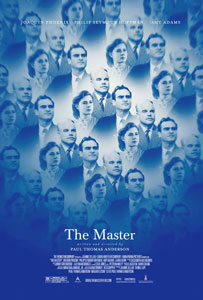 The Master: A striking portrait of drifters and seekers in post World War II America, Paul Thomas Anderson's The Master unfolds the journey of a Naval veteran (Joaquin Phoenix) who arrives home from war unsettled and uncertain of his future – until he is tantalized by The Cause and its charismatic leader (Philip Seymour Hoffman).
Director: Paul Thomas Anderson
Cast: Philip Seymour Hoffman, Joaquin Phoenix, Amy Adams, Jesse Plemons, David Warshofsky, Laura Dern, Lena Endre
Click here for the script to The Master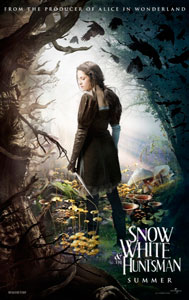 Snow White and the Huntsman: In the epic action-adventure Snow White and the Huntsman, Kristen Stewart (Twilight) plays the only person in the land fairer than the evil queen (Oscar winner Charlize Theron) out to destroy her. But what the wicked ruler never imagined is that the young woman threatening her reign has been training in the art of war with a huntsman (Chris Hemsworth, Thor) dispatched to kill her. Sam Claflin (Pirates of the Caribbean: On Stranger Tides) joins the cast as the prince long enchanted by Snow White's beauty and power. The breathtaking new vision of the legendary tale is from Joe Roth, the producer of Alice in Wonderland, producer Sam Mercer (The Sixth Sense) and acclaimed commercial director and state-of-the-art visualist Rupert Sanders.
Director: Rupert Sanders
Cast: Kristen Stewart, Charlize Theron, Chris Hemsworth, Sam Claflin
Writers: Evan Daugherty
Click here for the screenplay to to Snow White and the Huntsman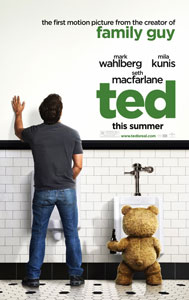 Ted: Family Guy creator Seth MacFarlane brings his boundary-pushing brand of humor to the big screen for the first time as writer, director and voice star of Ted. In the live action/CG-animated comedy, he tells the story of John Bennett (Mark Wahlberg), a grown man who must deal with the cherished teddy bear who came to life as the result of a childhood wish…and has refused to leave his side ever since.
Director: Seth MacFarlane
Cast: Mark Wahlberg, Mila Kunis, Joel McHale, Giovanni Ribisi, Seth MacFarlane
Writers: Seth MacFarlane, Alec Sulkin, Wellesley Wild
Click here for the screenplay to Ted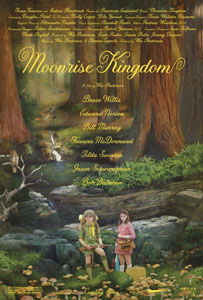 Moonrise Kingdom: Set on an island off the coast of New England in the summer of 1965, MOONRISE KINGDOM tells the story of two twelve-year-olds who fall in love, make a secret pact, and run away together into the wilderness. As various authorities try to hunt them down, a violent storm is brewing off-shore — and the peaceful island community is turned upside down in more ways than anyone can handle. Bruce Willis plays the local sheriff. Edward Norton is a Khaki Scout troop leader. Bill Murray and Frances McDormand portray the young girl's parents. The cast also includes Tilda Swinton, Jason Schwartzman, and Jared Gilman and Kara Hayward as the boy and girl.
Director: Wes Anderson
Cast: Bruce Willis, Edward Norton, Bill Murray, Frances McDormand, Tilda Swinton, Jason Schwartzman, Jared Gilman, Kara Hayward
Writers: Wes Anderson, Roman Coppola
Click here for the screenplay to Moonrise Kingdom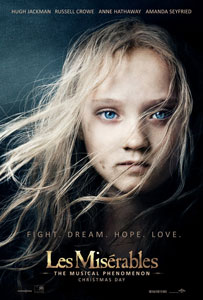 Les Miserables: Set against the backdrop of 19th-century France, Les Miserables tells an enthralling story of broken dreams and unrequited love, passion, sacrifice and redemption–a timeless testament to the survival of the human spirit. Hugh Jackman plays ex-prisoner Jean Valjean, hunted for decades by the ruthless policeman Javert (Russell Crowe) after he breaks parole. When Valjean agrees to care for factory worker Fantine's (Anne Hathaway) young daughter, Cosette, their lives change forever.
Director: Tom Hooper
Cast: Hugh Jackman, Russell Crowe, Anne Hathaway, Amanda Seyfried, Eddie Redmayne, Aaron Tveit, Samantha Barks, Helena Bonham Carter, Sacha Baron Cohen
Writers: William Nicholson, Alain Boublil, Claude-Michel Schönberg, Herbert Kretzmer
Click here for the screenplay to Les Miserables