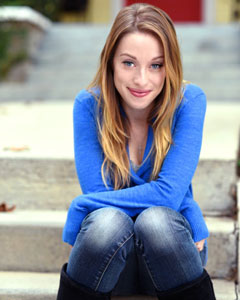 Written by Megan Lee Joy
Making a film from idea to incantation to incarnation!
I have a crowdfunding campaign for a project directed by Buffy the Vampire Slayer Amber Benson. Created and implemented by a group of ladies. You can check out Shevenge, on our Indiegogo page or on the Shevenge website (www.shevenge.com).
The synopsis is: "Directed by Buffy the Vampire Slayer's Amber Benson, Emme Rylan (General Hospital), Megan Lee Joy and Jessica Courtemanche are set to star in the dark comedy Shevenge. The film follows a group of young ladies as they embark on a journey of revenge and empowerment! While at a killer slumber party, these ladies drink wine, paint their nails & pay back their crappy boyfriends – played by David Blue (Stargate Universe, Ugly Betty), Eugene Byrd (Bones, True Blood) and Dove Mier (Dig). All the while paying homage to their favorite genres of film & television. With a mix of horror, fantasy & action, the ladies of Shevenge invite the audience to come right along into their deepest fantasies!"
Making this film was amazing… amazingly hard. I wanted to make a film supporting not only women but also women in film! The entertainment industry is over-saturated with men. It was simply hard to find women for this project. God knows they're there, but the women recommended to us were either just starting out, so they didn't have the experience we needed, or were the few who had just gotten their big breaks so were super busy now. I say few, because women just aren't being hired remotely as much as men. In fact, the percentages have been going down every year. But people want to hire someone with on-set experience, so it ends up being a catch-22. As you can see in this article linked here, there is a huge gap in Hollywood between opportunities given to men vs. women. We wanted to change that, so we grabbed as many ladies as we could and threw them in front of and behind our cameras. It was a blast!
The production process is draining. But passionately draining. When you are making your own film you're basically a machine, doing everything yourself. Then when you've finally hired everyone, it's hard to let go. But until you're at a point in the project when the crew is set to do their jobs, you're the driving force: the producer, location scout, casting director, line producer, publicist, and more, all in one. Even more-so with an independent film where money is tight. It's exhausting, but it is the cinematic education of a lifetime. Creating, writing, producing and acting in your own project is heart wrenching. The most exciting and fulfilling part is shooting the film and unfortunately that is the quickest phase of making a film! Hopefully the second time around it'll be far easier. There are a lot of difficult compromises you have to make when you are so involved, which is why I needed a strong and edgy director to make those decisions. The most important thing I can say for making your own film is to specify your and everyone else roles. Down to the T! I have a new level of respect for actors who also direct their own films. Being the boss is tricky, even when you're lucky enough to share the responsibility like I did with my producing partner Jessica Courtemanche. But it sure was a relief to throw the reigns over to Amber. 'TAKE IT DEAR GOD TAKE IT!' Ha ha!
From our director, Amber Benson: "I feel like if you are a lady and you want to have some control over your life, your art, and your finances, you have to create your own content and make your own opportunities. That's why I appreciated what the ladies were doing with Shevenge. They were trying to have some control over their own creative destinies and I totally support that."
Check out the campaign on Indiegogo and follow the film on Twitter @ShevengeMovie!"
With an extensive background training in theater, Megan Lee Joy's other projects include creative and original independent films, webisodes, and shorts including "Happy Hour", winner in LA's Zero Film Festival (Best Mid Length Film). Find Megan at imdb.me/meganleejoy, www.meganleejoy.com or on Facebook at www.facebook.com/meganleejoyfans and Twitter @MeganLeeJoy.