Acting Resume
How To Make An Acting Resume That Works For You

An actor's resume, along with an actor's headshot, is your calling card. It's there to not only show off your experience and past work but also your education and acting classes you've taken, physical stats and any other 'special skills' you might have.
Even if you have no experience, don't worry. We all started somewhere and you can still have an acting resume that you can be proud to hand off to any casting director or agent.
Make your acting resume as professional as it can be and don't try and jazz it up.
If you're looking to download a resume template, click here.
The Basics:
You resume is always on one (1) sheet of paper.
It must fit on the back of your 8×10 headshot. You'll size up the resume to the back of your headshot, staple it in two opposite corners and cut the excess paper.
Make it look clean with a lot of white space. It must be easy to read.
Don't try to cram every single role you've played since Elementary School on your resume. Did you do a production of The Wizard of Oz in High School and you're now in your 30's? Don't add that.
Don't use any crazy fonts! Stick with Times New Roman or Arial.
You can make the headings on your resume (Name, TV/Film/Theater section, Special Skills section) a different color than black but I wouldn't choose more than one color.
Never lie on your resume! Seriously, never ever lie because at some point you're going to be caught. Whether you're in Los Angeles, New York or Topeka, this is a small community and someone will find out. You don't want to damage your reputation, especially if you are just starting out.
You can choose to print your resume on the back of your headshot, but I wouldn't. What if you just landed a part and you have 20 already printed headshots & resumes? You could write the new role in but that just looks sloppy.
Do not put extra work on your resume.

Name, Contact Information, Physical Description, Union Affiliations (if any)
Take a look at the examples below: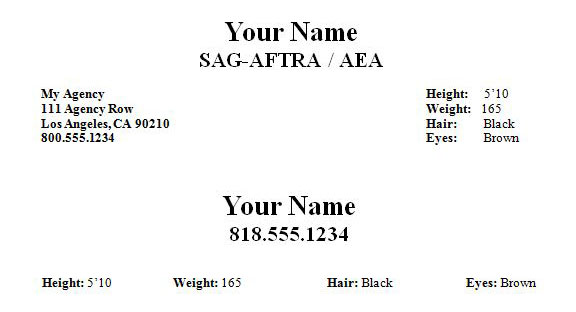 Either of these will work fine.
If you have an agent or someone who is representing you, you can also put their logo on the left side and put the phone number under the logo.
Union affiiations. SAG-AFTRA or Equity/AEA. If you're not a member of either, just keep that part blank. Some people put SAG-AFTRA Eligible if they are able to join the union. I'm not a big fan of that – either join or not.
Contact information. List your contact information or agents/ managers. Don't put your address on your resume.
Personal Information. Your height, weight, hair and eye color. Never put your age on your resume unless you are under 18.
If you want to do musical theater, you should also list your vocal type here. Example, Voice: Tenor

Acting Roles/Experience

In this section, you'll list all of the acting parts you've had. You'll group them by Theatre, Film and Television. If you have Web Series credits, you can make a section for that as well.
I have 3 different resumes depending on what I'm auditioning for. If I'm auditioning for a role in a play, I'll bring my Theatre Resume. Same goes for a TV audition or Film Audition.
In each section, I list my most recent job first. Some list in order of their biggest role they've had and go from there. I prefer it chronologically – but either way, don't ever add the dates you worked on those roles.
If you've done a bunch of work, don't list everything you've ever been in. For example, if you're in your 30′s don't put the plays in High School you performed in.
Theatre:
For your Theatre section, you list the Name of the Show, followed by your Role, Theatre Company and Location of the Production.
You don't have to add the director of the show unless they're well known. If I did a show that Mike Nichols or Susan Stroman directed, you can bet I'd have that on my resume in big, bold letters. But normally, you wouldn't add the Director.
Take a look at the examples below: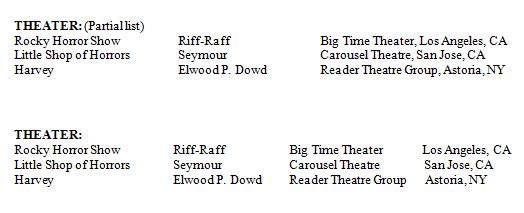 I personally use the 1st example but you can use either one.

Film, Television
For this section, you'll list the Name of the Show or Film, followed by the Type of Role (not your character name), Network or Production Company and Director of the Show or Film.
Don't ever put extra work on your resume. Again, don't ever put extra work on your resume.

Training and Education:
Next up is your Training. In this section, you'll list all of the acting classes and workshops you've taken. If you went to college or took classes there, you'll add them here.

You can see that I put graduation date. This is optional.

Special Skills
This is the last part of your acting resume and the only part where you could add a touch of humor. Don't get too cute though, no one cares where you were born, what time and where.
Here, you'll put down the accents you can do. Don't have a huge list either. Something they can glance at. And only list things you can do at that moment. If you can't do an Australian accent on the fly, don't put it there. I'll give you a good example: When I was finishing up my final audition for the film, Gods and Generals, Casting Director Joy Todd and Ron Maxwell, the Director, were looking at my resume. They didn't think I was right for the role I had come in for but they saw that I did an Irish accent and asked if I could read a few lines. I did and got the part.

And there is your acting resume! Coming Soon – Click here if you need an acting resume template. A theatre resume template is there also.
Good luck and if you ever need help, feel free to contact me!

Looking for more acting information? Here are some great resources – More Coming soon
Headshot Photographers – Including Los Angeles and New York
The Best Places To Go For Headshot Printing
The Top 11 Reputable Casting Websites
Also, check out our Acting Advice Columns,  Interviews with Actors and our Actors on Acting category!
Latest Videos
http://www.dailyactor.com/wp-content/uploads/2014/04/director-david-gordon-greene-nar.jpg
Director David Gordon Green Narrates a Scene From 'Joe'
Director David Gordon Green narrates a sequence from his new film, Joe, featuring Nicolas Cage and Tye Sheridan. In the video, he mentions his reasons why he likes to hire non-traditional actors. He likes people who have real skill-sets and not actors who have the skills on their resume. He also talked about this in […]
http://www.dailyactor.com/2014/04/director-david-gordon-green-narrates-a-scene-from-joe/
http://www.dailyactor.com/wp-content/uploads/2014/04/david-gordon-green-joe.jpg
Director David Gordon Green: "I find actors in unusual places"
I keep missing screenings of director David Gordon Greene's new film, Joe. I hear it's really good so I'm looking forward to catching it at some point. Joe stars Nicholas Cage as ex-con Joe Ransom, who isn't the greatest of role models until he meets a 15-year-old boy (Mud's Tye Sheridan). In this featurette, Green […]
http://www.dailyactor.com/2014/04/director-david-gordon-green-i-find-actors-in-unusual-places/
http://www.dailyactor.com/wp-content/uploads/2014/04/judy-greer-i-dont-know-why-you-know-me-from.jpg
Please Don't Say These Things To Judy Greer (video)
Judy Greer - who we love here at Daily Actor – has a new book called, I Don't Know What You Know Me From (Confessions of a Co-Star), a series of essays about her life as an actress, friend and someone who everyone thinks they might know. Here's a blurb about the book: "Want to […]
http://www.dailyactor.com/2014/04/please-dont-say-these-things-to-judy-greer-video/
http://www.dailyactor.com/wp-content/uploads/2014/04/Captain-America-SamuelNick-Fury.jpg
How Samuel L. Jackson Learns His Lines for the Marvel Movies (video)
Samuel L. Jackson stopped by Good Morning America earlier this week to talk about Captain America: The Winter Soldier – which is terrific, by the way – and he told Robin Roberts that for the first Cap film, he had trouble learning his lines. "I sat at home and I did all my studying, and […]
http://www.dailyactor.com/2014/04/how-samuel-l-jackson-learns-his-lines-for-the-marvel-movies-video/
http://www.dailyactor.com/wp-content/uploads/2014/04/andy-karl-margot-seibert-rocky.jpg
Andy Karl and Margo Seibert Talk 'Rocky: The Musical' on 'Today'
Andy Karl and Margo Seibert, the stars of Rocky: The Musical, talked to Today's Matt Lauer about the new Broadway musical. Karl talks about the final fight and taking on the iconic role. This is Seibert's Broadway debut and she's asked about her callbacks (9 in all!) and more. Check it out!
http://www.dailyactor.com/2014/04/andy-karl-and-margo-seibert-talk-rocky-the-musical-on-today/