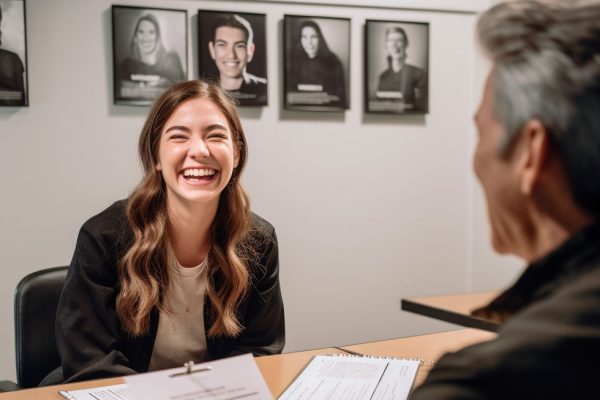 How To Make An Acting Resume
An actor's resume, along with an actor's headshot, is your calling card. It's there to not only inform casting directors or agents your credits but also your education, acting classes you've taken, physical stats and any special skills you might have.
Every resume has four sections: Personal and General Information, Credits, Training and Education and Special Skills. Below, you'll see examples of what kind of information is needed in each section and the proper way to format it.
And before we start, you might be thinking, "Can I make an acting resume with no experience?" Absolutely! We all started somewhere, right? This acting resume is for actors, both professional and just starting out.
But first….
The Basics
Your resume is always on one (1) sheet of paper. Even if you're emailing it, don't make it go over one page. It must fit on the back of your 8×10 headshot. After you print your resume, you'll size it up to the back of your headshot, staple it in two opposite corners and cut the excess paper.
Make it look clean with a lot of white space. It must be easy to read.
Don't try to cram every single role you've played since Elementary School on your resume. Did you do a production of The Wizard of Oz in High School and you're now in your 30's? Don't add that.
Try not to use any crazy fonts! Stick with Times New Roman or Arial.
You can make the section headings on your resume (Name, TV/Film/Theater section, Special Skills section) a different color than black but I wouldn't choose more than one color.
Never lie on your resume! Seriously, never ever lie because at some point you're going to be caught. Whether you're in Los Angeles, New York or Topeka, this is a small community and someone will find out. You don't want to damage your reputation, especially if you are just starting out.
Do not put extra work on your resume.
PERSONAL INFORMATION

Here, you're going to include basic information and yourself, like your name and contact info.
Contact Information, including your name, phone number are a must. Some people also like to have their email address and website or Actors Access link listed too.
If you have an agent or manager, list it here as well. You can also put their logo on the left side and put the phone number under the logo.
Whatever you do, don't add your home address.
Union affiliations. SAG-AFTRA or Equity/AEA. If you're not a member of either, just keep that part blank. Some people put SAG-AFTRA Eligible if they are able to join the union.
Stats. Your height, weight, hair and eye color. Never put your age on your resume unless you're under 18.
If sing or do musical theater, you should also list your vocal type here. Example, Voice: Tenor
ACTING CREDITS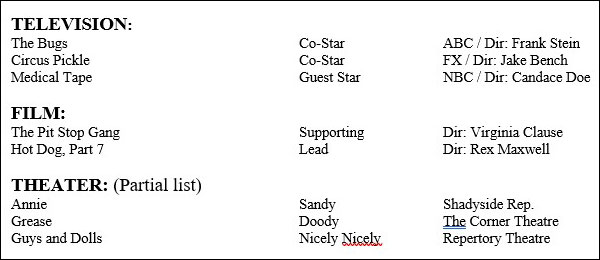 In this section, you'll list all of the acting roles and acting experience you've had, grouping them by Theater, Film, TV, web series and student films.
I have different resumes depending on what I'm auditioning for. If I'm auditioning for a role in a play or musical,  I'll bring my Theater Resume, which has my theater credits at the top. If I'm audition for a TV show or film, those are at the top.
List your most recent job first. Some list in order of their biggest role they've had and go from there. I prefer it chronologically. Either way, don't add the dates you worked on those roles.
If you've done a lot of work, don't list everything you've ever been in. For example, if you're in your 30's don't put the plays in High School you performed in.
Don't put extra work on your resume. Never ever, ever.
THEATER:
List the Name of the Show, followed by your Character Name, Theatre Company and Location.
You don't have to add the director of the production. But, if they're well known, I suggest you add it. If I did a show that Susan Stroman directed, you can bet I'd have that on my resume in big, bold letters.
TELEVISION:

List the Name of the Show or Film, followed by the Type of Role (Co-Star or Guest Star), Network or Production Company and Director.
FILM:
List the Name of the Show or Film, followed by the Type of Role (Supporting or Lead) and Director.
TRAINING and EDUCATION

Here, you'll want to list any type of school, colleges classes you've taken. Maybe you got an award for a short film or play you were in, add that here. Basically, anything that would have helped in your acting career, let it in this section.
SPECIAL SKILLS


Special skills, actual skills and specialized training, are things that you can do at a moments notice. For instance, anyone can jump rope, but can you do the double-dutch competition style jump rope? That's a skill!
One of my very first auditions, I was lucky enough to book a part because of one of my special skills. I had already auditioned and as I was leaving, they noticed that 'driving a fork lift' was listed. They stopped me right as I was about to leave, had me read again and I booked the role. And that role was what got me my SAG card.
Here's another example: When I was finishing up my final audition for the film, Gods and Generals, Casting Director Joy Todd and director Ron Maxwell were looking at my resume. They didn't think I was right for the role I had come in for but they saw that I did an Irish accent and asked if I could read a few lines. I did and got the part.
Can you do an accent or speak another language? Play an instrument or excel in a particular sport like fencing? Add those to your special skills!
More Acting Resources