Jim Parrack Talks About his Return to 'True Blood' and How Hoyt Fortenberry has Evolved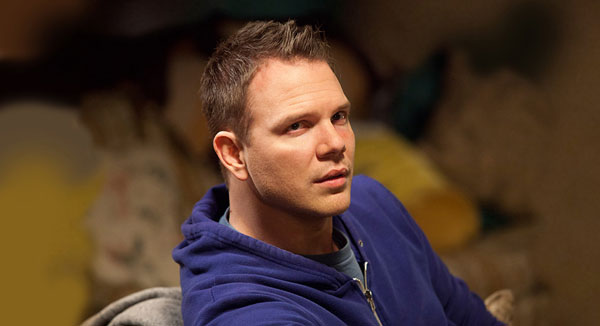 True Blood is coming to a close, but the writers have done a good job in wrapping up storylines and bringing back some familiar faces. For Jim Parrack, coming back to the series as Hoyt Fortenberry was as easy as riding a bike.
He talked to Vulture about his return to the HBO show in Season 7 and how his character has changed since he left Bon Temps for Alaska.
Parrack said, "I was thinking about what made him change. The reason for going was as much to become who I wanted to be as to get away from whatever had happened. So I had to think about what might be different, and what struck me is that it would have been the first time he was free from the influence of anybody else, to see who he was and what he was about. And it either makes you quit or it makes a man out of you. I thought about it like, it was probably a relief, and probably something I'd be excited about, to be able to create an identity for myself. Start over. And I imagined his life in Alaska to mostly be about work. And they told me I met a girl up there, had a girlfriend, so I filled that in for myself, and made some things up that worked for that, that didn't do any sort of violence to the plot points which unfold."
In the interim, the 33-year-old actor was in the recent revival of the Broadway show Of Mice and Men with James Franco, Chris O'Dowd and Leighton Meester. The play recently closed on July 27.
Parrack talked about his evolution as an actor since he's been on the series, but don't expect him to get too serious about his craft.
"You know, I don't like when actors go around and talk a ton about how they approach their roles, because it's a little like pulling the curtain back on Oz, for me. I don't like when before a movie comes out, somebody says, 'I chained myself to a radiator in a cancer ward for 14 months and I told my mother she should go fuck herself, and that's how I really found the part.' I would rather not know that. I like the mystery of seeing someone like Mickey Rourke do his thing. I don't know how he does it, but I'm glad he does it. He puts his finger on something that gets him going, and I enjoy that. But he doesn't ever go and talk about it!" he said. "I like that a lot. It's just too personal. If you're dealing with personal kind of acting, you're not going to want to open up and expose it to everybody, because that's where the power lies, you know? It would be a little like showing your hand in poker, and then hoping you can still win. I actually got to hop off, sweetheart, because I'm at the airport! Have a good week!"
The series finale of True Blood airs on Sunday, Aug. 24.
Latest Videos
http://www.dailyactor.com/wp-content/uploads/2014/09/audtion-tapes-robin-wright-and-h.jpg
Audition Tapes: Robin Wright and Haley Joel Osment Audition with Tom Hanks for 'Forrest Gump'
Check out Robin Wright auditioning for the role of Jenny from Forest Gump opposite Tom Hanks. Interestingly enough, Hanks doesn't quite have Gump's southern drawl down just yet while the other actors audition with him. In fact, Hanks would base Gump's voice on the voice of Michael Conner Humphreys, who played the young Forrest and […]
http://www.dailyactor.com/2014/09/audtion-tapes-robin-wright-haley-joel-osment-tom-hanks-forrest-gump/
http://www.dailyactor.com/wp-content/uploads/2014/08/bryan-cranston-emmy-award-speech.jpg
Watch: Bryan Cranston's Emmy Award Speech: "I love to act. It is a passion of mine and I will do it until my last breath."
The Emmy Awards weren't the most exciting awards show this year but with Bryan Cranston winning for Outstanding Actor in a Drama for Breaking Bad, we at least got to hear one heck of a fantastic acceptance speech. "I was a kid who always looked for the shortcut," he said. "I did happen to stumble […]
http://www.dailyactor.com/2014/08/watch-bryan-cranston-and-aaron-pauls-emmy-award-speeches/
http://www.dailyactor.com/wp-content/uploads/2014/08/audition-tapes-gerard-butler-aud.jpg
Audition Tapes: Gerard Butler Auditions for 'Dracula 2000′
Check out Gerard Butler auditioning for the role of Dracula in the movie, Dracula 2000. The film, about a group of thieves who break into a chamber expecting to find paintings, but instead find Dracula himself, also starred Christopher Plummer, Jonny Lee Miller and Nathan Fillion. Bulter has some sweet rock star hair, huh?
http://www.dailyactor.com/2014/08/audition-tapes-gerard-butler-dracula-2000/
http://www.dailyactor.com/wp-content/uploads/2014/08/interview-matt-dillon-and-carla.jpg
Interview: Matt Dillon and Carla Gugino Talk 'Wayward Pines'
FOX has a new limited-series that's got a terrific cast and interesting premise. It's called Wayward Pines and stars Matt Dillon, Carla Gugino, Melissa Leo, Toby Jones, Terrance Howard, Juliette Lewis, Tim Griffin and Shannyn Sossamon. The show, whose pilot was directed by M. Night Shyamalan, is about a Secret Service agent (Dillon) goes to […]
http://www.dailyactor.com/2014/08/interview-matt-dillon-carla-gugino-wayward-pines-comic-con/
http://www.dailyactor.com/wp-content/uploads/2014/08/interview-wayward-pines-stars-ti.jpg
Interview: 'Wayward Pines' Stars Tim Griffin and Shannyn Sossamon on the Show, Their Characters and More!
Griffin and Sossamonwere at Comic-Con where they sat in on some roundtable interviews to talk about the show.
http://www.dailyactor.com/2014/08/interview-wayward-pines-stars-tim-griffin-shannyn-sossamon-comic-con/