Pro Wrestler Dave Bautista on Landing His 'Guardians of the Galaxy' Role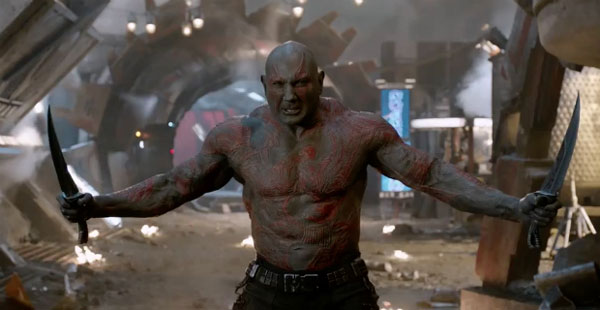 The list of professional wrestlers who have attempted acting careers is long, but the list of those who actually succeeded on the silver screen is very small. Of course, none have yet equaled the resume of Dwayne "The Rock" Johnson and only a few are even as popular on screen as "Rowdy" Roddy Piper, but that's still better than the average wrestler-turned-actor. One wrestler who has the opportunity of joining Johnson is Dave Bautista, who landed the role of a lifetime as Drax the Destroyer in Guardians of the Galaxy after quitting wrestling in 2010 and landed roles in movies like The Man with the Iron Fists, Riddick, and The Scorpion King 3: Battle for Redemption.
Bautista (who has recently made a return to wrestling) spoke to The New York Post about what he felt when he landed the Marvel role.
He admits that when he got the part that his immediate reaction was, "I was sobbing." He adds that he cried because of how hard he worked to be recognized as an actor after years of wrestling. He says, "I left wrestling, and I really pounded the pavement trying to get people to take me seriously as an actor for about three and a half years . . . finally there was some kind of justification that it was the right choice."
However, the muscular wrestler actually has a surprising revelation: he had to bulk up to play the part. He explains, "I actually started lifting weights to put some weight back on for the role. [Before,] I avoided the weights and really tried to trim down because I was trying to get more roles, which is really hard to do when you look like a shaved gorilla."
http://www.dailyactor.com/wp-content/uploads/2015/05/Caitriona-Balfe-Outlander.jpg
Outlander's Caitriona Balfe On The Emotional Toll of Filming Violent Scenes
"Having to put yourself in that place is tough. To sit in that emotional space, especially when you're doing it day after day." - Caitriona Balfe
http://www.dailyactor.com/2015/05/outlander-catriona-balfe-emotional-toll-of-filming-violent-scenes/
http://www.dailyactor.com/wp-content/uploads/2015/05/Chrissie-Fit.jpg
Chrissie Fit on How She Landed Her Role in 'Pitch Perfect 2′
"I remember getting the audition and being like, "This might not happen," just because it is such a massive movie." - Chrissie Fit
http://www.dailyactor.com/2015/05/chrissie-fit-on-how-she-landed-her-role-in-pitch-perfect-2/
http://www.dailyactor.com/wp-content/uploads/2015/05/Sam-Elliott.jpg
Sam Elliot on How he "F–ked" Himself Out of a Career as a Lead Actor
The rugged Sam Elliot has most often cast in character actor roles throughout his long career in film, though the 70 year-old Elliot thinks it wasn't always meant to be that way.
http://www.dailyactor.com/2015/05/sam-elliot-on-how-he-f-ked-himself-out-of-a-career-as-a-lead-actor/
http://www.dailyactor.com/wp-content/uploads/2015/05/Anna-Kendrick-Pitch-Perfect-2.jpg
Anna Kendrick Talks Hollywood and its Gender Bias
"As an actress you're perpetually about to be unemployed." - Anna Kendrick
http://www.dailyactor.com/2015/05/anna-kendrick-talks-hollywood-and-its-gender-bias/
http://www.dailyactor.com/wp-content/uploads/2015/05/tom-hardy-mad-max-fury-road.jpg
Tom Hardy on Fame, Acting School, and His 'Mad Respect' for Michael Fassbender
"Do what you love doing, do it well—everything should fit into place." - Tom Hardy
http://www.dailyactor.com/2015/05/tom-hardy-fame-acting-school-michael-fassbender/