Kelli O'Hara Talks 'The Bridges of Madison County' Musical, Challenging Herself, and… Shakespeare?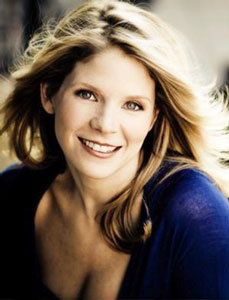 It's starting to seem like Kelli O'Hara is becoming the Susan Lucci of Broadway. 
O'Hara has been nominated for four Tony Awards for a number of acclaimed productions, but has yet to win. However, it's possible that O'Hara might have success with her most out-of-the-box Broadway musical yet: The Bridges of Madison County, based on the bestselling book. She is also negotiating to star in a revival of The King and I in the future, just in case she doesn't get a Tony for this one, either. She spoke about why she insists on challenging herself over and over again in her career, including when she took on a Shakespearean role.
Not only does O'Hara refer to The Bridges of Madison County as her "biggest challenge," but she is doing it as the mother of a five month year old baby. As many new parents will tell you, O'Hara says, "Sleep is a whole different thing for me now," making the production extra difficult.
O'Hara insists that this role is significant to her as an actress. She explains, "It's really important to me. I keep wanting to take risks and reinvent myself in certain ways, whether it be a good thing or a bad thing. And thankfully, I've just slid under the radar. It's like, 'She didn't completely ruin herself with that.' This one is probably the most in-your-face as far as me trying to step out of my box, my comfort zone."
One of those challenges was when O'Hara, who is obviously best known for musicals, appeared in a production of King Lear at The Public Theater in November 2011. As for that change of pace, she explains, "I sought it out. I auditioned. I worked. I auditioned for a couple of things beforehand that I didn't get and I waited for the right thing to come. It's something I've wanted to do forever."
That production of King Lear was actually O'Hara's first professional Shakespeare role. She reveals, "It was on my bucket list. I'm telling you I sat in that room like a silly little schoolgirl learning about iambic pentameter and when to breathe and then learning how to connect it with an actual emotional thought. I loved every second of it. It was the most wonderful gift I could have and I was so nervous and so glad."
Latest Videos
http://www.dailyactor.com/wp-content/uploads/2014/07/bill-hader.jpg
Bill Hader: "I kind of fell into acting" (video)
Bill Hader, starring in the soon to be released The Skeleton Twins, talks about the film and how he fell into acting and then got "crazy lucky" in this quick video from USA Today. Share on Tumblr
http://www.dailyactor.com/2014/07/bill-hader-fell-into-acting-video/
http://www.dailyactor.com/wp-content/uploads/2014/07/director-john-carney-narrates-a.jpg
Director John Carney Narrates a Scene from 'Begin Again' Starring Kiera Knightley and Mark Ruffalo
Director John Carney (Once) narrates a scene from his new film, Begin Again. Starring Keira Knightley and Mark Ruffalo, the scene shows the first time the two characters meet. I haven't seen it yet but I've heard it's great.
http://www.dailyactor.com/2014/07/begin-again-scene-director-john-carney-keira-knightley-mark-ruffalo/
http://www.dailyactor.com/wp-content/uploads/2014/07/holler-if-you-hear-me-gma.jpg
Watch the Cast of Broadway's 'Holler If You Hear Me' Perform 'California Love' on GMA
The cast of Broadway's newest musical, Holler If You Hear Me with music from Tupac Shakur, performed on Good Morning America this morning. Singing 'California Love', the cast (including the teriffic Christopher Jackson – read our interview here), show why they're the most energetic and inspiring group of actors on Broadway. Holler If Ya Hear [...]
http://www.dailyactor.com/2014/07/watch-cast-broadways-holler-hear-perform-california-love-gma/
http://www.dailyactor.com/wp-content/uploads/2014/07/behind-the-scenes-of-dawn-of-the.jpg
Behind the Scenes of 'Dawn of the Planet of the Apes' with Performance Capture Actor Terry Notary
Actor Terry Notary is 1 of 5 actors playing the apes in the new Dawn of the Planet of the Apes. "When you see armies of apes," he says, that's "five of us." Check out the video where you can watch his performance capture work.
http://www.dailyactor.com/2014/07/dawn-planet-apes-performance-capture-actor-terry-notary/
http://www.dailyactor.com/wp-content/uploads/2014/07/melissa-mccarthy-daily-show.jpg
Melissa McCarthy and John Stewart Talk About Terrible Commercial Auditions on 'The Daily Show'
Melissa McCarthy stopped by The Daily Show last week to plug about her new movie, Tammy. She talked about how she loved working with her husband, Ben Falcone (director of Tammy) and then segued into talking about some horrible working situations. The always hilarious McCarthy then started to tell host John Stewart about a particular [...]
http://www.dailyactor.com/2014/07/melissa-mccarthy-john-stewart-commercial-auditions-the-daily-show/