PREVIEW: 'The Bridges of Madison County' on Broadway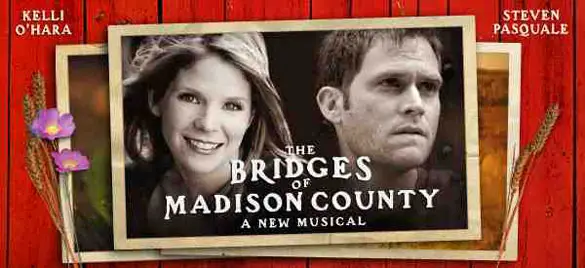 I had the opportunity to attend media event featuring the cast from the upcoming Broadway musical adaptation of the best selling novel The Bridges of Madison County at the New 42nd Street Studios.  The cast — including stars Kelli O'Hara and Steven Pasquale — performed three songs from the musical, which begins previews January 17 at the Gerald Schoenfeld Theatre.  O'Hara stars as Italian war bride Francesca, who lives in Iowa, and the affair she has with a visiting National Geographic photographer named Robert Kincaid, portrayed by Pasquale.
Before the performance we heard remarks about the show from Bartlett Sher (director) Jason Robert Brown (music and lyrics) and Marsha Norman (book).  When asked why turn this novel into a musical, Norman wasn't shy about pointing out that the novel's enduring popularity — including millions of copies sold worldwide — as one of the main reasons why she decided to work on the musical adaptation.  Brown pointed out that he actually had not seen the popular 1995 movie adaptation starring Clint Eastwood and Meryl Streep (Eastwood also directed the film) and stressed that the musical was intended to be very different.  Sher claimed that the material was the best he ever worked with, which is high praise considering his history — a Best Director of a Musical Tony Award for the 2008 revival of South Pacific (which also starred Kelli O'Hara) and four other directing Tony Awards.  Perhaps it was hyperbole, but he definitely showed enthusiasm.
The first song "You're Never Alone" was performed the entire cast except for the two leads.  Led by Hunter Foster (Urinetown), who portrays Francesca's husband Bud Johnson, the song is about how the people in farming communities cling together to help one another during rough times.  Of the three I would have to say this song was the most "typical" Broadway, the type of grandiose scene-setting show-opener we've come to be accustomed to, though I have no idea if it actually will open the show or not.  Regardless, it had that big show-opening sound, which was particularly impressive because the cast was accompanied by just two guitarists and a pianist during this whole performance.
The second song, "Another Life," was a solo performance by Whitney Bashor, who portrays Robert's former wife.  Bashor is one of several actors in the production who is reprising her role from the Williamstown Theatre Festival world premiere this past summer.  I was shocked to find out that Bashor is making her Broadway debut with Bridges of Madison County because she has an incredibly beautiful voice and sang with complete confidence.  "Another Life" is a more folky song akin to something that would fit well with the songs in Once, and was my favorite song of the three.
Finally we heard the third song, titled "One Second and a Million Miles," which was performed by the two leads, Kelli O'Hara and Steven Pasquale.  I don't need to tell you that O'Hara is talented because she's been blowing audiences away for years on Broadway (I had the chance to see her a few years ago during the acclaimed revival of South Pacific at Lincoln Center that Sher directed).  On the other hand, I've never heard Steven Pasquale sing before.  I know he is a musical vet, but obviously I'm more familiar with him from his role on Rescue Me.  He had no issue keeping up with the wonderful O'Hara, including during a short part that he sings acappella.  Like "You're Never Alone," the song is another page out of the Broadway playbook, one of those "will we or won't we?" songs that every couple who are about to get it on during a Broadway show has to sing.  I know that sounds like I'm putting the song down by putting it that way, but I don't mean to.  It was a very emotional, very powerful song that is sure to be the centerpiece of the musical.
While I can't say that The Bridges of Madison County ever seemed to me like material that would be fit for a Broadway musical (but this is the same industry that thought Spider-Man would make a good musical, so anything goes, I guess), I was certainly impressed by the cast performances and the songs.  In particular, I think Bashor will be making a name for herself in this production regardless of its success.
One note of caution: at the end of the event there was a table of "corn cookies," which I suppose was a tie-in to the story's Iowa setting.  If you ever have the opportunity to try a corn cookie — perhaps they might be sold in the lobby when the musical opens on Broadway — I strongly recommend against it.
Latest Videos
http://www.dailyactor.com/wp-content/uploads/2014/04/director-david-gordon-greene-nar.jpg
Director David Gordon Green Narrates a Scene From 'Joe'
Director David Gordon Green narrates a sequence from his new film, Joe, featuring Nicolas Cage and Tye Sheridan. In the video, he mentions his reasons why he likes to hire non-traditional actors. He likes people who have real skill-sets and not actors who have the skills on their resume. He also talked about this in […]
http://www.dailyactor.com/2014/04/director-david-gordon-green-narrates-a-scene-from-joe/
http://www.dailyactor.com/wp-content/uploads/2014/04/david-gordon-green-joe.jpg
Director David Gordon Green: "I find actors in unusual places"
I keep missing screenings of director David Gordon Greene's new film, Joe. I hear it's really good so I'm looking forward to catching it at some point. Joe stars Nicholas Cage as ex-con Joe Ransom, who isn't the greatest of role models until he meets a 15-year-old boy (Mud's Tye Sheridan). In this featurette, Green […]
http://www.dailyactor.com/2014/04/director-david-gordon-green-i-find-actors-in-unusual-places/
http://www.dailyactor.com/wp-content/uploads/2014/04/judy-greer-i-dont-know-why-you-know-me-from.jpg
Please Don't Say These Things To Judy Greer (video)
Judy Greer - who we love here at Daily Actor – has a new book called, I Don't Know What You Know Me From (Confessions of a Co-Star), a series of essays about her life as an actress, friend and someone who everyone thinks they might know. Here's a blurb about the book: "Want to […]
http://www.dailyactor.com/2014/04/please-dont-say-these-things-to-judy-greer-video/
http://www.dailyactor.com/wp-content/uploads/2014/04/Captain-America-SamuelNick-Fury.jpg
How Samuel L. Jackson Learns His Lines for the Marvel Movies (video)
Samuel L. Jackson stopped by Good Morning America earlier this week to talk about Captain America: The Winter Soldier – which is terrific, by the way – and he told Robin Roberts that for the first Cap film, he had trouble learning his lines. "I sat at home and I did all my studying, and […]
http://www.dailyactor.com/2014/04/how-samuel-l-jackson-learns-his-lines-for-the-marvel-movies-video/
http://www.dailyactor.com/wp-content/uploads/2014/04/andy-karl-margot-seibert-rocky.jpg
Andy Karl and Margo Seibert Talk 'Rocky: The Musical' on 'Today'
Andy Karl and Margo Seibert, the stars of Rocky: The Musical, talked to Today's Matt Lauer about the new Broadway musical. Karl talks about the final fight and taking on the iconic role. This is Seibert's Broadway debut and she's asked about her callbacks (9 in all!) and more. Check it out!
http://www.dailyactor.com/2014/04/andy-karl-and-margo-seibert-talk-rocky-the-musical-on-today/