Jason Schwartzman on Landing his 'Saving Mr. Banks' Role and What Happens When Emma Thompson Gets Mad at You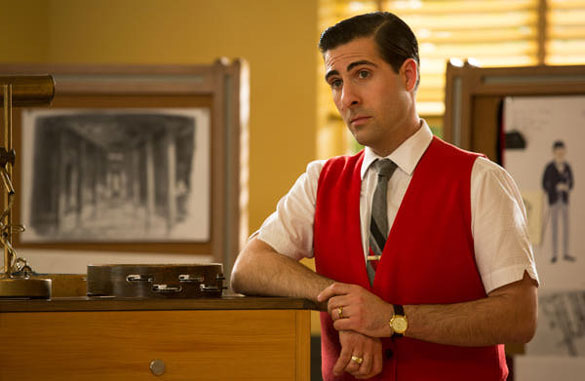 Jason Schwartzman's career has been mostly defined by his regular roles in Wes Anderson's films, so in a sense it's almost odd to see him pop up in a film as commercial as Saving Mr. Banks, which is about the behind-the-scenes struggles during the making of the Disney classic Mary Poppins. Schwartzman plays Richard Sherman, one half of the songwriting brothers who wrote many classic Disney music (brother Robert is portrayed by B.J. Novak).  Schwartzman told Moviefone how he got picked for the role in the film and a trick that his co-star, Emma Thompson, pulled on him that actually helped his performance.
Schwartzman demonstrates that for him getting the role was very much because of the old adage that it's all about who you know.  In this case, he had a connection to the production through the cinematographer, John Schwartzman — Jason's brother.  He reveals, "I was at the Moonrise Kingdom premiere at the Cannes Film Festival and I was sitting next to the composer, Alexandre Desplat. And he told me, 'Oh, I was in a meeting recently about Saving Mr. Banks and your name came up to play one of the Sherman Brothers.' And then the movie started and I was like, 'What?'  My brother, John, shot [Saving Mr. Banks], and I got home that night from the [Kingdom] premiere and there was an email from him that said, 'Hey, bro. I'm doing a movie with John Lee Hancock called Saving Mr. Banks. He's going to contact you soon. It's a great script, you're going to love it. It would be really fun if we could maybe work together.' But then it was another week before John Lee Hancock got in touch with me. I describe it as 'you will be visited by three ghosts…' I was like, 'When is it gonna happen?' But when I read it, I was so interested in it because I love Mary Poppins and I love anything that's the "making of" in the creative process. And I loved [Hancock's previous film] The Rookie, which my brother had shot and told me John Lee Hancock was so nice. So when I went to meet him, I felt comfortable with him."
The Rushmore actor says one of the highlights of doing the film was working with Emma Thompson, who portrays P.L. Travers, the writer of Mary Poppins who is reluctant to have Disney alter anything from her novel for its movie adaptation.  Schwartzman says, "She's intimidating and can be scary when she's acting. She is beautiful and kind in between takes. But on the first day of rehearsals, there was construction on the freeway I was on and I was 20 minutes late. When I walked in, she said, [coolly] 'Hello.' And she was upset. She said, 'You know, the least you could have done was be on time. I've flown in from across the Atlantic.' She just kind of laid into me for my lack of respect for about five minutes and my ears were burning and it was heartbreaking. And then she just started laughing and it was just a big joke. B.J. and all of them had said to just come down on me about it. The way that I felt when she did that, that's what I used for the rest of the movie. I had sense memory about that moment. I never forgot it."
If you haven't seen Saving Mr. Banks yet, trust me, that's a version of Thompson that you wouldn't want to be on the bad side of!
Latest Videos
http://www.dailyactor.com/wp-content/uploads/2014/04/director-david-gordon-greene-nar.jpg
Director David Gordon Green Narrates a Scene From 'Joe'
Director David Gordon Green narrates a sequence from his new film, Joe, featuring Nicolas Cage and Tye Sheridan. In the video, he mentions his reasons why he likes to hire non-traditional actors. He likes people who have real skill-sets and not actors who have the skills on their resume. He also talked about this in […]
http://www.dailyactor.com/2014/04/director-david-gordon-green-narrates-a-scene-from-joe/
http://www.dailyactor.com/wp-content/uploads/2014/04/david-gordon-green-joe.jpg
Director David Gordon Green: "I find actors in unusual places"
I keep missing screenings of director David Gordon Greene's new film, Joe. I hear it's really good so I'm looking forward to catching it at some point. Joe stars Nicholas Cage as ex-con Joe Ransom, who isn't the greatest of role models until he meets a 15-year-old boy (Mud's Tye Sheridan). In this featurette, Green […]
http://www.dailyactor.com/2014/04/director-david-gordon-green-i-find-actors-in-unusual-places/
http://www.dailyactor.com/wp-content/uploads/2014/04/judy-greer-i-dont-know-why-you-know-me-from.jpg
Please Don't Say These Things To Judy Greer (video)
Judy Greer - who we love here at Daily Actor – has a new book called, I Don't Know What You Know Me From (Confessions of a Co-Star), a series of essays about her life as an actress, friend and someone who everyone thinks they might know. Here's a blurb about the book: "Want to […]
http://www.dailyactor.com/2014/04/please-dont-say-these-things-to-judy-greer-video/
http://www.dailyactor.com/wp-content/uploads/2014/04/Captain-America-SamuelNick-Fury.jpg
How Samuel L. Jackson Learns His Lines for the Marvel Movies (video)
Samuel L. Jackson stopped by Good Morning America earlier this week to talk about Captain America: The Winter Soldier – which is terrific, by the way – and he told Robin Roberts that for the first Cap film, he had trouble learning his lines. "I sat at home and I did all my studying, and […]
http://www.dailyactor.com/2014/04/how-samuel-l-jackson-learns-his-lines-for-the-marvel-movies-video/
http://www.dailyactor.com/wp-content/uploads/2014/04/andy-karl-margot-seibert-rocky.jpg
Andy Karl and Margo Seibert Talk 'Rocky: The Musical' on 'Today'
Andy Karl and Margo Seibert, the stars of Rocky: The Musical, talked to Today's Matt Lauer about the new Broadway musical. Karl talks about the final fight and taking on the iconic role. This is Seibert's Broadway debut and she's asked about her callbacks (9 in all!) and more. Check it out!
http://www.dailyactor.com/2014/04/andy-karl-and-margo-seibert-talk-rocky-the-musical-on-today/