When Matt Damon Had to Kiss Michael Douglas for 'Behind the Candelabra' He Imagined Kissing Catherine Zeta-Jones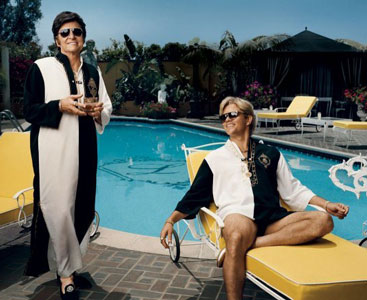 Here's a great acting tip if you're a straight male who is required to kiss a much older man in a role: pretend you're kissing that older actor's incredibly beautiful wife.  According to Catherine Zeta-Jones, that's what happened when Matt Damon had to kiss her husband Michael Douglas in HBO's Liberace biopic Behind the Candelabra.
Zeta-Jones reveals to Yahoo!, "Matt actually said to my husband that when he had to kiss Michael, he'd close his eyes and pretend he's actually kissing me, which I thought to be extremely flattering."  In the film Douglas stars as Liberace and Damon stars as his lover, Scott Thorson.
However, she admits that regardless of the sexes on-set kissing is never a comfortable thing, pointing out, "When you have to make love or kiss on film, it could be a man, a woman, but it's always strange. It's not something that's an entirely normal day out at the office."  Nonetheless, she has what is likely a much more desirable story from when she starred in Ocean's Twelve.  She recalls, "I remember when I had to kiss Brad Pitt once, Michael asked me what I was doing that day.  I went, 'I'm lying in bed, kissing Brad Pitt. He went, 'Good for you, darling. You enjoy.'  Someone has to do it."
http://www.dailyactor.com/wp-content/uploads/2015/05/Caitriona-Balfe-Outlander.jpg
Outlander's Caitriona Balfe On The Emotional Toll of Filming Violent Scenes
"Having to put yourself in that place is tough. To sit in that emotional space, especially when you're doing it day after day." - Caitriona Balfe
http://www.dailyactor.com/2015/05/outlander-catriona-balfe-emotional-toll-of-filming-violent-scenes/
http://www.dailyactor.com/wp-content/uploads/2015/05/Chrissie-Fit.jpg
Chrissie Fit on How She Landed Her Role in 'Pitch Perfect 2′
"I remember getting the audition and being like, "This might not happen," just because it is such a massive movie." - Chrissie Fit
http://www.dailyactor.com/2015/05/chrissie-fit-on-how-she-landed-her-role-in-pitch-perfect-2/
http://www.dailyactor.com/wp-content/uploads/2015/05/Sam-Elliott.jpg
Sam Elliot on How he "F–ked" Himself Out of a Career as a Lead Actor
The rugged Sam Elliot has most often cast in character actor roles throughout his long career in film, though the 70 year-old Elliot thinks it wasn't always meant to be that way.
http://www.dailyactor.com/2015/05/sam-elliot-on-how-he-f-ked-himself-out-of-a-career-as-a-lead-actor/
http://www.dailyactor.com/wp-content/uploads/2015/05/Anna-Kendrick-Pitch-Perfect-2.jpg
Anna Kendrick Talks Hollywood and its Gender Bias
"As an actress you're perpetually about to be unemployed." - Anna Kendrick
http://www.dailyactor.com/2015/05/anna-kendrick-talks-hollywood-and-its-gender-bias/
http://www.dailyactor.com/wp-content/uploads/2015/05/tom-hardy-mad-max-fury-road.jpg
Tom Hardy on Fame, Acting School, and His 'Mad Respect' for Michael Fassbender
"Do what you love doing, do it well—everything should fit into place." - Tom Hardy
http://www.dailyactor.com/2015/05/tom-hardy-fame-acting-school-michael-fassbender/