Actor Yan England Takes Short Film to Oscar Finish Line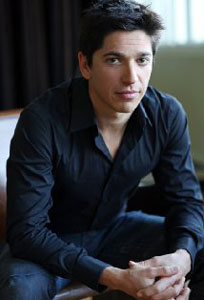 Yan England didn't expect to go to the Academy Awards when he made his short film "Henry." The 21-minute film is nominated in the live action short category with filmmakers such as actress Bryce Dallas Howard, whose film "When You Find Me," is executive produced by her father Ron Howard.
When England gained acceptance for his short film for Academy consideration, 125 films from around the world were in the running. The list of candidates then moved from 125 to a short list of 11 until the top five and England's first Academy Award nomination were announced earlier this year. For the actor-filmmaker it has been a wild experience.
"We worked on it for a year, different people, at different stages. It (the film's budget) came from my own pocket. I worked with really strong, talented professionals here in Canada. They all worked for free, for the passion of cinema. They've given me their talent, and they've put all of their talent into the film. It was a great honor to tell them "Henry" made it to the final 5. Was it expected? Not at all. Is it surreal? Totally." said England.
England began his career and continues as a working actor in Canada. He got his first role in a TV series at 8 years old, and hasn't stopped since.
"Since I was a kid I've always admired Charlie Chaplin. He was sort of, always my idol. He's a genius; He was acting, he was directing, he was writing… he was doing all of it and he was obviously passionate about cinema, and so am I." says England. " I've always been passionate about cinema and film. As an actor on-set, I always go and sit by the director's chair. Look at what he would do, how he would direct the actors and his crew. I would learn from all of the different directors I've been working with. I learned as an actor, but also as a director. " said England.
In 2007 a project England was attached to act in fell through. His mother recommended he work instead writing a script, a short film. She saw it as an opportunity for the actor to stretch his talent and he had always wanted to explore storytelling from behind the camera. That suggestion was the kick England needed. The result became the short film " Moi." England wrote, produced and directed it and loved the entire experience.
Then England had the idea for "Henry" inspired by a very personal story about his grandfather.
"The film is about remembrance. We're following this musician, Henry, who has lived this amazing life. He could remember every single detail of his life, but when he turned 92, he starts to lose his memory." Said England.
England remembers sitting at a coffee place with his grandfather and his mom. All of a sudden his grandfather looked at him with a frightened expression, and quietly asked if he had been a good man.
It was a jarring life moment for England. His grandfather, his hero, all of a sudden didn't remember his past. Hence the question was posed to England, 'have I been a good man?'
"I became really emotional at that time because I was like, how's that possible. He died when he was 96 years old, so throughout those 4 years with Alzheimer's, old age and dementia… sometimes I was his grandson, but some of the other times, I was someone he met during the second world war when he was a part of the Intelligence Services based in Italy. We were a challenge to his memory and that's what I wanted to explore this story. "said England
The experience was deeply personal for the filmmaker, but he wasn't alone on the journey. It took England nearly a year from the moment he started writing until the picture was completely locked and completed.
The Center for Disease Control estimates as many as 5.3 million Americans are living with Alzheimer's disease. Alzheimer's destroys brain cells, causes severe problems with memory, thinking and behavior. Today it is the sixth-leading cause of death in the United States.
"It seems like we all know someone, either our grandfathers or fathers, or mother, or someone, a cousin that has gone through Alzheimer's. "Henry" resonates with audiences and I've had great chats with people about it, but audiences relate because I've lived through it. I'm happy that I can share this film and that people can share their stories with me." said England.
http://www.dailyactor.com/wp-content/uploads/2015/02/Larry-David.jpg
Larry David on Who he Wanted to Star in his Broadway Play 'Fish in the Dark': "Anybody but me"
"It's one of the reasons I didn't like acting. I don't like not being able to interject" – Larry David on acting with a script Who doesn't like Larry David? Well, to be honest, Larry David probably doesn't like Larry David. In fact, David didn't even want to cast himself in the lead of […]
http://www.dailyactor.com/2015/02/larry-david-on-who-he-wanted-to-star-broadway-play-fish-in-the-dark/
http://www.dailyactor.com/wp-content/uploads/2015/02/Helen-Mirren-The-Queen.jpg
Helen Mirren on Winning an Oscar: "It's an indescribable moment"
"It's hard to say, because you don't know what would have happened if you hadn't won" - Helen Mirren When Asked If Winning an Oscar Changed Her Career
http://www.dailyactor.com/2015/02/helen-mirren-on-winning-an-oscar/
http://www.dailyactor.com/wp-content/uploads/2015/02/anna-chlumsky-james-earl-jones.jpg
Anna Chlumsky on Her Broadway Debut: "For me, it was an opportunity to go in the direction that I hadn't played in a while"
"I think my personality lends itself to ensembles" - Anna Chlumsky
http://www.dailyactor.com/2015/02/anna-chlumsky-broadway-debut-ensemble/
http://www.dailyactor.com/wp-content/uploads/2015/02/joanne-froggatt-downton-abbey.jpg
'Downton Abbey' Star Joanne Froggatt on Creating Her Own Backstory and How She's "Not a Big-Budget Hollywood Type"
"They want the model type, classically beautiful, and I'm not" - Joanne Froggatt on Working in Hollywood
http://www.dailyactor.com/2015/02/downton-abbey-star-joanne-froggatt-character-backstory-hollywood/
http://www.dailyactor.com/wp-content/uploads/2015/01/al-pacino-the-humbling.jpg
Al Pacino on Acting: "It becomes such a part of your nature you rarely ever think about quitting"
After working infrequently in film over the last decade, Al Pacino appears in several films released in 2015, including The Humbling, an indie drama directed by Barry Levinson.
http://www.dailyactor.com/2015/02/al-pacino-on-acting-it-becomes-such-a-part-of-your-nature/