Actor Yan England Takes Short Film to Oscar Finish Line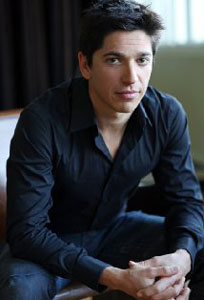 Yan England didn't expect to go to the Academy Awards when he made his short film "Henry." The 21-minute film is nominated in the live action short category with filmmakers such as actress Bryce Dallas Howard, whose film "When You Find Me," is executive produced by her father Ron Howard.
When England gained acceptance for his short film for Academy consideration, 125 films from around the world were in the running. The list of candidates then moved from 125 to a short list of 11 until the top five and England's first Academy Award nomination were announced earlier this year. For the actor-filmmaker it has been a wild experience.
"We worked on it for a year, different people, at different stages. It (the film's budget) came from my own pocket. I worked with really strong, talented professionals here in Canada. They all worked for free, for the passion of cinema. They've given me their talent, and they've put all of their talent into the film. It was a great honor to tell them "Henry" made it to the final 5. Was it expected? Not at all. Is it surreal? Totally." said England.
England began his career and continues as a working actor in Canada. He got his first role in a TV series at 8 years old, and hasn't stopped since.
"Since I was a kid I've always admired Charlie Chaplin. He was sort of, always my idol. He's a genius; He was acting, he was directing, he was writing… he was doing all of it and he was obviously passionate about cinema, and so am I." says England. " I've always been passionate about cinema and film. As an actor on-set, I always go and sit by the director's chair. Look at what he would do, how he would direct the actors and his crew. I would learn from all of the different directors I've been working with. I learned as an actor, but also as a director. " said England.
In 2007 a project England was attached to act in fell through. His mother recommended he work instead writing a script, a short film. She saw it as an opportunity for the actor to stretch his talent and he had always wanted to explore storytelling from behind the camera. That suggestion was the kick England needed. The result became the short film " Moi." England wrote, produced and directed it and loved the entire experience.
Then England had the idea for "Henry" inspired by a very personal story about his grandfather.
"The film is about remembrance. We're following this musician, Henry, who has lived this amazing life. He could remember every single detail of his life, but when he turned 92, he starts to lose his memory." Said England.
England remembers sitting at a coffee place with his grandfather and his mom. All of a sudden his grandfather looked at him with a frightened expression, and quietly asked if he had been a good man.
It was a jarring life moment for England. His grandfather, his hero, all of a sudden didn't remember his past. Hence the question was posed to England, 'have I been a good man?'
"I became really emotional at that time because I was like, how's that possible. He died when he was 96 years old, so throughout those 4 years with Alzheimer's, old age and dementia… sometimes I was his grandson, but some of the other times, I was someone he met during the second world war when he was a part of the Intelligence Services based in Italy. We were a challenge to his memory and that's what I wanted to explore this story. "said England
The experience was deeply personal for the filmmaker, but he wasn't alone on the journey. It took England nearly a year from the moment he started writing until the picture was completely locked and completed.
The Center for Disease Control estimates as many as 5.3 million Americans are living with Alzheimer's disease. Alzheimer's destroys brain cells, causes severe problems with memory, thinking and behavior. Today it is the sixth-leading cause of death in the United States.
"It seems like we all know someone, either our grandfathers or fathers, or mother, or someone, a cousin that has gone through Alzheimer's. "Henry" resonates with audiences and I've had great chats with people about it, but audiences relate because I've lived through it. I'm happy that I can share this film and that people can share their stories with me." said England.
Latest Videos
http://www.dailyactor.com/wp-content/uploads/2014/09/audtion-tapes-robin-wright-and-h.jpg
Audition Tapes: Robin Wright and Haley Joel Osment Audition with Tom Hanks for 'Forrest Gump'
Check out Robin Wright auditioning for the role of Jenny from Forest Gump opposite Tom Hanks. Interestingly enough, Hanks doesn't quite have Gump's southern drawl down just yet while the other actors audition with him. In fact, Hanks would base Gump's voice on the voice of Michael Conner Humphreys, who played the young Forrest and […]
http://www.dailyactor.com/2014/09/audtion-tapes-robin-wright-haley-joel-osment-tom-hanks-forrest-gump/
http://www.dailyactor.com/wp-content/uploads/2014/08/bryan-cranston-emmy-award-speech.jpg
Watch: Bryan Cranston's Emmy Award Speech: "I love to act. It is a passion of mine and I will do it until my last breath."
The Emmy Awards weren't the most exciting awards show this year but with Bryan Cranston winning for Outstanding Actor in a Drama for Breaking Bad, we at least got to hear one heck of a fantastic acceptance speech. "I was a kid who always looked for the shortcut," he said. "I did happen to stumble […]
http://www.dailyactor.com/2014/08/watch-bryan-cranston-and-aaron-pauls-emmy-award-speeches/
http://www.dailyactor.com/wp-content/uploads/2014/08/audition-tapes-gerard-butler-aud.jpg
Audition Tapes: Gerard Butler Auditions for 'Dracula 2000′
Check out Gerard Butler auditioning for the role of Dracula in the movie, Dracula 2000. The film, about a group of thieves who break into a chamber expecting to find paintings, but instead find Dracula himself, also starred Christopher Plummer, Jonny Lee Miller and Nathan Fillion. Bulter has some sweet rock star hair, huh?
http://www.dailyactor.com/2014/08/audition-tapes-gerard-butler-dracula-2000/
http://www.dailyactor.com/wp-content/uploads/2014/08/interview-matt-dillon-and-carla.jpg
Interview: Matt Dillon and Carla Gugino Talk 'Wayward Pines'
FOX has a new limited-series that's got a terrific cast and interesting premise. It's called Wayward Pines and stars Matt Dillon, Carla Gugino, Melissa Leo, Toby Jones, Terrance Howard, Juliette Lewis, Tim Griffin and Shannyn Sossamon. The show, whose pilot was directed by M. Night Shyamalan, is about a Secret Service agent (Dillon) goes to […]
http://www.dailyactor.com/2014/08/interview-matt-dillon-carla-gugino-wayward-pines-comic-con/
http://www.dailyactor.com/wp-content/uploads/2014/08/interview-wayward-pines-stars-ti.jpg
Interview: 'Wayward Pines' Stars Tim Griffin and Shannyn Sossamon on the Show, Their Characters and More!
Griffin and Sossamonwere at Comic-Con where they sat in on some roundtable interviews to talk about the show.
http://www.dailyactor.com/2014/08/interview-wayward-pines-stars-tim-griffin-shannyn-sossamon-comic-con/