'The Trip to Bountiful' Moves Up Its Broadway Preview Date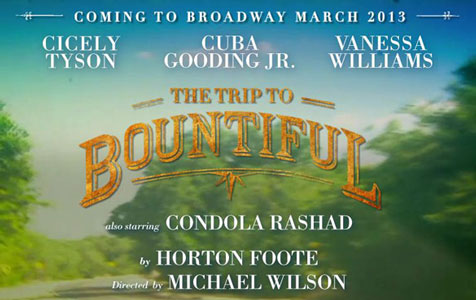 The upcoming Broadway revival of
Horton Foote
's
The Trip to Bountiful
will now begin preview performances on Saturday, March 30th at 8pm, one day earlier than the previously announced March 31
st
start date.
Opening night remains Tuesday, April 23. 
The production, directed by Michael Wilson, will feature Academy Award nominee and Emmy Award-winning actress Cicely Tyson, Academy Award winner Cuba Gooding, JR (Jerry Maguire, Red Tails), Emmy Award nominee Vanessa Williams (Ugly Betty, Desperate Housewives) and Tony Award nominee Condola Rashad (Lifetime's Steel Magnolias, Broadway's Stick Fly).
The show tells the story of Carrie Watts (Tyson), an elderly woman who dreams of returning to her small hometown of Bountiful, TX one last time, against the wishes of her overprotective son (Gooding) and domineering daughter-in-law (Williams).  Her journey becomes a heartbreaking but ultimately life-affirming tale that examines the fragility of memory and celebrates the enduring power of hope and faith.
It originally premiered as a teleplay on NBC in 1953, starring Lillian Gish as Carrie Watts.  The play had its Broadway premiere later that year with the same cast, which also included Eva Marie Saint.  The play was adapted by Mr. Foote into an acclaimed 1985 film starring Geraldine Page, for which she won the Academy Award.  In 2005, Signature Theatre produced the play Off-Broadway starring Lois Smith, for which she won Lortel, Obie, Outer Critics and Drama Desk Awards.
Tickets are available at www.Telecharge.com or by calling 212-239-6200.
Latest Videos
http://www.dailyactor.com/wp-content/uploads/2014/11/sag-foundation-conversation-with.jpg
SAG Foundation Conversation with the Cast of NBC's 'Marry Me'
Earlier this month NBC put in an order for five additional episodes of its freshman romantic comedy series, Marry Me. While that isn't exactly the shot of confidence that a full-season renewal provides, it's enough to keep fans of the comedy — which is about an engaged couple who are determined to get married despite […]
http://www.dailyactor.com/2014/11/conversation-cast-of-nbc-marry-me-casey-wilson-ken-marino/
http://www.dailyactor.com/wp-content/uploads/2012/12/michael-caine.jpg
Michael Caine Talks About Acting With Your Eyes and Does an Amazing Cold Read of a Script
This week acting legend Michael Caine appears in his sixth film directed by Christopher Nolan, Interstellar. In an interview clip from The New York Times that was shot around the release of the last movie Caine worked on with Nolan, The Dark Knight Rises, reporter Melena Ryzik spoke to Caine about his six-decade career. In […]
http://www.dailyactor.com/2014/11/michael-caine-acting-with-your-eyes-cold-read-of-a-script/
http://www.dailyactor.com/wp-content/uploads/2014/11/director-dan-gilroy-narrates-a-s.jpg
Director Dan Gilroy Narrates a Scene from 'Nightcrawler' Featuring Jake Gyllenhaal and Rene Russo
Nightcrawler is easily one of the best movies of the year and its star, Jake Gyllenhaal, is outstanding. Definitely check this out when you have a chance. In the above clip, writer/director Dan Gilroy narrates a sequence from the film that features Gyllenhaal and Rene Russo. He talks about giving Gyllenhaal a small piece of […]
http://www.dailyactor.com/2014/11/director-dan-gilroy-narrates-a-scene-nightcrawler-jake-gyllenhaal-rene-russo/
http://www.dailyactor.com/wp-content/uploads/2014/11/matthew-mcconaughey-talks-losing.png
Matthew McConaughey Talks Losing the Lead Role in 'Bernie' to Jack Black
Though Matthew McConaughey has increased his earned plenty of respect since he started taking on more substantive movie roles in the last few years (with Dallas Buyers Club even earning him an Oscar for Best Actor), one director that always has been a fan of McConaughey is Richard Linklater. Linklater gave McConaughey his first big […]
http://www.dailyactor.com/2014/11/matthew-mcconaughey-talks-losing-the-lead-role-in-bernie-to-jack-black/
http://www.dailyactor.com/wp-content/uploads/2014/11/watch-benedict-cumberbatch-film.jpg
Watch: Benedict Cumberbatch Film the Smaug Motion Capture for 'The Hobbit: The Desolation of Smaug'
Though Peter Jackson's movie adaptations of The Hobbit haven't received the same critical acclaim as his films based on the book's sequel, The Lord of the Rings (turning a 300 page book into 9+ hours of film tends to do that), fans are still eagerly anticipating the release of the final part of The Hobbit […]
http://www.dailyactor.com/2014/11/watch-benedict-cumberbatch-film-smaug-motion-capture-the-hobbit/