Nicholas Hoult talks 'Warm Bodies', Getting Cast and the Pressures of Being a Lead in a Film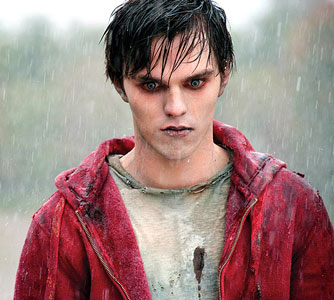 With his role as a zombie in love in Warm Bodies, Nicholas Hoult might finally be able to prove he's not just another child actor hoping to be taken seriously as an adult.
After starring in About a Boy back in 2002, Hoult could have been considered just another baby-face.  But the actor, now 23, wants to change that impression.  "It's hard to find anyone to take me seriously as an actor at all," he confessed in an interview with The Huffington Post.  "There's definitely pressure to being a lead in a film.  I've been fortunate before to have worked with great actors and great directors, but I haven't been a lead role in quite a few years.  You can kind of hide in the shadows and just turn up, do a few good scenes and everyone likes you—if it goes well.  With this, there's much more to it; trying to create a grounded story and an arc to the character."
It was a struggle to get the role of R in Warm Bodies in the first place for Hoult, who had to audition with lots of other actors.  "I met up with Jonathan [Levine, the director] and we got along well and had a good chat," he said.  "He had obviously met with quite a few actors and stuff.  I think he felt—the way he described it to me, and hopefully I'm not putting words in his mouth—that I was the one actor who wasn't scared of it a little bit.  It's a bit of a risk doing this in some ways, but I didn't see it as that.  I saw it as a good opportunity.  I think he saw a few of R's qualities in me, perhaps."
For less talented actors it might have been difficult to bring a dead person to life (so to speak.)  Hoult had to portray a zombie who finds himself in an existential crisis after he falls in love with one of the last humans on earth.  The main thing Hoult worried about was making a zombie feel relateable to the audience. 
"The physical thing and the vocalization of his grunts would just kind of happen," he said.  "I would kind of wing it and hope for the best.  But the main thought was that thing of him being trapped and wanting to feel something and connect with someone.  He wants to feel alive."
Another difficult aspect of playing a zombie?  Well, that would be eating brains of course.  "It was like a cold, wet sponge thing that's kind of a grapefruit," Hoult said.  "It wasn't very nice.  It was pretty, pretty rough.  It was kind of a twisted tart.  I guess it was the closest I would ever get to brains."
Warm Bodies arrives in theaters this Friday, February 1.
Latest Videos
http://www.dailyactor.com/wp-content/uploads/2014/08/bryan-cranston-emmy-award-speech.jpg
Watch: Bryan Cranston's Emmy Award Speech: "I love to act. It is a passion of mine and I will do it until my last breath."
The Emmy Awards weren't the most exciting awards show this year but with Bryan Cranston winning for Outstanding Actor in a Drama for Breaking Bad, we at least got to hear one heck of a fantastic acceptance speech. "I was a kid who always looked for the shortcut," he said. "I did happen to stumble […]
http://www.dailyactor.com/2014/08/watch-bryan-cranston-and-aaron-pauls-emmy-award-speeches/
http://www.dailyactor.com/wp-content/uploads/2014/08/audition-tapes-gerard-butler-aud.jpg
Audition Tapes: Gerard Butler Auditions for 'Dracula 2000′
Check out Gerard Butler auditioning for the role of Dracula in the movie, Dracula 2000. The film, about a group of thieves who break into a chamber expecting to find paintings, but instead find Dracula himself, also starred Christopher Plummer, Jonny Lee Miller and Nathan Fillion. Bulter has some sweet rock star hair, huh?
http://www.dailyactor.com/2014/08/audition-tapes-gerard-butler-dracula-2000/
http://www.dailyactor.com/wp-content/uploads/2014/08/interview-matt-dillon-and-carla.jpg
Interview: Matt Dillon and Carla Gugino Talk 'Wayward Pines'
FOX has a new limited-series that's got a terrific cast and interesting premise. It's called Wayward Pines and stars Matt Dillon, Carla Gugino, Melissa Leo, Toby Jones, Terrance Howard, Juliette Lewis, Tim Griffin and Shannyn Sossamon. The show, whose pilot was directed by M. Night Shyamalan, is about a Secret Service agent (Dillon) goes to […]
http://www.dailyactor.com/2014/08/interview-matt-dillon-carla-gugino-wayward-pines-comic-con/
http://www.dailyactor.com/wp-content/uploads/2014/08/interview-wayward-pines-stars-ti.jpg
Interview: 'Wayward Pines' Stars Tim Griffin and Shannyn Sossamon on the Show, Their Characters and More!
Griffin and Sossamonwere at Comic-Con where they sat in on some roundtable interviews to talk about the show.
http://www.dailyactor.com/2014/08/interview-wayward-pines-stars-tim-griffin-shannyn-sossamon-comic-con/
http://www.dailyactor.com/wp-content/uploads/2014/08/interview-m-night-shyamalan-talk.jpg
Interview: M. Night Shyamalan Talks 'Wayward Pines' and Why He Expanded a Young Actors Role on the Show
I talked to Shyamalan at Comic-Con in a roundtable interview where he talked about the cast, what he learned from working in TV and how young actor Charlie Tahan started out with a small part but as the story grew, so did his role.
http://www.dailyactor.com/2014/08/interview-m-night-shyamalan-wayward-pines-comic-con/