Nicholas Hoult talks 'Warm Bodies', Getting Cast and the Pressures of Being a Lead in a Film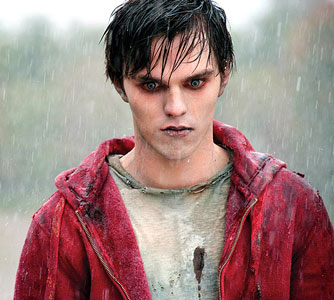 With his role as a zombie in love in Warm Bodies, Nicholas Hoult might finally be able to prove he's not just another child actor hoping to be taken seriously as an adult.
After starring in About a Boy back in 2002, Hoult could have been considered just another baby-face.  But the actor, now 23, wants to change that impression.  "It's hard to find anyone to take me seriously as an actor at all," he confessed in an interview with The Huffington Post.  "There's definitely pressure to being a lead in a film.  I've been fortunate before to have worked with great actors and great directors, but I haven't been a lead role in quite a few years.  You can kind of hide in the shadows and just turn up, do a few good scenes and everyone likes you—if it goes well.  With this, there's much more to it; trying to create a grounded story and an arc to the character."
It was a struggle to get the role of R in Warm Bodies in the first place for Hoult, who had to audition with lots of other actors.  "I met up with Jonathan [Levine, the director] and we got along well and had a good chat," he said.  "He had obviously met with quite a few actors and stuff.  I think he felt—the way he described it to me, and hopefully I'm not putting words in his mouth—that I was the one actor who wasn't scared of it a little bit.  It's a bit of a risk doing this in some ways, but I didn't see it as that.  I saw it as a good opportunity.  I think he saw a few of R's qualities in me, perhaps."
For less talented actors it might have been difficult to bring a dead person to life (so to speak.)  Hoult had to portray a zombie who finds himself in an existential crisis after he falls in love with one of the last humans on earth.  The main thing Hoult worried about was making a zombie feel relateable to the audience. 
"The physical thing and the vocalization of his grunts would just kind of happen," he said.  "I would kind of wing it and hope for the best.  But the main thought was that thing of him being trapped and wanting to feel something and connect with someone.  He wants to feel alive."
Another difficult aspect of playing a zombie?  Well, that would be eating brains of course.  "It was like a cold, wet sponge thing that's kind of a grapefruit," Hoult said.  "It wasn't very nice.  It was pretty, pretty rough.  It was kind of a twisted tart.  I guess it was the closest I would ever get to brains."
Warm Bodies arrives in theaters this Friday, February 1.
Latest Videos
http://www.dailyactor.com/wp-content/uploads/2014/07/bill-hader.jpg
Bill Hader: "I kind of fell into acting" (video)
Bill Hader, starring in the soon to be released The Skeleton Twins, talks about the film and how he fell into acting and then got "crazy lucky" in this quick video from USA Today. Share on Tumblr
http://www.dailyactor.com/2014/07/bill-hader-fell-into-acting-video/
http://www.dailyactor.com/wp-content/uploads/2014/07/director-john-carney-narrates-a.jpg
Director John Carney Narrates a Scene from 'Begin Again' Starring Kiera Knightley and Mark Ruffalo
Director John Carney (Once) narrates a scene from his new film, Begin Again. Starring Keira Knightley and Mark Ruffalo, the scene shows the first time the two characters meet. I haven't seen it yet but I've heard it's great.
http://www.dailyactor.com/2014/07/begin-again-scene-director-john-carney-keira-knightley-mark-ruffalo/
http://www.dailyactor.com/wp-content/uploads/2014/07/holler-if-you-hear-me-gma.jpg
Watch the Cast of Broadway's 'Holler If You Hear Me' Perform 'California Love' on GMA
The cast of Broadway's newest musical, Holler If You Hear Me with music from Tupac Shakur, performed on Good Morning America this morning. Singing 'California Love', the cast (including the teriffic Christopher Jackson – read our interview here), show why they're the most energetic and inspiring group of actors on Broadway. Holler If Ya Hear [...]
http://www.dailyactor.com/2014/07/watch-cast-broadways-holler-hear-perform-california-love-gma/
http://www.dailyactor.com/wp-content/uploads/2014/07/behind-the-scenes-of-dawn-of-the.jpg
Behind the Scenes of 'Dawn of the Planet of the Apes' with Performance Capture Actor Terry Notary
Actor Terry Notary is 1 of 5 actors playing the apes in the new Dawn of the Planet of the Apes. "When you see armies of apes," he says, that's "five of us." Check out the video where you can watch his performance capture work.
http://www.dailyactor.com/2014/07/dawn-planet-apes-performance-capture-actor-terry-notary/
http://www.dailyactor.com/wp-content/uploads/2014/07/melissa-mccarthy-daily-show.jpg
Melissa McCarthy and John Stewart Talk About Terrible Commercial Auditions on 'The Daily Show'
Melissa McCarthy stopped by The Daily Show last week to plug about her new movie, Tammy. She talked about how she loved working with her husband, Ben Falcone (director of Tammy) and then segued into talking about some horrible working situations. The always hilarious McCarthy then started to tell host John Stewart about a particular [...]
http://www.dailyactor.com/2014/07/melissa-mccarthy-john-stewart-commercial-auditions-the-daily-show/