Actress Suing IMDb Hires New Lawyers to Proceed with Case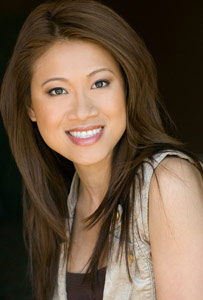 It's been some time since we have had an update on the lawsuit filed by actress Huang "Junie" Hoang against IMDb for posting her actual date of birth on the internet's most popular movie website.  Major parts of Hoang's case were dismissed back in April, including Hoang's charges of fraud and that Amazon.com (which is the owner of IMDb), her claim that IMDb violated the Washington Privacy Act, and, most significantly, Hoang's asking of $1 million in damages for lost work because of her age (the judge pointed out Hoang would have to produce witnesses to testify that they did not hire her specifically because of IMDb's revelation of her actual age, something that was very unlikely to happen).  Nonetheless, Hoang's claim that Amazon gleaned her true age from her private credit card information remained in the case.
But new developments might change all that.  According to The Hollywood Reporter, Hoang's original lawyer, John Dozier, passed away unexpectedly in August and her new lawyers, led by Keith Scully of the firm Newman Du Wors, have decided to take a different approach to the suit by broadening it, focusing on how the age information revealed on IMDb hurts the industry as a whole and continuing to question whether or not IMDb's staff commits any wrongdoing while probing for private information for its listings.  This would include calling industry professionals to the stand as witnesses to talk about ageism in the industry, with Gil Junger (director of 10 Things I Hate About You and dozens of television episodes) reportedly already agreeing to take the stand.
Furthermore, Hoang's new lawyers are asking for more time to prepare for the case, claiming Dozier was ill and made poor decisions with her case.  This is something which Breena Roos, the lawyer representing IMDb, points out isn't her client's fault.  She says, "Put bluntly, IMDb asks this Court to find that it is simply tough luck for Hoang that her attorney was terminally ill and unable to make viable decisions. Fortunately for fundamental fairness in our judicial system, that is not the law."
It's up to the judge on whether or not more time will be granted to the prosecution, but ultimately the question at the center of the lawsuit remains how IMDb gathers its info on Hoang and others.  Complicating matters is the fact that info on IMDb isn't just updated by Amazon's staff but also by users, which means potentially anybody could have initially posted Hoang's birth date.  Regardless, a judge's decision on the matter is expected shortly.
Latest Videos
http://www.dailyactor.com/wp-content/uploads/2014/09/audtion-tapes-robin-wright-and-h.jpg
Audition Tapes: Robin Wright and Haley Joel Osment Audition with Tom Hanks for 'Forrest Gump'
Check out Robin Wright auditioning for the role of Jenny from Forest Gump opposite Tom Hanks. Interestingly enough, Hanks doesn't quite have Gump's southern drawl down just yet while the other actors audition with him. In fact, Hanks would base Gump's voice on the voice of Michael Conner Humphreys, who played the young Forrest and […]
http://www.dailyactor.com/2014/09/audtion-tapes-robin-wright-haley-joel-osment-tom-hanks-forrest-gump/
http://www.dailyactor.com/wp-content/uploads/2014/08/bryan-cranston-emmy-award-speech.jpg
Watch: Bryan Cranston's Emmy Award Speech: "I love to act. It is a passion of mine and I will do it until my last breath."
The Emmy Awards weren't the most exciting awards show this year but with Bryan Cranston winning for Outstanding Actor in a Drama for Breaking Bad, we at least got to hear one heck of a fantastic acceptance speech. "I was a kid who always looked for the shortcut," he said. "I did happen to stumble […]
http://www.dailyactor.com/2014/08/watch-bryan-cranston-and-aaron-pauls-emmy-award-speeches/
http://www.dailyactor.com/wp-content/uploads/2014/08/audition-tapes-gerard-butler-aud.jpg
Audition Tapes: Gerard Butler Auditions for 'Dracula 2000′
Check out Gerard Butler auditioning for the role of Dracula in the movie, Dracula 2000. The film, about a group of thieves who break into a chamber expecting to find paintings, but instead find Dracula himself, also starred Christopher Plummer, Jonny Lee Miller and Nathan Fillion. Bulter has some sweet rock star hair, huh?
http://www.dailyactor.com/2014/08/audition-tapes-gerard-butler-dracula-2000/
http://www.dailyactor.com/wp-content/uploads/2014/08/interview-matt-dillon-and-carla.jpg
Interview: Matt Dillon and Carla Gugino Talk 'Wayward Pines'
FOX has a new limited-series that's got a terrific cast and interesting premise. It's called Wayward Pines and stars Matt Dillon, Carla Gugino, Melissa Leo, Toby Jones, Terrance Howard, Juliette Lewis, Tim Griffin and Shannyn Sossamon. The show, whose pilot was directed by M. Night Shyamalan, is about a Secret Service agent (Dillon) goes to […]
http://www.dailyactor.com/2014/08/interview-matt-dillon-carla-gugino-wayward-pines-comic-con/
http://www.dailyactor.com/wp-content/uploads/2014/08/interview-wayward-pines-stars-ti.jpg
Interview: 'Wayward Pines' Stars Tim Griffin and Shannyn Sossamon on the Show, Their Characters and More!
Griffin and Sossamonwere at Comic-Con where they sat in on some roundtable interviews to talk about the show.
http://www.dailyactor.com/2014/08/interview-wayward-pines-stars-tim-griffin-shannyn-sossamon-comic-con/