Actress Suing IMDb Hires New Lawyers to Proceed with Case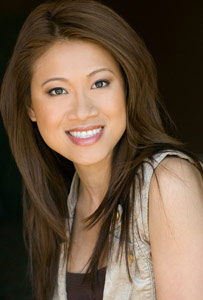 It's been some time since we have had an update on the lawsuit filed by actress Huang "Junie" Hoang against IMDb for posting her actual date of birth on the internet's most popular movie website.  Major parts of Hoang's case were dismissed back in April, including Hoang's charges of fraud and that Amazon.com (which is the owner of IMDb), her claim that IMDb violated the Washington Privacy Act, and, most significantly, Hoang's asking of $1 million in damages for lost work because of her age (the judge pointed out Hoang would have to produce witnesses to testify that they did not hire her specifically because of IMDb's revelation of her actual age, something that was very unlikely to happen).  Nonetheless, Hoang's claim that Amazon gleaned her true age from her private credit card information remained in the case.
But new developments might change all that.  According to The Hollywood Reporter, Hoang's original lawyer, John Dozier, passed away unexpectedly in August and her new lawyers, led by Keith Scully of the firm Newman Du Wors, have decided to take a different approach to the suit by broadening it, focusing on how the age information revealed on IMDb hurts the industry as a whole and continuing to question whether or not IMDb's staff commits any wrongdoing while probing for private information for its listings.  This would include calling industry professionals to the stand as witnesses to talk about ageism in the industry, with Gil Junger (director of 10 Things I Hate About You and dozens of television episodes) reportedly already agreeing to take the stand.
Furthermore, Hoang's new lawyers are asking for more time to prepare for the case, claiming Dozier was ill and made poor decisions with her case.  This is something which Breena Roos, the lawyer representing IMDb, points out isn't her client's fault.  She says, "Put bluntly, IMDb asks this Court to find that it is simply tough luck for Hoang that her attorney was terminally ill and unable to make viable decisions. Fortunately for fundamental fairness in our judicial system, that is not the law."
It's up to the judge on whether or not more time will be granted to the prosecution, but ultimately the question at the center of the lawsuit remains how IMDb gathers its info on Hoang and others.  Complicating matters is the fact that info on IMDb isn't just updated by Amazon's staff but also by users, which means potentially anybody could have initially posted Hoang's birth date.  Regardless, a judge's decision on the matter is expected shortly.
Latest Videos
http://www.dailyactor.com/wp-content/uploads/2014/07/bill-hader.jpg
Bill Hader: "I kind of fell into acting" (video)
Bill Hader, starring in the soon to be released The Skeleton Twins, talks about the film and how he fell into acting and then got "crazy lucky" in this quick video from USA Today. Share on Tumblr
http://www.dailyactor.com/2014/07/bill-hader-fell-into-acting-video/
http://www.dailyactor.com/wp-content/uploads/2014/07/director-john-carney-narrates-a.jpg
Director John Carney Narrates a Scene from 'Begin Again' Starring Kiera Knightley and Mark Ruffalo
Director John Carney (Once) narrates a scene from his new film, Begin Again. Starring Keira Knightley and Mark Ruffalo, the scene shows the first time the two characters meet. I haven't seen it yet but I've heard it's great.
http://www.dailyactor.com/2014/07/begin-again-scene-director-john-carney-keira-knightley-mark-ruffalo/
http://www.dailyactor.com/wp-content/uploads/2014/07/holler-if-you-hear-me-gma.jpg
Watch the Cast of Broadway's 'Holler If You Hear Me' Perform 'California Love' on GMA
The cast of Broadway's newest musical, Holler If You Hear Me with music from Tupac Shakur, performed on Good Morning America this morning. Singing 'California Love', the cast (including the teriffic Christopher Jackson – read our interview here), show why they're the most energetic and inspiring group of actors on Broadway. Holler If Ya Hear [...]
http://www.dailyactor.com/2014/07/watch-cast-broadways-holler-hear-perform-california-love-gma/
http://www.dailyactor.com/wp-content/uploads/2014/07/behind-the-scenes-of-dawn-of-the.jpg
Behind the Scenes of 'Dawn of the Planet of the Apes' with Performance Capture Actor Terry Notary
Actor Terry Notary is 1 of 5 actors playing the apes in the new Dawn of the Planet of the Apes. "When you see armies of apes," he says, that's "five of us." Check out the video where you can watch his performance capture work.
http://www.dailyactor.com/2014/07/dawn-planet-apes-performance-capture-actor-terry-notary/
http://www.dailyactor.com/wp-content/uploads/2014/07/melissa-mccarthy-daily-show.jpg
Melissa McCarthy and John Stewart Talk About Terrible Commercial Auditions on 'The Daily Show'
Melissa McCarthy stopped by The Daily Show last week to plug about her new movie, Tammy. She talked about how she loved working with her husband, Ben Falcone (director of Tammy) and then segued into talking about some horrible working situations. The always hilarious McCarthy then started to tell host John Stewart about a particular [...]
http://www.dailyactor.com/2014/07/melissa-mccarthy-john-stewart-commercial-auditions-the-daily-show/