Joseph Gordon-Levitt on Giving Back to Artists and What Draws Him to Projects: "Variety is what keeps things interesting"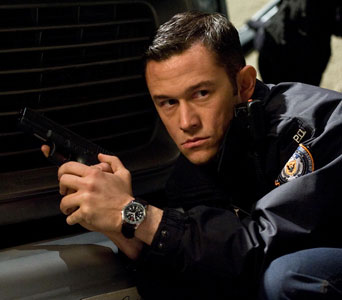 You just can't predict show business.  I would have never thought that the goofy long-haired kid from 3rd Rock from the Sun would grow into one of the more impressive actors of the last several years, but Joseph Gordon-Levitt constantly brings it to every film role he has.  He obviously caught the eye of director Christopher Nolan, who cast Gordon-Levitt in a key role in The Dark Knight Rises after first working with the actor in his prior film, Inception. 
In an interview with Reuters, Gordon-Levitt elaborates on what draws him to the projects he stars in and how he has tried to give back to less fortunate artists.
Gordon-Levitt points out that one of the more impressive aspects of the Dark Knight trilogy is that it actually is a trilogy.  He explains, "Sometimes they call something a trilogy, and it's not really a trilogy, it's another sequel to make money. But this really is a great ending, there's a beginning, a middle and an end."
But Nolan isn't the only director who Gordon-Levitt has obviously impressed.  Looper, a sci-fi film that comes out later this year, reunites Gordon-Levitt with his Brick director Rian Johnson.  Gordon-Levitt reveals, "(Rian) wrote the part for me, and I've never had somebody write a part for me. That was an honor."
There's a method to Gordon-Levitt's varied choice of roles.  He confesses, "I have an eclectic taste in the movies that I watch as well as the movies I'm inspired to want to work on. Variety is what keeps things interesting.  I do work a whole lot and that's what I love to do, I'm very lucky to have a job that I love and that's pretty much what I do with my time."  Pointing to actors who inspire him, Gordon-Levitt explains, "My favorite part of acting is becoming something other than myself, and most of my favorite actors are the chameleons, the ones who disappear into their roles. You don't see the actor on screen, you see the character."
Yet perhaps the most impressive part of Gordon-Levitt's career is his website hitRECord.org, which he has used to reach out to promote work by new filmmaking talent.  Of the website he says, "There's plenty of people who don't have access to participate in the traditional entertainment industry and are great artists all the same, so hitRECord is a way for me to work with those people."
So while you can definitely call him successful now, it's obvious that Gordon-Levitt is an actor who is just getting started. 
http://www.dailyactor.com/wp-content/uploads/2015/01/watch-al-pacino-talks-the-humbli.jpg
Watch: Al Pacino Talks 'The Humbling' and His Extraordinary Career
In this conversation with Al Pacino talks about his role in The Humbling -- including working with Greta Gerwig -- and his historic acting career
http://www.dailyactor.com/2015/01/watch-al-pacino-extraordinary-career/
http://www.dailyactor.com/wp-content/uploads/2015/01/watch-oscar-nominee-steve-carell.jpg
Watch: Oscar Nominee Steve Carell Talks Improv, Auditioning for 'The Office' and 'Foxcatcher'
Carell talks about his entire career as an actor, including his background in improv, how he landed the Michael Scott role on The Office, and Foxcatcher
http://www.dailyactor.com/2015/01/oscar-nominee-steve-carell-improv-auditioning-for-the-office-foxcatcher/
http://www.dailyactor.com/wp-content/uploads/2015/01/ethan-hawke-ellar-coltrane-boyhood.jpg
Ethan Hawke Calls 'Boyhood' the "most special endeavor of my life"
Ethan Hawke is riding high with his fourth Oscar nomination for the Richard Linklater-directed Boyhood. In a recent "Ask Me Anything" on Reddit, the 44-year-old actor gave some thoughtful insight into his career and the 12-year creative endeavor that became the biggest film of the Oscar season. When asked what was the most difficult thing about […]
http://www.dailyactor.com/2015/01/ethan-hawke-boyhood-reddit-amaife/
http://www.dailyactor.com/wp-content/uploads/2015/01/martha-plimpton-a-delicate-balance.jpg
Martha Plimpton Takes a Refreshing Approach to a Long-Lasting Career
Martha Plimpton is an actress who enjoys the work, she's not in it for the fame. The proof is in her continually excellent work that she is doing on-screen and on the stage. She's currently starring in A Delicate Balance on Broadway. It's the audience who gives her the ultimate thrill. "I try to get […]
http://www.dailyactor.com/2015/01/martha-plimpton-long-lasting-career/
http://www.dailyactor.com/wp-content/uploads/2015/01/watch-michael-keaton-talks-candi.jpg
Watch: Michael Keaton Talks Candidly About His Career and His Approach to Acting in 'Birdman'
In this nearly 90 minute conversation, Michael Keaton is his usual affable self but is also remarkably candid about his career and his approach to acting.
http://www.dailyactor.com/2015/01/michael-keaton-career-approach-to-acting-birdman/