Joseph Gordon-Levitt on Giving Back to Artists and What Draws Him to Projects: "Variety is what keeps things interesting"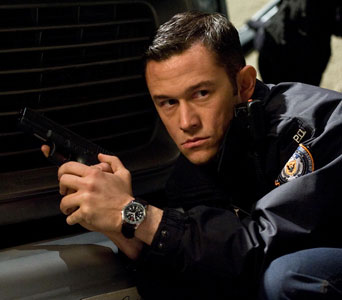 You just can't predict show business.  I would have never thought that the goofy long-haired kid from 3rd Rock from the Sun would grow into one of the more impressive actors of the last several years, but Joseph Gordon-Levitt constantly brings it to every film role he has.  He obviously caught the eye of director Christopher Nolan, who cast Gordon-Levitt in a key role in The Dark Knight Rises after first working with the actor in his prior film, Inception. 
In an interview with Reuters, Gordon-Levitt elaborates on what draws him to the projects he stars in and how he has tried to give back to less fortunate artists.
Gordon-Levitt points out that one of the more impressive aspects of the Dark Knight trilogy is that it actually is a trilogy.  He explains, "Sometimes they call something a trilogy, and it's not really a trilogy, it's another sequel to make money. But this really is a great ending, there's a beginning, a middle and an end."
But Nolan isn't the only director who Gordon-Levitt has obviously impressed.  Looper, a sci-fi film that comes out later this year, reunites Gordon-Levitt with his Brick director Rian Johnson.  Gordon-Levitt reveals, "(Rian) wrote the part for me, and I've never had somebody write a part for me. That was an honor."
There's a method to Gordon-Levitt's varied choice of roles.  He confesses, "I have an eclectic taste in the movies that I watch as well as the movies I'm inspired to want to work on. Variety is what keeps things interesting.  I do work a whole lot and that's what I love to do, I'm very lucky to have a job that I love and that's pretty much what I do with my time."  Pointing to actors who inspire him, Gordon-Levitt explains, "My favorite part of acting is becoming something other than myself, and most of my favorite actors are the chameleons, the ones who disappear into their roles. You don't see the actor on screen, you see the character."
Yet perhaps the most impressive part of Gordon-Levitt's career is his website hitRECord.org, which he has used to reach out to promote work by new filmmaking talent.  Of the website he says, "There's plenty of people who don't have access to participate in the traditional entertainment industry and are great artists all the same, so hitRECord is a way for me to work with those people."
So while you can definitely call him successful now, it's obvious that Gordon-Levitt is an actor who is just getting started. 
Latest Videos
http://www.dailyactor.com/wp-content/uploads/2014/08/seth-rudetsky-reveals-the-5-wors.jpg
Seth Rudetsky Reveals the 5 Worst Musical Theater Audition Mistakes (video)
Seth Rudetsky, actor, musician and a host on SiriusXM's Broadway channel, has been teaching auditioning master classes this summer and he's seen his share of bad auditions lately. In this video, he reveals the 5 worst audition mistakes you can make in a musical theater audition and how to choose the perfect 16-bar audition song. [...]
http://www.dailyactor.com/2014/08/seth-rudetsky-5-worst-audition-mistakes/
http://www.dailyactor.com/wp-content/uploads/2014/07/sir-ben-kingsley-talks-about-the.jpg
Sir Ben Kingsley Talks about the Unique Way He Voiced His Character in the Animated Film, 'The Boxtrolls' (video)
I could listen to Sir Ben Kingsley talk about acting and.. well, I could listen to him talk about anything. He's starring in the new Laika stop-motion animated film, The Boxtrolls, and he and some of the cast (along with the director) joined in on a Comic-Con panel about the film. The Boxtrolls is about [...]
http://www.dailyactor.com/2014/07/sir-ben-kingsley-the-boxtrolls-comic-con/
http://www.dailyactor.com/wp-content/uploads/2014/07/bill-hader.jpg
Bill Hader: "I kind of fell into acting" (video)
Bill Hader, starring in the soon to be released The Skeleton Twins, talks about the film and how he fell into acting and then got "crazy lucky" in this quick video from USA Today.
http://www.dailyactor.com/2014/07/bill-hader-fell-into-acting-video/
http://www.dailyactor.com/wp-content/uploads/2014/07/director-john-carney-narrates-a.jpg
Director John Carney Narrates a Scene from 'Begin Again' Starring Kiera Knightley and Mark Ruffalo
Director John Carney (Once) narrates a scene from his new film, Begin Again. Starring Keira Knightley and Mark Ruffalo, the scene shows the first time the two characters meet. I haven't seen it yet but I've heard it's great.
http://www.dailyactor.com/2014/07/begin-again-scene-director-john-carney-keira-knightley-mark-ruffalo/
http://www.dailyactor.com/wp-content/uploads/2014/07/holler-if-you-hear-me-gma.jpg
Watch the Cast of Broadway's 'Holler If You Hear Me' Perform 'California Love' on GMA
The cast of Broadway's newest musical, Holler If You Hear Me with music from Tupac Shakur, performed on Good Morning America this morning. Singing 'California Love', the cast (including the teriffic Christopher Jackson – read our interview here), show why they're the most energetic and inspiring group of actors on Broadway. Holler If Ya Hear [...]
http://www.dailyactor.com/2014/07/watch-cast-broadways-holler-hear-perform-california-love-gma/