'Basement Bugs', A New Short Film By Actors-Turned-Producers Seeks Funding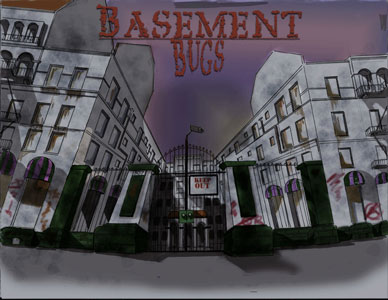 Actors-turned-Producers kick off a Kickstarter campaign for their next project & they need your support!
Los Angeles based actor Denzel Whitaker (The Great Debaters, Abduction, Warrior) and his producing partners Barnaby Barrilla (Criminal Minds) & Nick Coviello are looking to bring some new challenges to their team with their new horror short film "Basement Bugs." The film will be directed by writer Nick Coviello, a graduate from the School of Filmmaking at the University of North Carolina School of the Arts.
BASEMENT BUGS is an atmospheric descent into suffering about a desperate young man who hears a rumor that his apartment building's shivery superintendent may have a secret safe locked away in the basement.  Taking advantage of a building-wide fumigation, the young man breaks into the private space of the superintendent – only to be consumed by the gnawing terror that awaits him. 
The film stars Shaun Gerardo and Matt Mercer, who starred in Horror flicks directed by Eric England (Madison County, Contracted) and Phil Abrams who was a recurring regular on Parent Hood [NBC] and guest appearances in House of Lies [SHO], Criminal Minds [CBS], Lost [ABC], Greys Anatomy [ABC] to name a few.
Mononoke Entertainment looks to bring creativity and great execution with the best story telling possible. Their first short film "Operation: CTF" directed by Denzel Whitaker will be having it's world premiere at the "Hollyshorts Film Festival" this August 9-16 2012.  
For more information on their Kickstarter campaign chcek out: http://www.kickstarter.com/projects/barnabybarrilla/basement-bugs
http://www.dailyactor.com/wp-content/uploads/2015/02/Larry-David.jpg
Larry David on Who he Wanted to Star in his Broadway Play 'Fish in the Dark': "Anybody but me"
"It's one of the reasons I didn't like acting. I don't like not being able to interject" – Larry David on acting with a script Who doesn't like Larry David? Well, to be honest, Larry David probably doesn't like Larry David. In fact, David didn't even want to cast himself in the lead of […]
http://www.dailyactor.com/2015/02/larry-david-on-who-he-wanted-to-star-broadway-play-fish-in-the-dark/
http://www.dailyactor.com/wp-content/uploads/2015/02/Helen-Mirren-The-Queen.jpg
Helen Mirren on Winning an Oscar: "It's an indescribable moment"
"It's hard to say, because you don't know what would have happened if you hadn't won" - Helen Mirren When Asked If Winning an Oscar Changed Her Career
http://www.dailyactor.com/2015/02/helen-mirren-on-winning-an-oscar/
http://www.dailyactor.com/wp-content/uploads/2015/02/anna-chlumsky-james-earl-jones.jpg
Anna Chlumsky on Her Broadway Debut: "For me, it was an opportunity to go in the direction that I hadn't played in a while"
"I think my personality lends itself to ensembles" - Anna Chlumsky
http://www.dailyactor.com/2015/02/anna-chlumsky-broadway-debut-ensemble/
http://www.dailyactor.com/wp-content/uploads/2015/02/joanne-froggatt-downton-abbey.jpg
'Downton Abbey' Star Joanne Froggatt on Creating Her Own Backstory and How She's "Not a Big-Budget Hollywood Type"
"They want the model type, classically beautiful, and I'm not" - Joanne Froggatt on Working in Hollywood
http://www.dailyactor.com/2015/02/downton-abbey-star-joanne-froggatt-character-backstory-hollywood/
http://www.dailyactor.com/wp-content/uploads/2015/01/al-pacino-the-humbling.jpg
Al Pacino on Acting: "It becomes such a part of your nature you rarely ever think about quitting"
After working infrequently in film over the last decade, Al Pacino appears in several films released in 2015, including The Humbling, an indie drama directed by Barry Levinson.
http://www.dailyactor.com/2015/02/al-pacino-on-acting-it-becomes-such-a-part-of-your-nature/