'Basement Bugs', A New Short Film By Actors-Turned-Producers Seeks Funding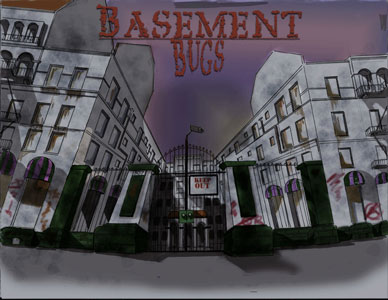 Actors-turned-Producers kick off a Kickstarter campaign for their next project & they need your support!
Los Angeles based actor Denzel Whitaker (The Great Debaters, Abduction, Warrior) and his producing partners Barnaby Barrilla (Criminal Minds) & Nick Coviello are looking to bring some new challenges to their team with their new horror short film "Basement Bugs." The film will be directed by writer Nick Coviello, a graduate from the School of Filmmaking at the University of North Carolina School of the Arts.
BASEMENT BUGS is an atmospheric descent into suffering about a desperate young man who hears a rumor that his apartment building's shivery superintendent may have a secret safe locked away in the basement.  Taking advantage of a building-wide fumigation, the young man breaks into the private space of the superintendent – only to be consumed by the gnawing terror that awaits him. 
The film stars Shaun Gerardo and Matt Mercer, who starred in Horror flicks directed by Eric England (Madison County, Contracted) and Phil Abrams who was a recurring regular on Parent Hood [NBC] and guest appearances in House of Lies [SHO], Criminal Minds [CBS], Lost [ABC], Greys Anatomy [ABC] to name a few.
Mononoke Entertainment looks to bring creativity and great execution with the best story telling possible. Their first short film "Operation: CTF" directed by Denzel Whitaker will be having it's world premiere at the "Hollyshorts Film Festival" this August 9-16 2012.  
For more information on their Kickstarter campaign chcek out: http://www.kickstarter.com/projects/barnabybarrilla/basement-bugs
Latest Videos
http://www.dailyactor.com/wp-content/uploads/2014/08/seth-rudetsky-reveals-the-5-wors.jpg
Seth Rudetsky Reveals the 5 Worst Musical Theater Audition Mistakes (video)
Seth Rudetsky, actor, musician and a host on SiriusXM's Broadway channel, has been teaching auditioning master classes this summer and he's seen his share of bad auditions lately. In this video, he reveals the 5 worst audition mistakes you can make in a musical theater audition and how to choose the perfect 16-bar audition song. [...]
http://www.dailyactor.com/2014/08/seth-rudetsky-5-worst-audition-mistakes/
http://www.dailyactor.com/wp-content/uploads/2014/07/sir-ben-kingsley-talks-about-the.jpg
Sir Ben Kingsley Talks about the Unique Way He Voiced His Character in the Animated Film, 'The Boxtrolls' (video)
I could listen to Sir Ben Kingsley talk about acting and.. well, I could listen to him talk about anything. He's starring in the new Laika stop-motion animated film, The Boxtrolls, and he and some of the cast (along with the director) joined in on a Comic-Con panel about the film. The Boxtrolls is about [...]
http://www.dailyactor.com/2014/07/sir-ben-kingsley-the-boxtrolls-comic-con/
http://www.dailyactor.com/wp-content/uploads/2014/07/bill-hader.jpg
Bill Hader: "I kind of fell into acting" (video)
Bill Hader, starring in the soon to be released The Skeleton Twins, talks about the film and how he fell into acting and then got "crazy lucky" in this quick video from USA Today.
http://www.dailyactor.com/2014/07/bill-hader-fell-into-acting-video/
http://www.dailyactor.com/wp-content/uploads/2014/07/director-john-carney-narrates-a.jpg
Director John Carney Narrates a Scene from 'Begin Again' Starring Kiera Knightley and Mark Ruffalo
Director John Carney (Once) narrates a scene from his new film, Begin Again. Starring Keira Knightley and Mark Ruffalo, the scene shows the first time the two characters meet. I haven't seen it yet but I've heard it's great.
http://www.dailyactor.com/2014/07/begin-again-scene-director-john-carney-keira-knightley-mark-ruffalo/
http://www.dailyactor.com/wp-content/uploads/2014/07/holler-if-you-hear-me-gma.jpg
Watch the Cast of Broadway's 'Holler If You Hear Me' Perform 'California Love' on GMA
The cast of Broadway's newest musical, Holler If You Hear Me with music from Tupac Shakur, performed on Good Morning America this morning. Singing 'California Love', the cast (including the teriffic Christopher Jackson – read our interview here), show why they're the most energetic and inspiring group of actors on Broadway. Holler If Ya Hear [...]
http://www.dailyactor.com/2014/07/watch-cast-broadways-holler-hear-perform-california-love-gma/