'Basement Bugs', A New Short Film By Actors-Turned-Producers Seeks Funding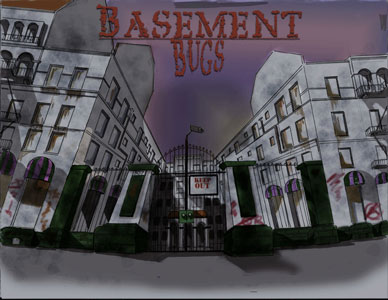 Actors-turned-Producers kick off a Kickstarter campaign for their next project & they need your support!
Los Angeles based actor Denzel Whitaker (The Great Debaters, Abduction, Warrior) and his producing partners Barnaby Barrilla (Criminal Minds) & Nick Coviello are looking to bring some new challenges to their team with their new horror short film "Basement Bugs." The film will be directed by writer Nick Coviello, a graduate from the School of Filmmaking at the University of North Carolina School of the Arts.
BASEMENT BUGS is an atmospheric descent into suffering about a desperate young man who hears a rumor that his apartment building's shivery superintendent may have a secret safe locked away in the basement.  Taking advantage of a building-wide fumigation, the young man breaks into the private space of the superintendent – only to be consumed by the gnawing terror that awaits him. 
The film stars Shaun Gerardo and Matt Mercer, who starred in Horror flicks directed by Eric England (Madison County, Contracted) and Phil Abrams who was a recurring regular on Parent Hood [NBC] and guest appearances in House of Lies [SHO], Criminal Minds [CBS], Lost [ABC], Greys Anatomy [ABC] to name a few.
Mononoke Entertainment looks to bring creativity and great execution with the best story telling possible. Their first short film "Operation: CTF" directed by Denzel Whitaker will be having it's world premiere at the "Hollyshorts Film Festival" this August 9-16 2012.  
For more information on their Kickstarter campaign chcek out: http://www.kickstarter.com/projects/barnabybarrilla/basement-bugs
http://www.dailyactor.com/wp-content/uploads/2016/05/kristen-dunst-fargo.jpg
Kirsten Dunst: Auditions are "the most stressful thing to me on the planet Earth"
Despite being a well-known actress with dozens of credits, Kristen Dunst tells Variety that she still thinks of auditions as "the most stressful thing ...
http://www.dailyactor.com/actors-on-acting/kirsten-dunst-stressful-auditions/
http://www.dailyactor.com/wp-content/uploads/2016/05/Jessie-Mueller-Waitress.jpg
Jessie Mueller on Following up 'Beautiful' with 'Waitress': "I think early on I did feel little bit of pressure"
"I was taken with theater from the beginning, it was the coolest thing for me." - Jessie Mueller
http://www.dailyactor.com/actors-on-acting/jessie-mueller-waitress-pressure/
http://www.dailyactor.com/wp-content/uploads/2016/05/Sean-Hayes-An-Act-of-God.jpg
Sean Hayes on Why He Loves Theater and His Return to Broadway in 'An Act of God'
"I think one of the worst mistakes an actor can make is run away from the role that made them beloved in the first place, that gave them an audience." - Sean Hayes
http://www.dailyactor.com/actors-on-acting/sean-hayes-broadway-an-act-of-god/
http://www.dailyactor.com/wp-content/uploads/2016/05/zachary-levi-she-loves-me.jpg
Zachary Levi on Starring in Broadway's 'She Loves Me': "Honestly, the biggest challenge is just my own brain"
"My whole life, all I've ever wanted to do was be an actor and an entertainer and make people happy and also feel like I belonged" - Zachary Levi
http://www.dailyactor.com/actors-on-acting/zachary-levi-broadway-she-loves-me/
http://www.dailyactor.com/wp-content/uploads/2016/05/Ewan-McGregor-Last-Days.jpg
Ewan McGregor Talks Playing Jesus and the Devil in 'Last Days in the Desert'
"I was just trying to play him like any other role, really. Who do I think he was? Who do I want him to be in this story?" - Ewan McGregor
http://www.dailyactor.com/actors-on-acting/ewan-mcgregor-playing-jesus-devil/