'Basement Bugs', A New Short Film By Actors-Turned-Producers Seeks Funding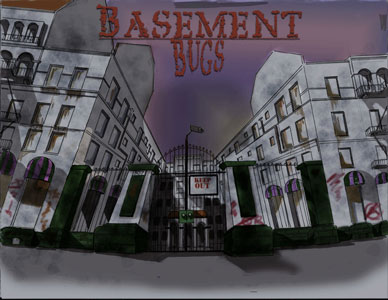 Actors-turned-Producers kick off a Kickstarter campaign for their next project & they need your support!
Los Angeles based actor Denzel Whitaker (The Great Debaters, Abduction, Warrior) and his producing partners Barnaby Barrilla (Criminal Minds) & Nick Coviello are looking to bring some new challenges to their team with their new horror short film "Basement Bugs." The film will be directed by writer Nick Coviello, a graduate from the School of Filmmaking at the University of North Carolina School of the Arts.
BASEMENT BUGS is an atmospheric descent into suffering about a desperate young man who hears a rumor that his apartment building's shivery superintendent may have a secret safe locked away in the basement.  Taking advantage of a building-wide fumigation, the young man breaks into the private space of the superintendent – only to be consumed by the gnawing terror that awaits him. 
The film stars Shaun Gerardo and Matt Mercer, who starred in Horror flicks directed by Eric England (Madison County, Contracted) and Phil Abrams who was a recurring regular on Parent Hood [NBC] and guest appearances in House of Lies [SHO], Criminal Minds [CBS], Lost [ABC], Greys Anatomy [ABC] to name a few.
Mononoke Entertainment looks to bring creativity and great execution with the best story telling possible. Their first short film "Operation: CTF" directed by Denzel Whitaker will be having it's world premiere at the "Hollyshorts Film Festival" this August 9-16 2012.  
For more information on their Kickstarter campaign chcek out: http://www.kickstarter.com/projects/barnabybarrilla/basement-bugs
http://www.dailyactor.com/wp-content/uploads/2016/08/imperium_daniele_radcliffe.jpg
Daniel Radcliffe on Playing a Neo-Nazi in 'Imperium': "It's still just horrible to say some of this stuff"
Radcliffe reveals how he played such a layered character and what it felt like to say his character's hate-filled dialogue.
http://www.dailyactor.com/actors-on-acting/daniel-radcliffe-playing-a-neo-nazi-imperium/
http://www.dailyactor.com/wp-content/uploads/2016/08/John-Cho-Star-Trek-Beyond.jpg
How John Cho Took A Stand for Diversity Early in His Career
"When one does speak one's mind, one might be surprised at how receptive people are." - Actor John Cho
http://www.dailyactor.com/actors-on-acting/john-cho-took-a-stand-for-diversity/
http://www.dailyactor.com/wp-content/uploads/2016/08/simon-helberg-florence-foster-jenkins.jpg
Simon Helberg on His 'Florence Foster Jenkins' Role: "I'm an actor and I want to stretch different muscles"
Helberg spoke about portraying his character in the film and whether or not he feels typecast by his Big Bang Theory role.
http://www.dailyactor.com/actors-on-acting/simon-helberg-florence-foster-jenkins-role/
http://www.dailyactor.com/wp-content/uploads/2016/08/Will-Chase-Something-Rotten.jpg
The Role That Got Away: Will Chase on Returning to 'Something Rotten!'
"I know that I am a poor man's fill-in-the-blank. And I know that there are poor man's Will Chases out there. That's just the nature of the business" - Will Chase
http://www.dailyactor.com/actors-on-acting/will-chase-something-rotten-role-that-got-away/
http://www.dailyactor.com/wp-content/uploads/2016/08/Julia-Stiles-Jason-Bourne.jpg
Julia Stiles on the Jason Bourne Series and Growing as an Actress: "There's always room for improvement"
"I like a director that encourages me to be playful. I don't really like being restricted or controlled by a director." - Julia Stiles
http://www.dailyactor.com/actors-on-acting/julia-stiles-growing-as-an-actress/